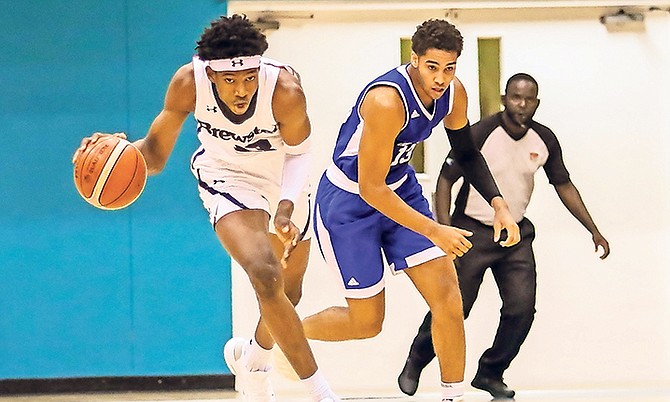 By RENALDO DORSETT
Tribune Sports Reporter
rdorsett@tribunemedia.net
IN addition to some of the top prep basketball recruits in the United States, Canada, and Finland, the first Caribbean Tip-Off Classic also gave local standouts an opportunity to showcase their skills.
Several of the games featured all-Bahamian pairings and previewed some of the pivotal matchups we could see later on in the season at the National Championships or Hugh Campbell Invitational.
The Anatol Rodgers Timberwolves scored a 92-88 win over the defending champions of virtually every tournament last season, the Tabernacle Baptist Academy Falcons.
New addition Tyrell Butler, who transferred to Anatol Rodgers from CI Gibson, posted a triple-double with 24 points, 10 rebounds, 10 steals and also added five assists. Backcourt mate Kirklyn Farrington also finished with 24 points.
Junior national team standout Joshua Dames led the Falcons with 31 points, 11 rebounds and five steals, Romad Dean had 12 points and 15 rebounds while both Ethan Munroe and Isiash Brennen each scored 18.
In another Grand Bahama versus New Providence rivalry game, the St George's Jaguars won 81-78 over the CI Gibson Rattlers.
Shavol Butters led the Jaguars with 22 points, 14 rebounds and five blocks while Christopher Johnson stuffed the stat sheet with 19 points, 7 rebounds, four steals and five assists.Rushorn Strachan led the Rattlers with 29 points and 13 rebounds, Chad Smith had 16 points and 15 rebounds while Jaden Strachan scored 13.
Several players also had standout games against international competition.
Butters also had 18 points and 11 rebounds as a member of Bahamas Select team against Crestwood Prep. Dames also scored 18 while Samuel Pinder had 21.
CI Gibson's Derrico Burrows scored 17 points and Grevaughn Goodman scored 15 in the Bahamas Elite's loss to Brewster Academy.
Burrows also scored 25 points and grabbed seven rebounds in the Rattlers' 101-77 loss to Redemption Academy. Chad Smith had 18 points and 10 rebounds while Strachan had six points and 19 rebounds.
A total of 15 teams competed over three days at the Kendal Isaacs Gymnasium.
Brewster Academy (New Hampsire, USA) featured Kai Jones, BC Christian Academy (British Colombia, Canada) featured Sammy Hunter, Leroy Adderley and Deante Dean, and while Redemption Christian Academy(New York, USA) was led by Bahamian head coach Tristian Wilchcombe and featured Makarious Russell.
Other visiting teams included defending national champions Putnam Science Academy (Connecticut, USA), St Thomas Moore (Connecticut, USA), Ridley College Prep (Ontario, Canada), Rise Prep (Ontario, Canada), Crestwood College Prep (Ontario, Canada) and Helsinki Basketball Academy (Finland).
Jones, a consensus four-star recruit and Texas Longhorns commit, averaged 12.7 points, 6.7 rebounds and 4.7 blocks per game over the course of the event.
Hunter, who recently committed to the Ole Miss Rebels, averaged 33 points and 8.3 rebounds per game.
The Caribbean Tip-Off Classic was presented by the Bahamas Basketball Federation, Caribbean Sports Travel and the Courtyard Marriott Hotel.
Steve Barnes, who has served as technical director of the BBF for six years, heads Caribbean Sports Travel. "It's not about bringing these teams in so everyone can see how good they are. It's important to get the best players playing abroad back home to be seen by their friends and family and the local players get to play and they get seen in front of these dozens of scouts and coaches," Barnes said.
"One of the highlights is having the teams from Freeport and from Nassau team up to play against the visiting teams, so we really have a situation where we have the best of the best. What we really need is for this to be successful is to have community backing, not only this year but in years to come," he added.