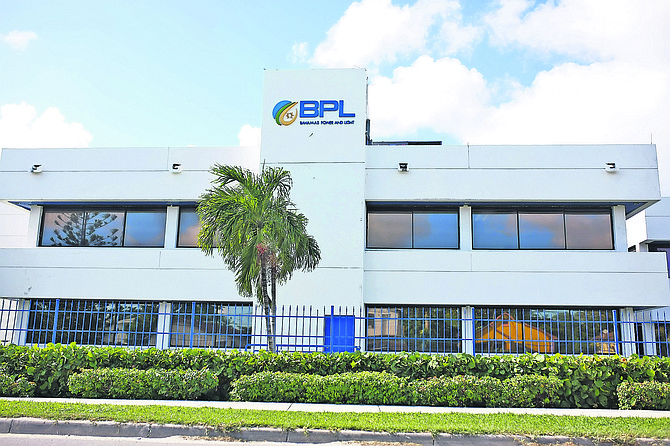 By NATARIO McKENZIE
Tribune Business Reporter
nmckenzie@tribunemedia.net
BAHAMAS Power and Light (BPL) and its chairman yesterday slammed claims that electricity rates will increase by 70 per cent as "irresponsible" and "false ramblings".
Dr Donavon Moxey, pictured, slammed such suggestions as "actually false", and added: "I thought it was irresponsible. There is no 70 percent rate increase. That number came from nowhere.
"The only thing that changed from a rate perspective is a two cents movement in the fuel surcharge going from 17.5 cents to 19.5 cents. It would take months, if not a year to get a rate increase approved by URCA (the Utilities Regulation and Competition Authority)."
BPL subsequently issued a statement to back its chairman, stating: "Having heard the erroneous rumours of a 70 percent increase in electricity rates, BPL unequivocally denies these claims.
"We have no intention of increasing the price of electricity for the Bahamian people by 70 percent. Further, BPL does not have the authority to increase electricity rates without the consultation and approval of URCA.
"We urge you to ignore the false ramblings, and be assured that BPL is committee to the safe, secure and cost effective supply of electricity to our customers."
BPL's statement may be too late, though, as an online petition headlined: 'Fix the Electricity Cost - 70 percent is a threat to our livelihood' had already gained 16,000 of the 25,000 signatures targeted while drawing predictably outraged comments from Bahamians.
LaQuisha Sawyer posted: "It's hard now trying to pay BPL, and for the Government to raise my high light bill now by 70 percent, my family and I will be living in darkness. That's being heartless to us Bahamians. I'm already working paycheck to paycheck...Lord help us all."
Lakeisha Anderson added: "The Government has already imposed increased taxes on Bahamians, and are planning to add new taxes for the Bahamian people.
"There needs to be some serious reconsideration to the increased rates for electricity. Otherwise, the trickle down effect will be devastating for our country and the people who call The Bahamas home."
Cindy Curry cried: "Am a poor single mother. Can't hardly find food to feed my kids." While Tracy Wells said: "This increase will cause a snowball effect. The price of everything we purchase will increase to pay each seller's increased BPL bill."
"Rate is too high and unaffordable. Increase limit to $500 before disconnection," suggested Eldica Hunter. "Sorry for the pensioners and disabled." Paul Clare added: "This Government is determined to make poor people out of every middle and lower class Bahamian citizen", while Latoya Russell said: "I have never had to pay a $300-plus electric bill before until now for the past two months."
The Government, seemingly aware of growing public anxiety and the potential political fall-out, responded swiftly yesterday with an initiative designed to soothe voters and relieve the burden on poor and low income Bahamians.
The Prime Minister yesterday announced in Parliament that the VAT electricity bill exemption threshold is being raised from $200 to $300, saying: "This recent temporary spike in the fuel surcharge has unfortunately put a number of the qualifying customers over the $200 threshold.
"I today advise the House that the Government will be moving an amendment to the law to allow for a temporary increase in the VAT exempt threshold from $200 per month to $300 per month to the end of the fiscal year, that being June 2019.
"This will be made effective for December 2018, and will show up in the January billing cycle. The trends in the cost of the delivery of electricity will inform any decision to extend the increase in the exemption ceiling into the new fiscal year beginning July 2019."
Dr Moxey said he would have to look at the numbers to see how many customers had been impacted by the previous initiative, how many will now be affected and what impact the move could have on BPL.
Meanwhile, Philip Davis, the Opposition's leader, said in a statement: "It is wrong for the taxpayers and BPL customers to have to pay for the redundant missteps, errors and mismanagement by this intransigent and myopic government.
"If the Government is not up to the task, then the solution is to replace this government with one capable of managing the energy sector and necessary attendant reforms. The PLP is willing and able."
He added: "During the governance of the PLP in 2012, electricity rates hovered at or around 41 cents per KW (kilowatt hour). When we left office in 2017, the rate had dropped to around 30 cents even as the average price of oil increased.
"The strategic business plan left in place would have further reduced rates to or at around 21 cents per KW by 2021 or even cheaper. The FNM, in its infinite wisdom and believing their own false propaganda and hype, scrapped those plans - replacing it with a ball of confusion by politically interfering with the work of the Board and a questionable management team."