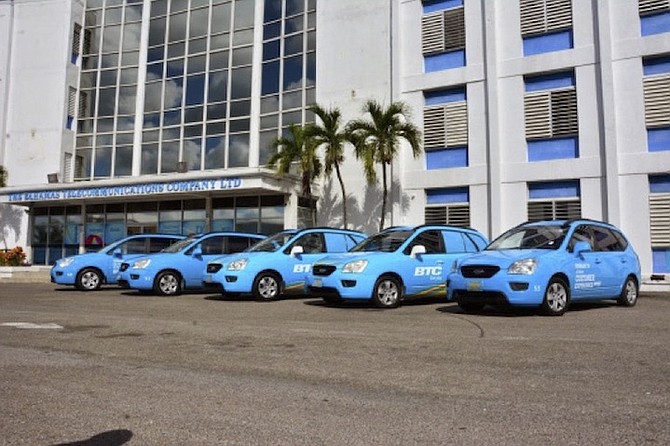 By NEIL HARTNELL
Tribune Business Editor
nhartnell@tribunemedia.net
The Bahamas Telecommunications Company's (BTC) owner yesterday said its mobile subscriber loss "will bottom out in 2019" after another 12,400 customers exited in this year's third quarter.
Balan Nair, Liberty Latin America's (LiLAC) chief executive, told financial analysts that while this point was getting "closer and closer", BTC was "not there yet" in terms of stemming the bleeding of subscribers to its upstart mobile rival, Aliv.
He downplayed, though, the continued erosion of BTC's mobile market share as "natural" for a newly-liberalised market such as The Bahamas where the former state-owned incumbent had enjoyed a 16-year monopoly.
LiLAC's wholly-owned subsidiary, Cable & Wireless Communications (CWC), through which it holds the controlling interest in BTC, also sought to highlight the positive by noting that the rate of mobile subscriber loss during the three months to end-September 2018 fell by 36.8 percent year-over-year.
However, this rate of attrition represented a 2,000 customer increase on the 10,400 subscribers who deserted BTC during the 2018 second quarter, indicating that it has some way to go in countering Aliv's continued seizure of market share.
Mr Nair, addressing LiLAC's 2018 third quarter results conference call, said: "In The Bahamas remember we were an incumbent with 100 percent of the mobile network there, and when a competitor showed up a year-and-a-half ago, a couple of years ago, it's only natural that they would take share, and it's only natural that if you own 100 percent you're going to lose something.
"We think it will bottom out some time in 2019, where we've given up share, and that number will either get stable or will now grow, and both of us [BTC and Aliv] will certainly want to grow value through ARPU (average revenue per subscriber) and bundles etc. To be honest with you, the bottom is not there yet in The Bahamas, but it's getting closer and closer to it."
Asked by one analyst as to whether LiLAC saw "a price war going on there" in The Bahamas, Mr Nair replied: "It's not a price war, right. When you own 100 percent of the market and the new entrant comes in, there will be a percentage of your customers that would want to have a different operator, and that's natural."
BTC's subscriber numbers at September 30, 2018, support Aliv's claim to have seized more than one-third of all Bahamian mobile market subscribers. BTC was shown to have 228,300 total subscribers at that date, with 89 percent of 203,000 of that client base concentrated in pre-paid customers.
Damian Blackburn, Aliv's top executive, last week pegged its subscriber base at 125,000 which, when combined with BTC's numbers, gives The Bahamas' second mobile operator a 35.4 percent market share - placing it on track to hit its target of 39 percent share by end-June 2019.
CWC's 2018 third quarter results, which were broken out from LiLAC's, confirmed that Aliv is continuing to pressure not only BTC's mobile customer base but its pricing, margins and yields.
"In the Bahamas, competition continued to impact our operation, driving subscribers 12,000 lower," CWC said. "However, this was an improvement compared to the prior-year period loss of 19,000.
"[Overall] residential mobile revenue declined by 8 percent compared to the prior-year period. The decrease was driven by lower subscription revenue in the Bahamas and Panama, where continued competition drove a decrease in the average number of subscribers and ARPU per subscriber."
Chris Noyes, LILAC's senior vice-president and chief financial officer, said BTC's mobile subscriber losses accounted for just under one-third of the group's net 37,000 customer base decline during the three months to end-September 2018.
CWC's 47,000 mobile subscriber losses were offset partially by a 10,000 gain by LiLAC's Chile subsidiary, and Mr Noyes said: "Forty-one thousand of this loss was in pre-paid, which can exhibit higher volatility from quarter-to-quarter, and is accounted for primarily in the competitive markets of The Bahamas and Panama."
BTC's 12,400 third quarter subscriber loss was driven by the departure of 11,700 pre-paid customers, although just 700 of the higher margin, higher-yielding post-paid customers departed the network.
Other data shows the former Government-owned monopoly continues to find it tough going to make inroads into the TV and broadband Internet market long dominated by its main rival, BISX-listed Cable Bahamas, which has Board and management control at Aliv.
BTC suffered a net 200 subscriber, or revenue generating unit (RGU), loss in this area during the three months to end-September 2018. While it gained 100 TV/video subscribers it also lost 300 fixed-line phone customers.
And, while BTC's fibre-to-the-home network infrastructure passed some 128,900 Bahamian homes at September 30, this has to-date translated into just 80,200 customers or RGUs outside of its mobile client base. At that date, BTC was said to have 6,800 TV/video and 26,400 Internet customers, plus a further 47,000 fixed-line voice subscribers.
LILAC earlier this year hired Garry Sinclair, a Jamaican, as BTC's chief executive with a "top line growth mission" to turn around BTC's slumping top-line revenues during the 2018 second half. No mention was made yesterday, though, either in the conference call or LiLAC results announcement of whether any success has yet been seen here.
Tribune Business earlier this year revealed how BTC's net profits fell by at least $30 million, or 75 per cent, year-over-year in 2017 as a result of competition's pressure on not just subscriber numbers but pricing and margins.
BTC's 2017 full-year net earnings were down 71.3 per cent at $11.4m, compared to the $39.7m profit it enjoyed for the last nine months of 2016 - the final period in which it enjoyed a mobile monopoly prior to Aliv's launch in November 2016.
This suggests that BTC's full year-over-year profits comparison could have been down by as much as 80 per cent, given that the telecommunications carrier was likely on track for a near-$50m "bottom line" in 2016 based on its nine-month performance.
The figures also revealed that the Government and 'BTC Foundation', as non-controlling BTC shareholders, received no dividend in 2017 compared to the $12.6m payout they collectively enjoyed in 2016.