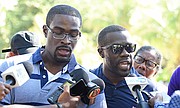 By MORGAN ADDERLEY
Tribune Staff Reporter
madderley@tribunemedia.net
THE pilot of the ill-fated plane that crashed in the waters of Nirvana Beach on Thursday night was coming home to take his parents on a trip to South Africa in celebration of his father's birthday, relatives revealed yesterday.
Byron Ferguson, 34, always dreamed of flying.
The second son of Roscoe Ferguson, a retired civil servant, and Agnes Ferguson, a popular former broadcaster, his family knew from birth that he was destined to become an aviator. By 14 years old, he was flying, and he eventually graduated from Florida Air Academy, obtaining his pilot's licence in 1999.
With two decades of flying under his belt, Mr Ferguson is also the father of an 11-year-old daughter and a nine-month-old son. He was recently married to his wife of less than two years.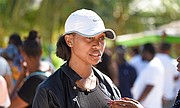 On Thursday night, he was the sole occupant of a PA-27 six-seater that he was flying from West Palm Beach, Florida to New Providence, the family said.

During a press conference held yesterday on the shores of Nirvana Beach, his eldest brother, attorney Bjorn Ferguson, said the pilot was coming home to take his parents on a trip to the continent where he was stationed.
According to Bjorn Ferguson, his brother is currently stationed in North Africa, where he works for a company headquartered in Johannesburg, South Africa.
"He was scheduled to return to work today," Bjorn said. "Today (Sunday) is my father's birthday. He (was) taking my parents to South Africa with him today.
"And this is what we (are) faced with."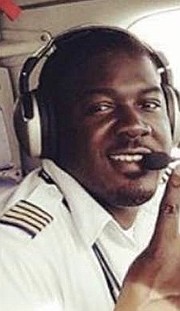 According to his family, on Thursday night, when Byron Ferguson was approximately 40 miles from Nassau, he contacted local Air Traffic Control to report that he had difficulties with the plane's door.
About 15 miles from Nassau, he contacted Air Traffic Control again to report engine issues.
His emotional wife Anya told The Tribune that she tracks "every flight" he takes. "I…tracked every flight that he's been on," she told The Tribune. "And especially if he's coming in at nighttime, he would always send the plane's registration number to let me know that 'hey I'm leaving now, track the plane, I'm on my way.'
"But something different happened, because I decided to go and search two flight trackers that night. And I noticed that he kept going off the radar on one. But the other one, the Flightaware one, it just kept on coming. But the last I tracked him, (it) said that he landed. That he landed about 10 or 15 minutes ago. So I was already at ease."
However, the family did not realise he had landed in the waters off Nirvana Beach, not the safety of the Lynden Pindling International Airport.
Mrs Ferguson is holding out hope that her husband will be found alive.
"So for anyone to tell me that 'oh he didn't make it out of the plane,' I just want that negative energy to stay far away from me," Mrs Ferguson continued. "Because what I want to do now is continue my search efforts. If I don't have the help of the Police Force, Defence Force, that's fine. I know persons who are willing to go in the sky, comb the air. I know people who are willing to walk with me.
"A lot of people might say it doesn't make (any) sense to continue walking, but don't tell me (that). I'm going to do it even if I'm taking my energy out of myself. That's my husband. I have a nine-month-old baby, and I have to fight for something. And I'm fighting for him."
She also said: "He is an excellent pilot and I'm sure he's out there. I'm not giving up on my husband and I don't expect anyone out here to give up on him. He's going to be returned home to us alive. And that's my final everything. He's going to be here."
The family's personal search efforts have included the use of private planes, boats, and jet skis.
Their dedication to finding him even culminated in tracking down a Carnival Cruise passenger vessel that was rumoured to have seen a flare gun fire early Friday morning. However, upon their investigation it was revealed that these reports were inaccurate.
At the family's press conference yesterday, Mrs Ferguson reiterated complaints from other relatives about poor communication with officials. "I am Byron's wife and no (Royal Bahamas Defence Force) officer or police officer has said anything to me," she told The Tribune. "I haven't spoken to any of them."
Yesterday morning, the family had a private meeting with RBDF Commodore Tellis Bethel. While the RBDF is not in charge of the investigation, the family was informed that they are widening their perimeter search.