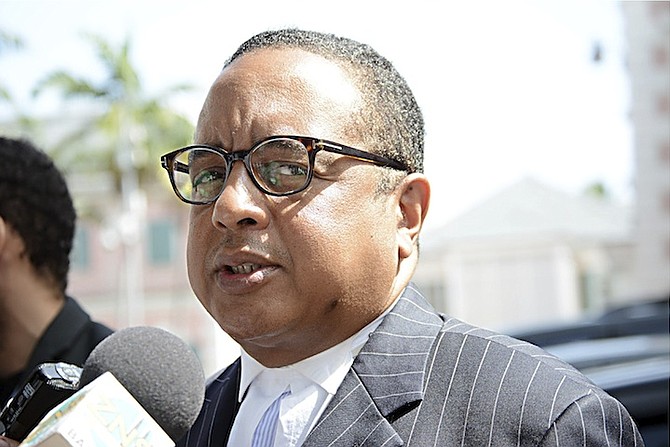 By RASHAD ROLLE
Tribune Staff Reporter
rrolle@tribunemedia.net
THE Minnis administration's silence on the FBI's investigation into alleged bribery at the Department of Immigration connected to a local US visa scam is casting doubt on its professed commitment to fighting corruption, former State Minister for Legal Affairs Damian Gomez said yesterday.
Mr Gomez said he expected officials to publicly respond to revelations in a US affidavit, which The Tribune revealed last week, that allege corruption at the Department of Immigration, "if the administration is to be taken seriously when it comes to anti-corruption".
The affidavit of special agent Kevin Grounaud details conversations the scam's alleged lead conspirator, Edward Israel Saintil, had with undercover FBI informants. Saintil allegedly boasted of having relationships with top immigration officials. He also alleged that immigration staff did not process work permits without being paid to do so. He allegedly admitted to paying a high-ranking immigration official thousands of dollars for a work permit.
So far, government officials have been tight-lipped on the FBI's investigation.
Attorney General Carl Bethel declined to comment yesterday, saying it would be inappropriate to comment on such legal matters.
Mr Gomez, however, said the matter is not a delicate one that should prohibit a government response.
"How is it delicate when already the prosecution in the United States has made a public statement?" he asked. "If I were them, I'd be speaking with the minister of national security to find out what he is doing in terms of the investigation. At the very least, if the Americans believe what they are saying, they should've communicated with foreign affairs and national security rather than embarrassing those particular departments by a public statement alleging corruption."
Police Commissioner Anthony Ferguson said yesterday that police are not presently looking into the matter.
"I haven't had the opportunity to look at anything except what I've seen in the newspapers," the commissioner said. He suggested the Royal Bahamas Police Force would investigate the matter if presented with the relevant information.
Mr Gomez said US officials are typically willing to work with local officials on investigations into such matters, highlighting the case of Fred Ramsey, the former Free National Movement official who was convicted of bribery stemming from a scandal involving a French company, Alstom SA, and the Bahamas Electricity Corporation.
That scandal came to light in 2015 after the US Department of Justice charged the company under the US Foreign Corrupt Practices Act with bribing government executives around the world to secure power and transportation contracts for Alstom subsidiaries.
"When we had the issue with Fred Ramsey," Mr Gomez said, "the Americans pretty much gave us everything we asked for and more. They didn't seek his extradition. They sought our active activity of prosecuting him and they gave us all of the information."
Nonetheless, Mr Gomez said he is surprised to hear that corruption involving work permits may be a widespread problem given that so few work permit applications are ever rejected.
"Only about five percent of all work permit applications are refused," he said, "so that would suggest that it is relatively easy to get it so it shouldn't attract a premium payment. It shouldn't be that someone would potentially give up their career for it."
According to the affidavit, Saintil allegedly claimed he paid Bahamians to write fraudulent letters for immigrants purporting to be employers that would be used as documentation for work permits. The affidavit alleged these work permits were not for actual employment in the Bahamas but to facilitate the granting of US visitor visas.
Mr Gomez said the Minnis administration faces a credibility issue when it comes to fighting corruption. He noted that the Integrity Commission Bill, a sweeping legislation intended to impose unprecedented standards on public officials, was tabled in the House of Assembly more than a year ago but has yet to be debated and passed. Meanwhile, parliamentarians last week debated and passed the Bahamas Baptist Missionary & Educational Convention Incorporated bill, a bill to incorporate the Bahamas Baptist Missionary and Educational Convention in the Bahamas, a bill that was first tabled in September this year.
"It seems as though the government is trying to run a PR thing about zero tolerance," Mr Gomez said. "All of this talk about legislation could well be a hoax. If you tell me you have an Integrity Bill and then your Cabinet gives a member of Cabinet a contract to rent his building, something's wrong with the whole group of them. Nobody is going to take them seriously anymore when they talk about it."