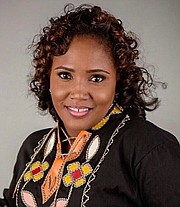 By Felicity Darville
He grew up as a Valley Boy in Culmersville, lost his father as a young boy and began working at an early age to help his mother. His life could have been a story of mediocrity blamed on his circumstances. Instead, he would be the boy who worked to pay for his education, studied hard in school, set goals for himself and achieved them - and then some.
When I went to visit Dr Rodney Smith at his office as President of the University of The Bahamas, I met a humble man with a deep sense of inner calm. He wasn't flamboyant nor exuberant. But what he was, was enough; he was accommodating and open, sharing a life story to such length that it could not all be published in this column. He shared his upbringing, what brought him back to The Bahamas, the plagiarism accusation, and his reappointment and plans for UB's expansion. He has a lot to give, and thankfully, he is unfazed by naysayers, focusing solely on improving the level of tertiary education in The Bahamas.
He was born to Floretta Malone-Smith and Wilfred Smith, both of Long Island. They moved to Culmersville in Centerville, Nassau and raised four children – Winifred, Linda, Jerry and Rodney. Rodney was just a young boy when his father died in a drowning incident, but he has fond memories. Wilfred was a ship mechanic and would often work on the sand barges with Rodney sometimes accompanying him.
"I remember as a child going on the boat with him," he said. "I remember falling asleep while he worked and waking back up again because of the loud noise of the engine. I can remember things as young as two-years-old. There are things that my father did with me that I can recall… most of them being when he and I were alone."
Wilfred's death was a tragedy for the family. Floretta had an eighth grade education who had worked as a waitress all her life. She had to bear the brunt of raising four children on her own. Her eldest son Jerry stepped up to the plate. He dropped out of school to help his mother raise the other children. By the time Rodney was 11, he, too, had to go to work. He became a packing boy at the Winn Dixie nearby. He would work on Thursday and Friday evenings after school and all day on Saturday.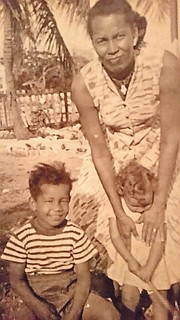 "I grew up there in that grocery store," he said. "I started out packing and then moved to the shelves. I spent most of my teenage years in the dairy department. When it was time for me to go off to school, I got a (partial) scholarship from Winn Dixie. That was very helpful."
Rodney attended Eastern prep school on Mackey Street with people like Jeff Lloyd, current Minister of Education. His memories of guidance and discipline at that school and at Eastern Senior stay with him today: "Mrs Armbrister was the principal and Elaine Thompson was my first grade teacher. She is still alive. Dawson Conliffe was the headmaster at Eastern Junior School. He was straight from the old school. We never misbehaved because he would never hesitate to run you down and put the strap on you. At Eastern Senior, Mr Darville was the headmaster and Harcourt Johnson was the deputy."
All that discipline paid off as he worked diligently at the food store and saved up his money, all of which he gave to his mother. She took a portion of his funds and put them towards a private high school education for her son.
At the age of 12, Rodney enrolled in St Augustine's College: "I really grew up at SAC. I was very involved in the choir and drama club. I was never very athletic because I was asthmatic."
At SAC during the 1960s, Rodney blossomed. He became involved in every aspect of theatre. Working with Father Aaron Kraft, he would assist in crafting the sets and rigging the lighting for shows, and he installed the first set of colourful lighting for the stage at St Mary's Hall (the school auditorium). He performed in My Fair Lady (a play which I starred in when I attended SAC and was surprised it had been running since way back then), Westside Story, and Arsenic and Old Lace. His school experience led him to continue in theatre, and he performed with the Bahama Drama Circle, doing shows like Moon on a Rainbow Shore.
I got a good chuckle looking at his yearbook photos, with class mates like Sir Michael Barnett, former Chief Justice, former Senator Philip Galanis, Minister Lloyd, and current Prime Minister Dr Hubert Minnis.
In 1968, things changed significantly at SAC. It went from an all-boys school to welcoming its first set of female students from Xavier's College. At first, the boys' grades took a dip as they adjusted and obviously enjoyed the change. Things eventually went back to normal, Rodney said, and two of those students became his closest friends – Dr Agretta Eneas-Carey and Dr Elaine Monica Davis, Honorary Consul for The Bahamas in Trinidad and Tobago. The three were great at the sciences – biology, chemistry and physics. St. Augustine's Alumni Association will be honoring him for his life's work at its Lighthouse Gala Ball slated for Saturday, November 24.
Once Rodney graduated from high school, he applied to St John's University in Minnesota. It would make him a first generation college student in his family. He didn't make a 3.0 grade average, but he tried; but he was not admitted. Not being one to give up, Rodney wrote to the admissions director. He pleaded for an opportunity of provisional admission, stating he would show them what he could do. The admissions office must have been impressed because he was then admitted to the school with a scholarship. Between this and his Winn Dixie scholarship, he was on his way.
"St. John's was another very interesting experience for me," he shared. "We were coming at a time in history when we had the Black Panther Movement. There were African Americans there from Chicago who were dealing with issues we were not familiar with. In addition, I was dealing with having a lighter complexion, and Bahamians of a darker complexion were not that welcoming to me at the time.
"There were student demonstrations taking place all over the countryside. I was going to school with people like Cresswel Stirrup (permanent secretary), Donald Davis and Luther Emerson Smith (former Director-General of Bahamas Information Services). There was a sit-in planned to take over the president's office. Luther pulled the three of us aside and said, 'You aren't going anywhere. You came here for an education and you are not getting yourselves involved in any social unrest. We listened to him and it saved us from going to jail because that night, many people were arrested including Bahamians."
He shares an account of racism he personally experienced: "I was one of seven students who did advanced statistics and cognitive psychology. I couldn't understand why I could only get a "B". The professor literally looked me in the face and said, 'Blacks don't get higher than a B'. I should have reported him, but I never did."
The incident did lead him to explore new paths in education, however. He had interest in a girl who was attending Fisk University, an HBCU (Historically Black College or University). That summer, he took three courses there - educational psychology, cognitive psychology and abnormal psychology – and he got As in all of the classes.
"What I learned more than anything else, is that it built up my own confidence; HBCU students were getting an education as well as the confidence they needed," he said.
Rodney returned home in 1974 and landed a job at the Ministry of Labour. He was an employment counsellor and the youngest member of the Bahamas Association for Manpower, Training and Development (BAMTAD). The association was very instrumental in advising the government for the implementation of the Nassau Technical Training College (now BTVI), as well as the Teachers Training College, which used to be where CC Sweeting Senior High School is now, implementing one in San Salvador as well. The group also helped to usher in 6th form at The Government High School, which was on the campus of the current University of The Bahamas. All of these institutions came together to create the College of the Bahamas, making him proud to have been a part of the Bahamas' main tertiary institution since its inception.
Due to a bonded scholarship from former Minister of Education Livingston Coakley, Dr Smith went off to pursue his Master's Degree, obtaining one in clinical psychology from Mahari Medical College. His thirst for knowledge continued, and he eventually obtained a Doctorate degree from Harvard University Graduate School of Education in the area of Administration. During the time he met the love of his life, Christina Ramirez, a Bahamian-born leader in education who was just as focused as he was. Eventually they got married in 1986 and moved in together, but devoted their time to studying hard together and completing their Doctorates with flying colours.
"We developed a plan of action to finish in two-and-a-half years," he said. "We worked six days a week and took one day off. We went to the library all day Saturday, Sunday and Monday until 11pm. Tuesday we took off and went to the farmer's market and the movies and out to dinner. Wednesday it was back to work (studying and schooling)."
They eventually returned to The Bahamas, but found it difficult to find institutions willing to accept them in their "overly-qualified" states. They returned to the US and worked as university administrators, both serving as presidents at some point, while raising their children, Samantha and Sean.
When he was called home to head the College of The Bahamas in 2004, he suffered the embarrassment of a speech-writer using parts of someone else's speech, something he said he did not have the time to cross check. He decided to resign, and was immediately offered a position in the US as a consultant for the Registry for College and University Presidents.
"When I look back at what I did between then and now, everything I did in-between taught me even more so what I needed to do coming back,' he said.
When the transition secretariat was established in 2012, a representative flew to Virginia to interview him to become the President of the University of The Bahamas. At first, he was not sure, but a friend Judith Blair told him her heart was saying his work in his home country was not finished.
He returned in October of 2014 and "immediately began making changes". Ground has been broken for the Sir Franklyn Wilson Small Island Sustainability Research Complex, the Portia Smith building is being rebuilt, the UB system is now fully digitised and students can conduct most of their affairs for registration and the like on line, and audits not produced for many years are all being brought up to date. The Clarence A Bain building will be imploded to make way for new university facilities, and the Grand Bahama university branch will soon become a reality due to a $3 million gift from the Grand Bahama Port Authority.
Floretta would have many reasons to be proud. Not only is her youngest son back home doing his part in nation building, but her eldest son Jerry became an influential airlines executive and an active member and administrator in the Anglican church; while Winifred (now Giobanoli) and Linda (now Braun) are both successful entrepreneurs.