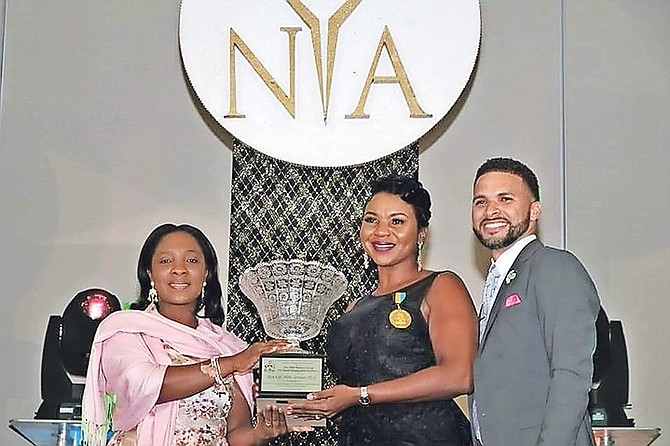 By JEFFARAH GIBSON
Tribune Features Writer
jgibson@tribunemedia.net
Winning the Minister's Cup for Youth Excellence, said Teen Life Skills Services founder Felicia Campbell, has taught her two important lessons: to never underestimate humble beginnings, and to understand that small steps eventually lead to big strides.
Felicia's organisation is still in its infancy. It was established in April of this year to make life easier for teenaged parents while also bringing awareness to the needs and issues they face.
"We are so humbled and grateful that Teen Life Skills (TLS) Services was recognised and honoured in its infancy stage. Being awarded signifies that we are on the right path. This leads us to believe that the negative stigma placed on young parenthood/teen pregnancy is losing its strength and the community at large is willing to accept, understand and assist us with our efforts. This motivates my team and I to strive for even higher heights to assist young parents that are fighting for a fresh start," she said.

Having been in existence for only seven months, the award came as a surprise to Felicia, who works as a cocktail waitress at Atlantis.
"Being a young parent myself I constantly tried to redeem myself by being hard-working, successful and being independent. However, the constant reminder from individuals about how I lived my life 20 years ago still shadowed me. No matter what I did successfully, I still felt like the underdog. I felt undeserving, unloved and insignificant because I had a child at an early age. Sadly, many young parents feel this way. This award is special to me because it allowed my faith in God to shine through," she told Tribune Woman.
Before launching TLS Services, Felicia said she faced numerous trials that almost discouraged from pursuing her vision.
"Even though the enemy used situations and people to try to make me feel indifferent, I had a purpose. I feel so free now, more than ever. This award has filled a void I had for so long, just through assisting and inspiring young mothers who are facing the same trials I did. I feel so awesome now when I share my story. I understand fully now that when I was a child I had no control over the risk factors that lead to me being a young parent. When I share my story to young parents I can see that they are inspired to fight for their purpose knowing that is someone who understands and is willing to help them along the way," she said.
Since its launch in April, TLS Services has accomplished some major milestones, including its Community Cares drive to provide baby supplies for teen parents in need.
As it charts the course for 2019, TLS Services will launch a mentorship programme for young parents between the ages of 14 and 25.
This programme is designed to take an individualised approach to the needs of teen parents and to help them find their spark. The goal is to encourage teen parents to return to high school. The 'Life Change' programme promotes spiritual knowledge in teen parents, as well as literacy, and encourages strong attachment to their children.
Felicia said this programme also will assist young parents with the supplies they need for themselves and their kids.
Additionally, a Toastmasters interpersonal and communication initiative will be available for the parents interested in becoming a Toastmaster or involved in youth parliament. Group and individual counselling services are also available to young parents.
TLS Services is now preparing for its second annual Community Cares event for both Nassau and Grand Bahama in 2019.
"We are now currently rebranding, so expect a website to be launched soon. The goal is to have a building - we are currently operating out a small space in the Elizabeth Estate Library - as the need to assist young parents is growing. Also, we are looking forward to connecting with other organisations to assist us in our efforts to reach young parents in the community. We cannot do it alone. Another goal of TLS Services is to establish a halfway house for young parents and their offspring that have been expelled from their homes. Finally, one of our biggest goals is seeking sponsorship. All of TLS Services initiatives and events are free. Sponsorship will enable us to reach out to other young parents, not just in Nassau, but the Family Islands also," she said.