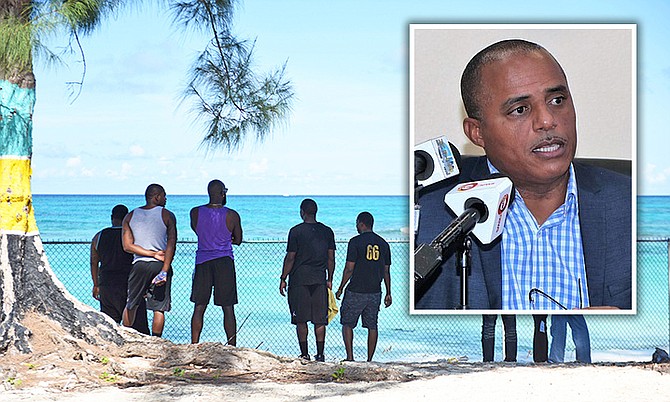 By MORGAN ADDERLEY
Tribune Staff Reporter
madderley@tribunemedia.net
AS the search for missing pilot Byron Ferguson continues, National Security Minister Marvin Dames defended officials against criticism by saying that law enforcement has extended every effort to resolving this matter.
In an interview with The Tribune yesterday, Mr Dames said as soon as information about the crash was reported, law enforcement mobilised. He also said no flight plan was filed for the aircraft, as he appealed to the public not to make assumptions. Regarding the search, Mr Dames added there is still "hope" that officials can find Mr Ferguson.
Yesterday, Royal Bahamas Defence Force (RBDF) Commissioner Tellis Bethel reiterated to The Tribune that the perimeter of the crash has extended.
"The search was expanded yesterday (Sunday) to include waters and (coastlines) off of the east coast of North Andros, including the Joulter Cays and the south coast of the Berry Islands including Chub Cay and Whale Cay," the commodore said.
"Prior to this, the northwest quadrant of New Providence was searched, which included the coastline, shallow and ocean areas using RBDF patrol craft, drone and divers, and a US Coast Guard fixed wing aircraft."
Bahamas Air Accident Investigation Department Operations Investigator Kendal Dorsett Jr also said yesterday that with a lack of physical evidence, authorities are looking at "other avenues" that could have contributed to the incident.
"Because of that, we have requested a weather study from the National Transportation Safety Board in the United States and we will also be looking at the maintenance records of this aircraft and also the ATC related data in relation to this case," Mr Dorsett said.
During a press conference held on Sunday, relatives of Mr Ferguson expressed dissatisfaction with the way officials have conducted search and rescue efforts in the wake of the plane crash in the waters off Nirvana Beach on Thursday night.
Mr Dames said he was "taken aback" by the criticism, given his knowledge of how quickly officials mobilised in response to the crash.
"When this matter was reported to the authorities on Thursday night…I was in communication with (Commodore Bethel) and the commissioner (of police)," Mr Dames said. "I was also in communication with the minister of tourism, who has responsibility for civil aviation.
"We take that (plane crashes) very seriously. And so immediately as that information came in, the authorities activated their machinery, almost immediately. The (RBDF) responded, the police responded, we got the assistance from the US who mobilised the helicopter almost immediately under the umbrella of (Operations Bahamas Turks and Caicos) OPBAT.
"Officers worked early into the morning, divers came in early that morning, went to work, along with a search party."
When asked about the family's critiques that no divers went into the waters on Thursday night, Mr Dames underscored preservation of life is paramount in these situations.
"The first order of business is the preservation of life," Mr Dames said. "Now, I couldn't say what the conditions were at the time, and what the officers were up against. We could all sit back and be Monday morning quarterbacks, but if you look at search and rescue, anywhere the world over, and you see how it is conducted— sometimes you have rough waters and you may want to go in and execute a search, but you can't because the waters are rough.
"You don't know what you're up against…you have to make that call once you get to that scene. I can't make that call for them. But what I would say: at the earliest opportunity that the officers were able to send divers down, that was done."
Regarding the family's criticisms that the plane was not marked or tracked before authorities left the scene, Mr Dames said he could not speak to that matter as the investigation is ongoing.
He also warned against the spreading of false information, noting that as far as officials are aware, no flight plan was filed for the ill-fated trip.
"As far as we are aware, we don't have any, up to this day, anything stating that a flight plan has been filed…So I say this to say, we have to be careful when we make assertions."
However, Mr Dames also said he is sympathetic to the family's plight.
"Every family, I included, if I were faced with that situation, would want to ensure that the authorities are doing all that is humanely possible to return their loved one or loved one's home," Mr Dames said. "And so I am not faulting the family whatsoever.
"We continue to search and it is always our hope that we can find life," he added, referring to the incident when Bahamian sailor Samuel Leroy Moss Jr was found alive after being adrift at sea for two weeks.