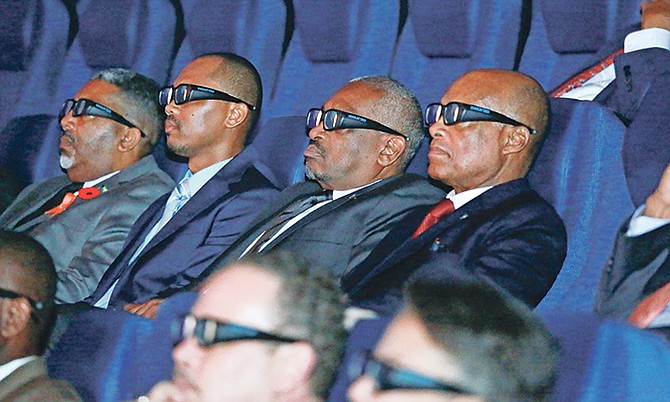 By MORGAN ADDERLEY
Tribune Staff Reporter
madderley@tribunemedia.net
"IMPRESSED is an understatement" is how Prime Minister Dr Hubert Minnis described his opinion of Fusion Superplex, the $50m entertainment facility and movie theatre that is projected to have its grand opening on December 14.
Ten days ahead of its November 23 soft opening, the board and staff of the complex hosted the prime minister and Cabinet members on a tour of the 100,000-square foot facility that features 17 brands ranging from restaurants to arcades.

Following the tour, Dr Minnis expressed his enthusiasm of the site and showered praises on its developers.
"I think impressed is an understatement," Dr Minnis told reporters. "I was more than impressed. What even more impressed me is it (was) done by Bahamians, young Bahamians, who would have ran into many obstacles in the process, but they were determined.
"They were determined, they had a dream, they had a goal, and they just persisted. In spite of running into various different road blocks, they still persisted. Many of them would have left their jobs just to continue on the …pathway. And when you look at what is being offered, it's a first in The Bahamas.
"It's a first in The Bahamas, and their hope is to be open on Friday and government would do everything within its power to ensure that they open on Friday. Because I have all intentions if I'm here on Friday, once I'm in town, I have all intentions (of) coming to the theatre here with my grandson and my last son, and the three of us can sit down in comfort and enjoy the movies.
"I have not been to a movie in a long time, but here I will stay awake," Dr Minnis said.
Health Minister Duane Sands described the facility as "spectacular" while Tourism Minister Dionisio D'Aguilar said it was "totally awesome". Mr D'Aguilar also told reporters that the ministry will "absolutely" use it in its promotion of the country.
"I think this complex is totally awesome," Mr D'Aguilar said. "I have been blown away by what I've seen here today. In The Bahamas, we have an IMAX theatre, 4DX where all the chairs moved, and the wind blew on you…it's absolutely incredible.

"All the food and beverage options, the panoramic views, the venue, it's all incredible. And what makes it ideally located is of course, as we stand here, and we look, we can see Baha Mar half a mile down the road."
When asked if the Ministry of Tourism will use the new entertainment centre in its marketing of The Bahamas, Mr D'Aguilar told reporters: "Absolutely. We're always looking for interesting things to do when you come to The Bahamas. And certainly, for a young person, an infant or a child or a young adult, who's looking for something fun and safe today, this is a natural venue."
Mr D'Aguilar also celebrated the fact that the company employs hundreds of Bahamians.

Carlos Foulkes, Fusion Superplex CEO and chairman of the board, specifically noted that the facility currently employs 401 people and said this number will increase to 418 by the end of the week.
Mr Foulkes added the facility is set to have a November 23 soft opening.
"Persons holding tickets from our partner stores - Aliv and Rev - they (will) be the ones that are initially allowed into the building," Mr Foulkes told reporters. "And once we work out the kinks in that first couple of days of service, then we'll announce to the public when you can just generally roll right up on us and come to the box office and purchase your ticket for yourself.
"Most of the services will be ready for a soft opening," Mr Foulkes continued. "We will still see some construction going on in the background… landscaping, putting in plants, finalising some stuff on the outdoors. We won't be able to open with all of our services, that would be things like event space for the outdoor grounds, that's going to be another 30 days.
"But all of the other services are ready. The IMAX theatre is good to go, the VIP theatre…that's ready to go, our standard cinemas are ready to go, we have nine in total. Our 4DX product…. everything else internally in the building is good to go."
When asked about affordability, Mr Foulkes said prices will be "under the market" in a lot of areas, but there also will be a "high-end" products for those seeking "a little extra luxury".
The cost for the standard cinemas is $14 and the IMAX product is $25, value-added tax inclusive. For VIP Pure cinema seats, the cost is $30 for regular seats and $35 for premium seats.
The facility features 1,543 seats and can fit 3,000 at maximum capacity.
Fusion Superplex will feature the only IMAX theatre in the world that offers food and beverage service to seats. The butler service will bring restaurant-style food, alcoholic and non-alcoholic beverages to patrons during films.
The 4DX theatre features multi-sensory technology with 20 environmental effects, including seat motion, snow, fog and rain; while the IMAX screen is 80ft wide and 55ft high.
In terms of dining, Fusion will feature two restaurants. Both offer direct views of Lake Cunningham.
The complex will also include a Starbucks, the largest coffee lounge in the Bahamas, with outdoor and indoor seating.
SubZero nitrogen ice-cream will also be made right in front of patrons, and "customers can also choose dairy, yoghurt, custard, lactose and sugar-free bases for their ice-cream".
The entertainment facility also offers play areas, where children up to the age of 12 can have supervised fun. Adjacent is a quiet entertainment room where parents and guardians can choose to watch their children.