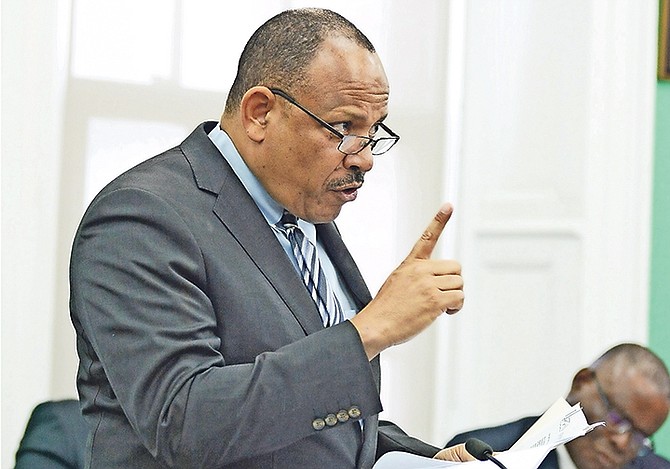 By RIEL MAJOR
HEALTH Minister Dr Duane Sands said yesterday the government is negotiating in good faith to present a reasonable and fair offer to public health physicians who have threatened industrial action.
Calling the situation "disappointing," Dr Sands said it would be a tragedy if patients find themselves in a situation where central care is withdrawn.
When he was asked about the doctors' threat yesterday, Prime Minister Dr Hubert Minnis said he believed the dispute stemmed from communication issues, stressing that to a doctor, patient care is paramount.
"Doctors are first and foremost, they care about patients and ensuring that individuals are well and lives are saved," the prime minister told reporters yesterday. "That will always be a priority for doctors, always, and they would ensure that patients' care is never compromised – that's how they were trained."
He added: "It's only a matter of communication. I'm sure the physicians will be in meetings with the Public Hospitals Authority, it's only a matter of communication, negotiation, because first and foremost, the doctors want to ensure that their patients are cared for and their care is never compromised."
For his part, Dr Sands said industrial action from doctors would be unfortunate.

"That would be most unfortunate and so we continue to be prepared to sit at the table to negotiate to improve in a substantial way the terms and conditions and service for physicians which have been a challenge for the last decade," Dr Sands said.
"We understand the concerns but we also understand that the Bahamian people only have so much capacity to augment salaries and other benefits for any particular group of professionals.
"We will do the best that we can and we hope that is enough. The government of the Bahamas will negotiate in good faith. The government of the Bahamas, PHA, will do the very best that it can to make an offer to what we feel is fair that is reasonable and that is sustainable by the people of the Bahamas."
The minister said he believes the management and board of PHA are quite willing to make a generous offer to physicians, in keeping with what the public purse can afford.
"It would be unreasonable to make a commitment that cannot be met by the public purse and by extension it cannot be met by the people of the Bahamas," said Dr Sands.
"Let me simply say again that the PHA is prepared to make a fair and reasonable offer to all of the professionals who provide service to the Bahamian people in the delivery of health care services. Anything else would prejudice the negations and I'm not prepared to do that.
"Ultimately what needs to happen is (we) need to sit down at the table and there needs to be dialogue back and forth. It is not progressing as quickly or as well as we would like to see but obviously in a democratic country where there are very mature labour relations that have been forged over decades this has to play out according to our convention and our laws."
Dr Sands said he's obviously hoping the physicians won't withdraw their services.
He said: "Again we're hoping that it doesn't come to that, we would have to make contingency plans anyway if it does come to that, but certainly we will negotiate in good faith and the Bahamian people can be assured that health services will be provided."
Last month, most members of the Consultant Physicians Staff Association (CPSA) voted in favour of a strike because of their failure to secure an industrial agreement with the PHA despite years of negotiation.
The CPSA is seeking greater financial benefits for its members, but the PHA insists there is not enough money to give it to them.
Yesterday it was reported that senior physicians were considering withdrawing their services over the issue, CPSA President Dr Locksley Munroe saying the group would inform PHA officials at a meeting this Friday.
"We are planning to go back to the table on Friday, but we are going back there with our lawyer who is going to basically say to them exactly what is going to be the next step," Dr Munroe said.
Asked whether this meant the CPSA would officially inform the PHA of its intention to withdraw services, Dr Munroe said "Yes."
Meanwhile, Labour Minister Dion Foulkes noted negotiations with public health nurses are progressing. A little over a week ago nurses staged multiple protests over a new shift system that is set to take effect next month.
Mr Foulkes said: "That meeting was chaired by Mr John Pinder, the director, both the leadership of the PHA and the leadership of the nurses union were present. Progress was made on some of their issues their doing to meet again this upcoming Friday at 10 (am). We are very hopeful that we will be able to resolve all of the crucial issues that face the nurses. I'm very pleased that both the nurses union and PHA that they have agreed to sit down and talk and to be respectful to each other and to both sides."