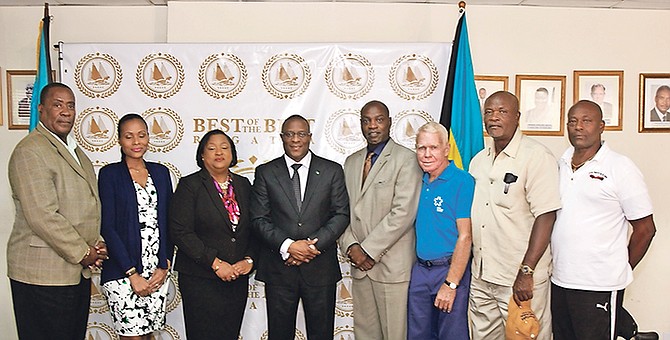 By Betty Vedrine
THE 3rd annual Best of the Best Regatta is scheduled for December 6-9 at Montagu foreshore.
Minister of Agriculture and Marine Resources Michael Pintard made the announcement during a press conference held at the ministry's headquarters on November 7.
"Having met with my team and participated in some of the planning, I am fully confident that we are on track to surpass the mark set last year with the 2nd Best of the Best Regatta," Minister Pintard said.
"With this being the third year of hosting this event, the expectation that we have found our sea legs is fair. But I go further and say that we are moving beyond baby steps with this year's spectacle and instead, making a giant leap for the sport of sailing and indeed, sloop sailing."
Minister Pintard said that no other sporting activity in the country has the economic impact of a regatta and in the field of play, as sloop sailing is the only sport where regular competition occurs between boats representing different islands.
He said that it is, therefore, important that the sport be made accessible to Bahamians throughout the country and the world.
"To this end, I am pleased to announce that this year's Best of the Best Regatta will be the first regatta to be broadcast on live television as a result of our partnership with Rev Cable Bahamas, he said.
"We have streamed the racing in the past on our online platforms and each year, we've moved closer and closer to what was the inevitable future of our sport."
Bahamians throughout the country will be able to tune in to Rev Channel 212 and Channel 242 for live coverage of four days of sloop sailing.
Veteran broadcaster and sailing instructor Reg Smith and boat owner and member of the Knowles sailing clan, Tony Knowles, are expected to host the live broadcast.
"We believe that by putting sailing on the screens of televisions, laptops, tablets and cell phones, we are making the strongest possible argument that the time for this sport is now and I am pleased that the Best of the Best Regatta will play host to history," said Minister Pintard.