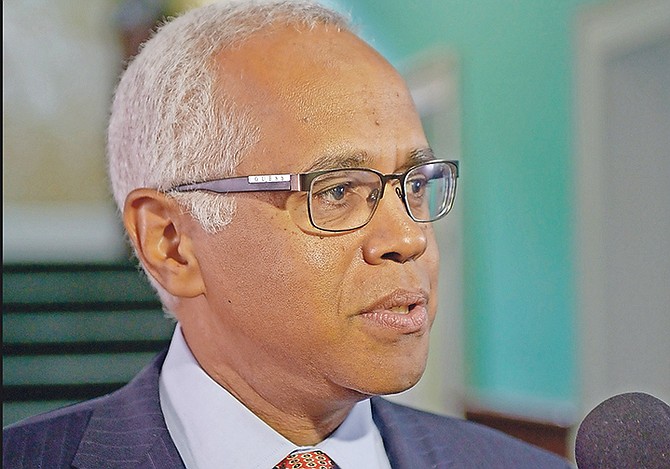 By MORGAN ADDERLEY
Tribune Staff Reporter
madderley@tribunemedia.net 
TOURISM and Aviation Minister Dionisio D'Aguilar has said the negotiations into charging international airlines fees for using Bahamian airspace are going "extremely well". 
The majority of the country's airspace is currently managed by the United States. Mr D'Aguilar said as a result of ongoing discussions, the Bahamas will secure the right to charge overflight fees and will pay the US to manage the airspace on its behalf. He added the government is about to put out a request for proposals (RFP) for a company that will assist the country in monetising its airspace. 
While Mr D'Aguilar admitted this could bring a "windfall" to the public purse, he refrained from committing to a specific figure, saying he could not estimate the amount at this time. He added the negotiations should be complete before the end of 2019. 
This move – long championed by The Tribune – could earn millions of dollars in revenue every year.
In a long running campaign, The Tribune has repeatedly advised the Bahamas that it should be like the vast majority of countries around the world that generate significant sums for their treasuries by charging overflight fees.
"I want the public to know that that is very much moving forward," Mr D'Aguilar told reporters. "Maybe I had not reported to the Bahamian people, but those negotiations are going extremely well.
"Just two weeks ago I met with the (Federal Aviation Administration) FAA in Miami again – it was my second meeting with them – and we're moving quite smartly along with getting an agreement with them where they would continue to manage our airspace."
Mr D'Aguilar said 75 percent of the airspace is managed by the US and 25 percent is managed by Cuba. 
"In order for us to change who manages our airspace, we have to get the blessing of the International Civil Aviation Organisation (ICAO) and they are not minded to change that," he continued. "They like the United States managing our airspace and at this time they're not minded to change that.
"But, what we are going to do is, we're going to secure the right to charge the overflight fees and (we will pay) the Americans to manage our airspace on our behalf. 
"That seems to be a wonderful compromise situation, where it allows us to charge overflight fees and the Americans will continue to manage our airspace."
When asked if this change will mean millions for the public purse, Mr D'Aguilar said initial indications point to it bringing a "windfall", but he could not provide specifics on Tuesday.  
"We are about to put out an RFP for a company to help us monetise our airspace. There are companies that specifically handle this on behalf of countries that are taking control or taking over the management of their airspace, of our sovereign airspace."
Regarding a timeline, Mr D'Aguilar said: "I'm going to give myself the leeway of the whole calendar 2019, and then I'm going to impress you by coming in under that date."  
In January 2017, the Christie administration hailed as a "landmark accomplishment" its agreement with the FAA to exempt Bahamian aircraft operators from the payment of over flight fees for domestic flights in their own airspace.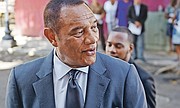 At the time, then-Prime Minister Perry Christie said the deal, which was seen as a possible first step in the Bahamas regaining control of its own air space above 6,000 feet, would save the national flag carrier, Bahamasair, around $1m over a three-year period.
Under international laws, countries require airlines and other aircraft to pay a fee for the right to fly over their airspace. The administration of those rights in the Bahamas has been performed by the FAA since 1952, meaning Bahamasair and other Bahamian-owned carriers have had to pay the US for the privilege of flying over their own country.
Former Minister of Transport Glenys Hanna Martin has previously said that talks on the matter stretched back to 2006 during the first Christie administration, when negotiations initiated by that government had "progressed as far as a request from the Bahamian government for the US government to submit a proposal for the payment to the government of the Bahamas of over flight fees."