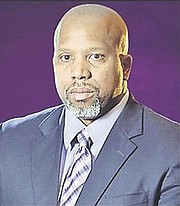 By NATARIO McKENZIE
Tribune Business Reporter
nmckenzie@tribunemedia.net
THE Ministry of Finance's top official yesterday defended the new business licence regulations on the basis that too many companies' financial statements "do not stand up to scrutiny".
Marlon Johnson, pictured, the financial secretary, said this was the Government's rationale for requiring businesses earning up to $10m annually to produce a financial statement confirming their top-line turnover together with accompanying certified bank statements.
Mr Johnson's comments at the Bahamas Institute of Chartered Accountants (BICA) conference were met with strong push back from attendees, who described the bank accounts demand as an "invasion of privacy" and too onerous a demand for Bahamian small businesses. Some slammed the government over a lack of consultation on the regulations that were brought into effect on May 30.
To the latter charge, Mr Johnson pled guilty, saying: "I accept the critique that we didn't engage BICA earlier on that, as we ran with a whole lot of things during the last budget exercise. We have since engaged BICA through BICA's request, and have made a commitment to work with them to come up with a solution."
The amended Business Licence regulations have attracted heightened scrutiny as the 2019 payment deadline approaches. Companies with an annual turnover of $10m or more must provide audited financial statements that will confirm their prior year earnings.
But for those businesses earning between zero to $10m, the regulations stipulate that "a financial statement" confirming their turnover must be supplied to the Department of Inland Revenue (DIR). This, though, must also be accompanied by "a certified bank statement" covering each bank account held in the business's name and any other accounts "that are used in transactions" on its behalf.
Justifying the move, Mr Johnson told attendees: "Too often we have gotten submissions and are concerned by them. When we look behind the actual statements and do our spot audits, too often they do not stand up to scrutiny. What we have said is if there is a sign off by an accountant, what ought to be the recourse? That is a discussion we are having.
"In too many cases we could not accept those statements as credible. Where we are, and will discuss with BICA, is how do we address scenarios when we do get statements and they are found to be wanting in a material way. What should be the recourse?"
It was suggested to Mr Johnson that the Government should inform BICA, the industry's self-regulatory body, on which accountants are signing-off on questionable financial statements so that the necessary disciplinary action can be taken.
Philip Galanis, principal at HLB Galanis & CO, while commending the Government for its efforts in promoting transparency and accountability, raised concerns over the number of foreign consultants conducting audits in The Bahamas.
As for the Business License regulations, Mr Galanis warned the Government over unnecessary intrusion. "We are the one's who drive this economy, not the Government," he said.
"The economy is driven by the private sector. I ask the Government to be very cautious. For you to ask for bank statements, I think you need to take into account that banks statements don't tell the whole story."
But Mr Johnson told accountants: "We cannot continue the status quo." While acknowledging the concerns raised, he said: "We will not go back to the status quo where we create this expectation that a person can have a business and co-mingle funds, not have to prepare proper accounts and keep proper books."
Mr Johnson stressed that as The Bahamas continues to reform its taxation system it will be "imperative" that businesses keep proper books.
But the Bahamian private sector has slammed the Business Licence-related demands for their bank account details as "overkill", and asked: "When's it going to be easier to do business?"
Michael Maura, the Bahamas Chamber of Commerce and Employers Confederation's (BCCEC) chairman, told Tribune Business that the new business licence regulations had left many businesses "scratching their heads and wondering what's next" in terms of the "red tape" they must overcome.
Others went further in their criticism of the bank account information demands. Rick Lowe, an executive with the Nassau Institute think-tank, told Tribune Business: "That's [bank account details] none of their business. What is this? A police state?
"Come on. They just keep making it more and more difficult by piling on more regulations. If the odd person has committed an offence then punish them, but don't make everyone suffer for what they might perceive is happening. There's enough regulation already."
Gowon Bowe, BICA's president, previously told this newspaper that much of the information sought by the new Business Licence regulations "seems like overkill" given that the fee is based on just one item - a company's annual turnover or top-line revenue.