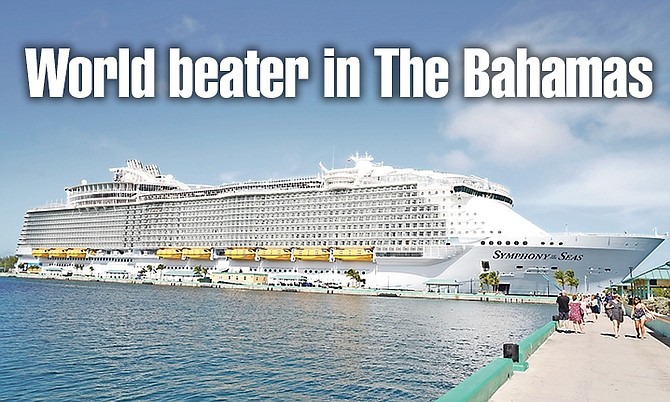 Photo Gallery
Opening ceremony and onboard Symphony of the Seas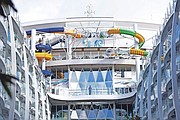 Photos: Shawn Hanna/Tribune staff
By RASHAD ROLLE
Tribune Staff Reporter
rrolle@tribunemedia.net
THE Bahamas made history when the world's largest ship docked in its harbour yesterday, its first official stop on its maiden voyage.
The arrival of the Royal Caribbean International's Symphony of the Seas was punctuated by celebratory music befitting of its grandeur courtesy of Junkanoo groups, law enforcement bands and a rhythm and youth band.
The ship set sail from the port of Miami with invited guests only for its inaugural voyage, including hundreds of media representatives and travel agents. Guests saw the $1.4 billion cruise ship as its own moving city, with more than enough amenities to keep guests preoccupied during a typical vacation.
The ship boasts 22 restaurants, 42 bars and lounges, theatres, an ice rink, a surfing simulator, a zip line, a ten feet slide (the tallest at sea), robots that mix and serve drinks and a galore of games. It can carry 6,680 guests.
Michael Bayley, president and CEO of RBI, said: "It is fitting that the first call of our newest, most advanced ship in our fleet, a ship in which we take immense pride, would make Nassau her first official port of call. It was 50 years ago that Royal Caribbean's first ship sailed out of the port in South Florida and called on Nassau, our first partner in the cruise industry, our loyal partner through the decades and to this day, The Bahamas remains our closest friend and most popular destination."
Mr Bayley said RBI plans to extend the length of time its ships spend in the port so people "could see and spend more on your beautiful islands" .
Mr Bayley touted RBI's ongoing investment of $240 million in CocoCay off the Berry Islands where the company is creating a project called a "Perfect Day in CocoCay". The attraction is scheduled to open in the second quarter of next year, according to Tourism Minister Dionisio D'Aguilar.
Mr Bayley said: "This incredible project will make CocoCay the single most desirable cruise destination in the Caribbean and The Bahamas. The investments in CocoCay together with unemployment in the newest and world's largest ship in the destination means expanded opportunities for The Bahamas."
During an earlier press conference yesterday, Mr Bayley stressed all the ways RBI has impacted the economy of The Bahamas. "As a company," he said, "Royal Caribbean, we're a fairly significant employer in The Bahamas. You may or may not know but we are partners in the Grand Bahama Shipyard where we take all of our ships. The Carnival ships go to the shipyard so we're a major employer there.
"We have had CocoCay for over 25 years. We're a major employer of the Berry Islands and of course with the development of Perfect Day (on CocoCay) we will double our employment of Bahamians with Perfect Day. We also made a commitment late last year that we will work with the National Training Agency to hire Bahamians for our ship positions. We've targeted 200 Bahamians a year to work on board our ships, which by the way has a massive amount of opportunity. First of all it's a great career for kids. We have wonderful ethical standards and just like the captain who started in a much lower position like myself, there are opportunities for growth.
"They can have a very rewarding career with Royal Caribbean and we encourage our Bahamian friends to think about joining Royal Caribbean. In fact, right now we have a recruiting campaign in The Bahamas. Let people know: we're hiring."
RBI brought over 1.2 million passengers to The Bahamas last year and the company hopes to increase this number to 1.7 billion by 2020 with the help of the Symphony of the Seas, which is a part of the company's Oasis Class of ships.
"We in The Bahamas," Mr D'Aguilar said, "are honoured that on the maiden voyage Symphony of the Seas is snugly anchored here to day in the port of Nassau. The presence of this new, record breaking vessel in the port of Nassau speaks to the depth and quality of our relationship, a relationship between the government of The Bahamas and one of the world's leading cruise-lines, Royal Caribbean International."
RCI promises to supply Bahamas Feeding Network with 2019 needs
ROYAL Caribbean International has pledged to supply the Bahamas Feeding Network with all the food it will need to fulfill its humanitarian mission in 2019.
The surprise announcement came during a welcoming ceremony onboard RBI's Symphony of the Seas, the company's newest vessel and the world's largest ship, which made Nassau its first official stop yesterday.
The announcement, met with cheers and applause, comes more than a month after RBI donated $25,000 to BFN.
The non-profit organisation tackles the hunger crisis, serving as a hub for collecting and distributing food items and financial and physical resources to people who don't know where next meal may come from.
In response to RBI's action, BFN's Executive Director, Philip Smith, noted that the Department of Statistics determined that 44,000 people in the Bahamas experience hunger, a figure he believes is underestimated by about 20,000.
Last month RBI's President and CEO, Michael Bayley, donned gloves and lined up alongside volunteers to provide home cooked meals to people in need at Moseff House in Fox Hill.
Mr Smith credited that experience with influencing RBI's decision to make this larger contribution.