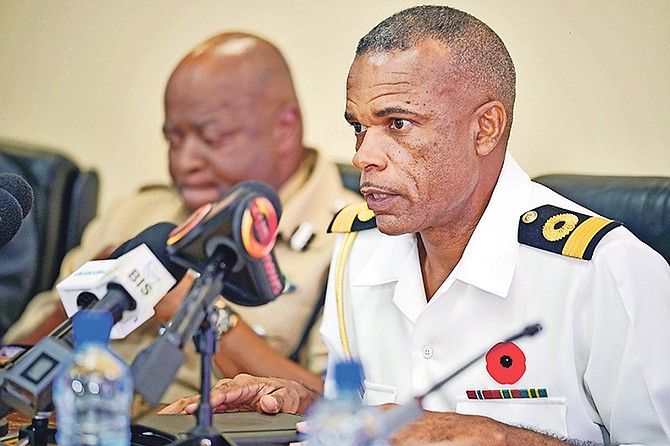 By KHRISNA RUSSELL
Deputy Chief Reporter
krussell@tribunemedia.net
THE day after civilians discovered debris from missing pilot Byron Ferguson's crashed plane, Royal Bahamas Defence Force Commodore Tellis Bethel vehemently defended his organisation's search and recovery efforts.
He maintained that marines have made every effort for the past nine days in which the search "pushed the envelope" but was careful not to compromise safety.
However, while Mr Bethel attempted to make a compelling case for these efforts since the incident last week Thursday, neither he nor other officials present could definitively tell reporters at what time the search was suspended in the hours following the crash in waters off Nirvana beach. Neither could they say when the search resumed.
They did, however, present a list of reasons from vessels not having sufficient gas to there being low visibility, needing to mobilise additional equipment for a more extensive search, and suggesting fatigue as to why the search had been called off Thursday night.
It was also contended that there had been no dive search efforts on Saturday and Sunday due to "inclement weather".
The commodore further admitted that the RBDF could have done a better job in its communication with relatives and the media after it was revealed that marine divers had discovered oil containers, residue and other light weight materials on the seabed Tuesday. Some pieces were also found Friday morning, although it is unclear what they were
It also seems there was not a command centre set up for communication purposes, by Mr Bethel's own admission.
At several points in Friday's press conference Mr Bethel seemed to be on the defensive saying at one point that people were taking an "I gotcha approach" in waiting for mistakes to be made, adding that some members of the press had withheld information to "whack somebody over the head with it".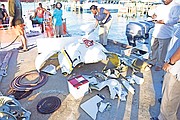 Asked how civilians were successful in locating portions of the plane within 40 minutes of entering the water, Lieutenant Commander Derrick Ferguson said this area had previously been cleared by marines.
"Search and rescue is a science. (It) is something that we do based on the weather pattern, based on what the weather is doing, based on the sea, state the tide flow. We now go ahead and we do what is a dive search area," he said. "The dive search area that we initiated on that day was pretty much focusing around the search area where the last sighting of the tail of the plane as noted."
Officials noted the tail of the small aircraft was spotted by RBDF vessel P115 and by several other persons and the spot marked. But they said Friday no efforts were made to retrieve it at the time because the priority then was to look for persons who could have been alive in the water. The concern, was further heightened, the commodore said, because of ambiguity about how many persons had been on board.
Commander Ferguson continued: "So we would have dived that area and we would have been confident in that one mile range of dive that we did that there was no other debris that we found in that area. So for that day we would have cleared that dive search area. With subsequent dives you know do a shifting of your dive search area. In which case you would have seen on Tuesday our dive search area shifted to the east and on Tuesday the 13th our divers were now finding debris that came from that plane wreckage."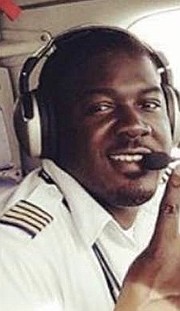 Despite an initial statement from officials on the scene of the crash last Thursday that the search had been called off hours after the search, Commander Shone Pinder disagreed.
He said: "The search never ceased. What we had was an ongoing effort to ensure initially the emphasis on discovering life and that effort continued. Recognising that we cannot predict when the call would go out for our vessels to respond the vessels that responded were not necessarily on full tanks.
"At some point after they would have exhausted four hours after into the search and had to continue to make preparations for divers to do more intensive search they had to return in and so our efforts continued in earnest and we had to return to replenish and to ensure that our fuel, our personnel (and) the divers were embarked, the right equipment was embarked and so there was always throughout the entire process search efforts going on."
When it was presented to him that reporters had been told the search was being called off at 1o'clock Friday morning, he said: "What happened was we had a suspension of search in terms of the surface search craft having to return to bring in additional divers to ensure that the right equipment was being brought in."
Asked to reveal specific times he said personnel returned to the site to dive at "first light" which would have been shortly before 6am.
Pressed further on the time divers left and returned he said: "I'll say this without getting specific with the time it was well after 0200 hours when our surface craft went in and of course we had to allow for our people an opportunity to get the right equipment to initiate a dive operation at first light.
"I want you to appreciate the environment under which that search was being conducted. There was ambiguity as to the number of persons on board, the plane and all response efforts was focused towards ensuring that life was preserved. If somebody was in the water we wanted to make sure we saturated the area to assure that we could rescue life. The emphasis was on rescuing life."
Later he said specific times would eventually be documented for public knowledge, but as an investigation is ongoing the information could not be released.
Nonetheless, officials told reporters they did everything they could do in this situation, noting officials always first take into account a best-case scenario.
As the search continues for Mr Ferguson, the criticisms have not fallen on deaf ears.
Commodore Bethel said training is always ongoing at the force.
"Rome was not built in a day. Sometimes you compare us to military services that been around for 250 over 300 years. We only been around for 38 years and we are well ahead in comparison to where they were many centuries ago so training and development is a major thing for us. As a matter of fact it was just several weeks ago the defence force conducted an advanced dive programme for its members so we are always training staff," he said.