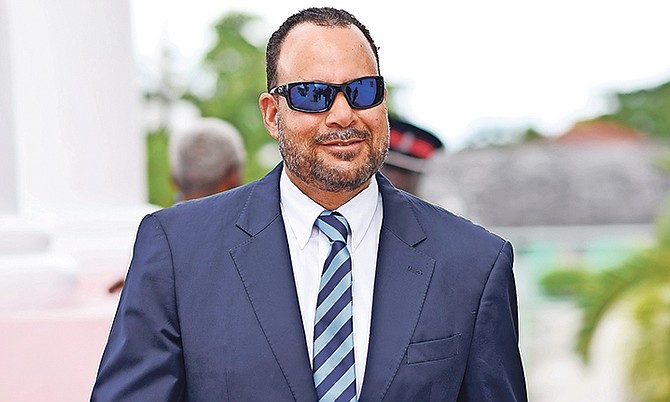 By NICO SCAVELLA
Tribune Staff Reporter
nscavella@tribunemedia.net
IT was revealed in court yesterday that the cleaning contract at the centre of former PLP senator Frank Smith's bribery and extortion trial was issued before the date the complainant told police she first met the accused.
And the lead police investigator in the case charged the accused some six months before verifying if the cleaning contract was authentic, a court heard yesterday.
Police Superintendent Uel Johnson said he did not confirm the validity of the $500,000 contract issued to Barbara Hanna's cleaning company until January 31, months after he charged Smith in July 2017.
Additionally, it was divulged that the contract was issued before Supt Johnson said Mrs Hanna told him she first met with Smith, with the implication that Smith could not assist the complainant in getting a contract she had already been awarded.
Furthermore, Supt Johnson said while he requested the call logs concerning Smith and Mrs Hanna to further his investigations, he never asked for the relevant phone bills, something that prompted Chief Magistrate Joyann Ferguson-Pratt to ask: "So was your investigation complete?"
Supt Johnson admitted he never interviewed or sought to interview former Deputy Prime Minister Philip "Brave" Davis, despite asserting that Mr Davis allegedly instructed or advised Smith to assist Mrs Hanna in getting the contract in question during Smith's initial record of interview on July 19, 2017.
The officer also said he never spoke with National Security Minister Marvin Dames or Health Minister Dr Duane Sands, both of whom admitted to interacting with Mrs Hanna at varying degrees ahead of a police investigation into her claims; however, Supt Johnson said their names never came up at the time.
Supt Johnson also said he never interviewed former Health Minister Dr Perry Gomez, who Dr Sands had previously said Mrs Hanna did not report Smith's alleged actions to because she was, at the time, paying Dr Gomez's secretary $500 a month.
The revelations came a day after Smith's lead attorney Keith Knight questioned the officer as to whether he had secured enough evidence to corroborate with Mrs Hanna's claims that Smith demanded $5,000 per month in exchange for his assistance in her getting the contract to clean the Critical Care Block of the Princess Margaret Hospital, before moving to charge him over the allegations.
Taking the witness stand yesterday, Supt Johnson said he interviewed Mrs Hanna on July 3, 2017, at which time she presented a copy of the contract to him. Later that month is when he charged Smith with the offences, who was arraigned before the chief magistrate on July 21 last year.
However, it was not until January 31 that Supt Johnson interviewed PHA Legal Advisor Leslie Isaacs and subsequently confirmed the contract's validity, according to the evidence. Supt Johnson said he attempted to interview former PHA Managing Director Herbert Brown on the matter, but said Mr Brown refused to give a statement.
When asked if he charged Smith without knowing if there was in fact a contractual agreement in place between Mrs Hanna and the PHA, Supt Johnson said he had to accept the contract Mrs Hanna gave him at "face value," though conceding that it may or may not have been a legitimate document.
Nonetheless, moments prior, Mr Knight instructed Supt Johnson to read from a document dated December 23, 2015, that outlined the PHA's resolution to award Mrs Hanna the contract, and further noted that the contract was signed by Mr Brown on February 15, 2016.
Asked when Mrs Hanna met Smith for the first time, Supt Johnson said sometime in March 2016.
Concerning the call logs, Supt Johnson said he requested that information from BTC in a bid to establish a link between Smith and Mrs Hanna, based on Smith's insistence during his record of interview that he did not know the Barbara Hanna who had made the allegations against him.
Supt Johnson said he subsequently got the call logs from BTC's internal auditor Marlon Gary Francis, compiled on a CD. The senior officer said he then printed off the information and compiled it in a booklet, before giving the CD to Corporal Quarry Adderley and instructing that officer to perform an analysis of the CD's contents on July 25, 2017.
Cpl Adderley, however, has previously stated that based on the information contained in Mrs Hanna's BTC phone bills, there was a discrepancy between the call logs he analysed and her phone statements. The officer also accepted that if he was privy to the information in the BTC phone bills, his analysis results would be fundamentally different.
Yesterday, Supt Johnson denied that he had anything to do with the modification of the call logs, maintaining that he trusted what was given to him as accurate. He further stated that he could not fully address the discrepancy between the call logs and the phone bills because he did not request the latter as a part of his investigations.
Issues also arose concerning an "addendum" made on February 26 of this year to Mrs Hanna's statement to police on July 3, 2017.
Lead Crown attorney Edward Jenkins, QC, said after being formally parachuted into the matter in February, he instructed Supt Johnson to make the addendum to Mrs Hanna's statement because he did not want the defence to be in the dark about things Mrs Hanna allegedly told the officer, but were not contained in her initial statement.
However, Mr Knight said because the addendum was not signed by Mrs Hanna, it raises the issue of there being nothing outside of Supt Johnson's claims that she told him whatever she did to prove Mrs Hanna made the statements.
The matter continues.
Smith is facing 15 criminal charges concerning his alleged solicitation of $65,000 in bribes from a woman he is said to have assisted in getting a contract. He is currently out on $50,000 bail.
It is alleged that Smith, between April 2016 and April 2017, in respect of his duties as a public officer, demanded and obtained $5,000 a month from Mrs Hanna.
He is also alleged to have attempted to extort another $5,000 from Mrs Hanna.
Concerning the bribery charge, it is alleged he solicited $5,000 a month from Mrs Hanna for aiding her in getting a contract with the PHA.
Smith pleaded not guilty to all the allegations during his arraignment.