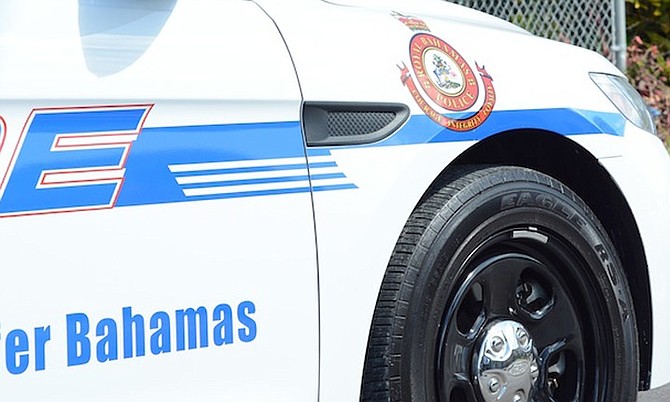 By RASHAD ROLLE
Tribune Staff Reporter
rrolle@tribunemedia.net
THE mother of Jermaine Desmond Minnis, a 43-year-old man police shot and killed on Thursday, insists witnesses to the incident never saw her son attack police with a machete as police have claimed.
Patricia Higgs, 60, was inside her house in Fox Hill, her life about to change when she heard the sound of five gunshots.
"When I came out I saw my child with all kinds of bullet wounds on the property where we sell dilly," she said.
The shooting took place on Thursday afternoon, but police did not inform the media about it until Friday morning. In a statement, police said officers had been responding to reports of a disturbance.
"As officers were attempting to bring calm to the situation," the statement said, "a male attacked one of the officers with a machete, causing injuries to him. A second officer being in fear for the life of his partner, discharged his service weapon, injuring the male. The injured man and officer were transported to hospital and are listed in stable condition."
According to Ms Higgs, her son had already been dead for at least 13 hours when police told the press he was in stable condition in the hospital.
"He died after 2pm Thursday," she claimed.
"He was done dead in the ambulance. When I got to the hospital they threw me in some room. I asked them what was going on, they later told me he never had a pulse. They let me see him before I left the hospital Thursday and he was cold as ice. I closed my child's eyes. I left the hospital 5pm that Thursday evening but they made it seem like he died Friday."
Police only informed the press of Mr Minnis' death after 6pm Friday evening when asked by a Tribune reporter for an update on his condition.
Ms Higgs struggled yesterday to deal with her son's death.
"I feeling dizzy," she said, "my stomach feels sick."
"On the scene they wouldn't let me go close to him to touch him. They ran everybody from around there. The same sergeant they said was chopped up was walking around like nothing happened. He was walking around in complete control."
"It took an hour for the ambulance to reach. My son was on the ground trying to crawl."
"When I went out there at first, I saw no machete and no scissors on the ground. I left and when I came back, all of a sudden I saw a machete and a scissors laid there on the side of him."
Bystanders filmed the aftermath of the shooting, circulating the videos across social media. In one clip, the mother could be heard wailing. "You kill my child, y'all kill my child," she cried. "In 97 y'all beat my child now y'all kill him," she added, telling The Tribune this was a reference to an incident at Fox Hill police station many years ago in which her son was badly beaten.
A man in the video could be heard saying: "See Buggy there. N*a pick up a bucket bey."
Mr Minnis' death was the 10th police-involved killing this year. An inquest at the Coroner's Court will be conducted to ascertain the facts surrounding his death.