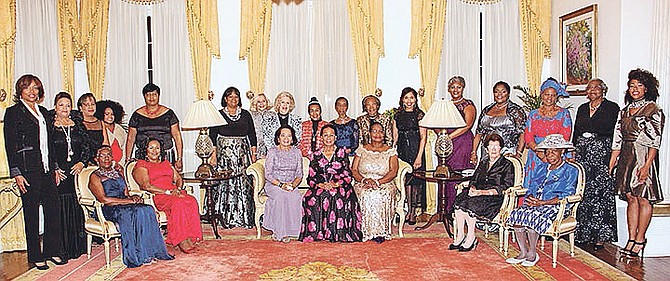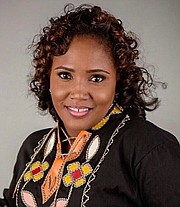 By FELICITY DARVILLE
While World Diabetes Day was being commemorated last week, Minister of Health Dr Duane Sands brought the dismal news that The Bahamas is the world leader in the prevalence of diabetes. His remarks came as the Bahamas Podiatric Medical Association (BPMA) launched its first annual conference under the theme: "New Hope for Diabetic Feet". The problem did not develop overnight, but now with the disease reaching unprecedented levels, podiatrists (foot and ankle surgeons) are coming together to do their part to aid in decreasing the amount of people who suffer amputations as a result of diabetes.
Little may be known about the BPMA, but they are doing their best to change that and brought in professional podiatrists from around the world for the conference. One local podiatrist who has served the community for more than four decades and has been working in diabetes prevention from the start was honoured with the lifetime achievement award at the conference.
Back in 1973, when The Bahamas was first becoming an independent nation, Dr Deborah Raine was graduating from the London Foot Hospital with a Diploma in Podiatric Medicine. She returned home and made history as the first Bahamian podiatrist.
Deborah began private practice in September of 1974, but she also received extensive post graduate education and training at the Chelsea School of Podiatry in London and at various institutions in the United States.
It has become all too common in the Bahamian conversation to hear that "I have sugar", or "I have to take my sugar pills" and it is accepted as a part of life in too many households. Deborah knew this long ago and for this reason she also became one of the pioneers in advocacy for diabetes prevention and proper treatment.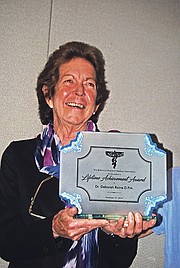 She became a founding member of the Bahamas Diabetic Association. The BDA was established in March 1986. The founding members established the association's humble beginnings as a result of the hard work and unwavering efforts of Mrs Diana Pinder and Mrs Ethel Knowles, whose daughters developed diabetes at the age of seven. The first meeting was held in Mrs Pinder's backyard with a few people who were interested in helping each other learn more on diabetes.
Dr Cecil Bethel was one of the attendees at that first meeting and he carried the vision beyond the establishment of a support group and drew up a constitution establishing the formation of BDA. It's role - to educate and give moral support to persons with diabetes and their family.
Deborah displays an innate commitment to caring for others with kindness and skill which continues to drive her in her professional and family life. She has been involved in many voluntary and charitable organisations over the years.
She has 44 years of dedicated service to her patients, her profession and her country. She has been a mentor and an encouragement to young professionals in her field. Even though they are few, they are all close with Deborah whom they look up to and often consult as they attend to various foot and ankle issues. They include podiatrists Dr Daniel Johnson, president of the BPMA; Dr Monique Mitchell; Dr Stephen Dorsette and Dr Kenneth Kemp.
In presenting the lifetime achievement award to Debroah, Dr Johnson said "her expert work is known throughout The Bahamas".
"She is loved by her patients and highly respected by her colleagues. We are grateful for her dedicated commitment to advancing podiatry in our country. One of the greatest things you can receive is an honor by your peers and we congratulate her for her dedication and commitment to this cause."
In opening the conference, Johnson stressed that diabetes is becoming the most prominent health issue in The Bahamas as it affects all major organs – the heart, kidneys, eyes, circulation and feet. Therefore, the conference became a reality through the BPMA, the BDA and the American Academy of Foot and Ankle Surgery.
International podiatrists who presented at the conference include: Dr Stan Kalish, who presented on Charcot foot dysfunction, diagnosis and treatment; Doctors Borys Markewych, Monore Laborde and Victor Horseley who all addressed minimally invasive surgery in the diabetic foot; Dr Joe Fox; Steve Parkinson, CEO of Lakewood Amedex who spoke on novel antimicrobial therapeutics for treatment of diabetic foot infections; Doctors Andronica Handie and Tim Ganey on stem cell therapy and the diabetic foot – compelling evidence and scientific review; and Dr Daniel Johnson of the Foot and Ankle Institute, Fort Charlotte who shared live surgical cases in the Bahamas performed at Spectrum Surgical Suites.
Many of the cases Dr Johnson shared showed that diabetics are suffering from foot ulcerations and the conference concluded that if diabetics considered the role of podiatrists more seriously as a part of their regular treatment, they would stand better chances of avoiding lower extremity amputation or loss of mobility.
"The alarming increase of amputations due to diabetes reached almost one thousand in 2017," Johnson said, and this has sparked the concern and interests of podiatrists in the country."
For five years, Dr Raine worked at the Geriatric unit of the Sandiland's Rehabilitation Centre dealing with such issues, followed by Dr Stephen Dorsette who dedicated 20 years doing the same.
She is a member in good standing of the British Society of Podiatrists since 1973 and the American Board of Multiple Specialists in Podiatry since 1988. She is board certified in Primary Surgical Care in Podiatry from the American Institute of Foot Medicine since 1992. In 2016, she received the Woman of Distinction award from Celebrating Women International.
Deborah has a passion for her family and for boating and fishing, a past time for which she is well known when she is not practicing medicine. She says she inherited the gift of writing from her late grandmother, author Wilhelmina HA Johnson (nee Kemp). She enjoys writing poems and stories in the vernacular and has created skits that children and family members have performed on special occasions.
Having given so much to the country for four decades, she intends to spend even more time enjoying the Bahamian waters fulfilling her passions.