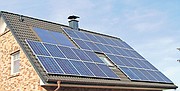 By DENISE MAYCOCK
Tribune Freeport Reporter
dmaycock@tribunemedia.net
Prime Minister Dr Hubert Minnis says his vision for The Bahamas is that every home becomes self-sustaining power stations with the use of solar technology.
Dr Minnis believes it could lead to the creation of a new industry where homeowners can sell their solar power back to the power company. However, he noted there would have to be a limit associated with it to prevent hoarding for investment purposes by the wealthy.
"I would like to see a Bahamas where every home - where a new industry can be developed - where every home, every quarter can look forward to receiving a cheque from the power company - $100, $200 and $300," he said.
"But you must have some form of limit so individuals don't use it as a form of investment. The rich can use it as a form of investment and replace the power station. That's my dream that everybody, every home be they in impoverished areas, or not, but that is my dream. "
Dr Minnis was speaking with reporters in Grand Bahama last week when asked about new proposed project by a Bahamian company to build two Firm Solar Plants on Grand Bahama.
Northern Bahamas Utilities Holding Co Ltd has made application to the government to construct multi-million dollar solar plants in West Grand Bahama, and East Grand Bahama, which will be phase two.
The company plans to acquire 51 acres of land in Pelican Lakes, southwest of the West End settlement.
The proposed project is expected to lower the cost of electricity, and any surplus power would be sold to the Grand Bahama Power Company via a purchase agreement.
The 1993 agreements signed between the Bahamas government and the GBPC allowing the power company to provide and sell electricity to areas outside of Freeport is expected to expire this year, and civic group Coalition of Concerned Citizens has asked government not to renew the agreements with the foreign power company, but to consider approving the proposed solar plants by the NBU, a 100 percent Bahamian owned company.
When asked about whether the West End and East End Agreements would be renewed, and about the application for the proposed solar plants, Dr Minnis indicated the Minister of State for Grand Bahama Senator Kwasi Thompson would provide details concerning the matter.
However, he expressed a strong desire to see solar-equipped homes throughout the country. "In terms of solar I have a vision for The Bahamas concerning renewable energy," he said. "Solarisation is improving aggressively, technology is improving aggressively - we not only have solarise roof panels, but tiles etc.
"I would like to see every home in The Bahamas become what you call a self-contained power station, meaning that you can generate all the electricity from solar panels, roof tiles, walls etc, and they can connect to the power grid so that any excess energy the power grid obtain from them they can give them back and the excess power grid can pay them back."
The prime minister said that homeowners would be able to collect money from the power gird. "That's my dream for every body; every home be they in impoverished area or not," he said.
NBU's project is estimated at some $30m. It will use 24,000 solar panels, backed up with 10 megawatts of propane generators. The plant will be able generate some six million watts or six megawatts of power.
The company claims its solar proposal can reduce energy costs by 30-40 percent, and create some 50-85 jobs, if it is allowed to supply power to East and West End.
Earlier in the year, Dr Carlton Bosfield, principal of Northern Bahamas Utilities (NBU), told Tribune Business that its planned investment in two utility-scale solar plants would ultimately enable residents in both areas to "own a piece of their energy."
Mr Bosfield disclosed that NBU, founded by ex-Grand Bahama Power Company (GB Power) executives, had been working for three years to realise an opportunity that depends entirely on the government ending their former employer's 25-year monopoly.