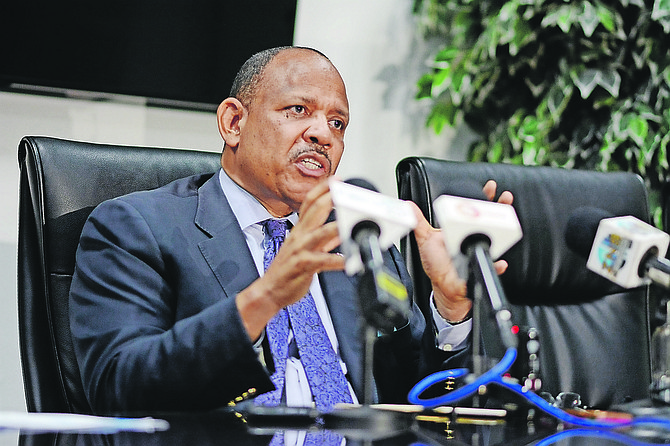 By RIEL MAJOR
HEALTH Minister Dr Duane Sands said yesterday patients will be able to occupy the Corey Newbold ward "as early as this week."
Dr Sands told reporters outside Cabinet yesterday that officials are very excited for the opening of the Corey Newbold Ward (Male Chest Ward) at Princess Margaret Hospital because many persons have experienced, in the past, waiting days in Accident & Emergency for the opening of an available bed.
He said: "That problem should be a little bit less as we bring on 25 new beds and we have two other wards we have being renovated now so a lot of the overcrowding that has been a perennial problem for patients and their families, we should see improvement in very short order.
"I think maybe what you need to do is come on down and have a look because we have started putting in the furniture in the Corey Newbold Ward. Brand new beds, brand new bed side furniture, curtains are going up and we expect probably as early as this week we should be able to get patients into that ward."
Dr Sands highlighted the tremendous contributions made by the private sector and the new scanning machine Princess Margaret Hospital received last weekend.
"It's state of the art Phillips multi-slice CT scanner...we've had tremendous contributions from the private sector to make the experience that patients have while they're being scanned absolutely unique and relaxing. We now have a digitised imaging system where we can look at images in China, in Paris, across the internet, so things are moving.
"(The) Rand Memorial Hospital will get their cat scan (machine) probably end of December, end of January and we are doing some repairs to the challenging problem with the roof at the Rand Memorial Hospital, so things are moving."
The renovations at the Corey Newbold Ward cost $900,000, it was previously reported.
PMH's Children's Ward as well as Male Surgical 1 are also out of commission for repairs.