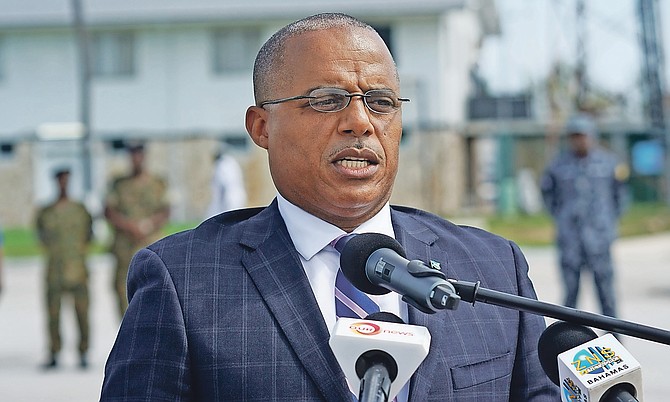 By AVA TURNQUEST
Tribune Chief Reporter
aturnquest@tribunemedia.net
NATIONAL Security Minister Marvin Dames said yesterday law enforcement was open to considering a policy to place officers involved in shooting deaths on administrative leave or "desk duty" until matters are investigated.
Mr Dames was responding to a question on whether there was an existing policy for officers to be taken off active duty immediately after a fatal shooting.
While he did not directly answer the question, the national security minister said the commissioner of police had the discretion to make such a decision.
He stressed law enforcement agencies did not want to cultivate a divisive environment with the community, and underscored efforts to improve its professionalism like the Neighbourhood Watch Council and the proposed introduction of body cams.
He said his ministry was nearly ready to issue a request for proposals (RFP) for the acquisition of body cams; a pilot programme was tested late last year.
"We're looking at every possible thing, we're looking towards looking at avenues where we can improve the professionalism of our agencies," Mr Dames said.
"We're determined to do that as a government. We have articulated it over and over again and we will continue to do so. This is not our intention to build an us against them society where you have law enforcement then you have the people. The commissioner at his discretion can do anything…but we will continue to look at how we can improve in those areas."
There have been ten police-involved killings so far this year.
Last week, police said a man who was shot by police after he attacked an officer's partner with a machete on Thursday died of his injuries.
And Corporal Adrian Miller was found by the Coroner's Court this year to have unlawfully killed two people in separate incidents: 22-year-old Terrique Fowler on June 7, 2013, and 31-year-old Girred Clarke on August 17, 2013.
The ruling prompted questions from former State Minister for Legal Affairs Damian Gomez on why an officer would not be taken off active duty immediately after a fatal shooting.
Police have also come under increased public scrutiny for a spate of viral videos purporting to depict officers abusing their power in separate instances released over the course of this year.
Investigations were reportedly launched into more than three recordings this year, but there have been no updates given in any of the cases.
In the latest incident, a near minute-long clip was posted to social media over the weekend in which an unidentified police corporal, badge number 2791, could be seen slapping a man, believed to be a tourist, who was accused of loitering in the downtown area.
Before heading into a Cabinet meeting yesterday, Mr Dames insisted the police force would not cover for officers found guilty of wrongdoing.