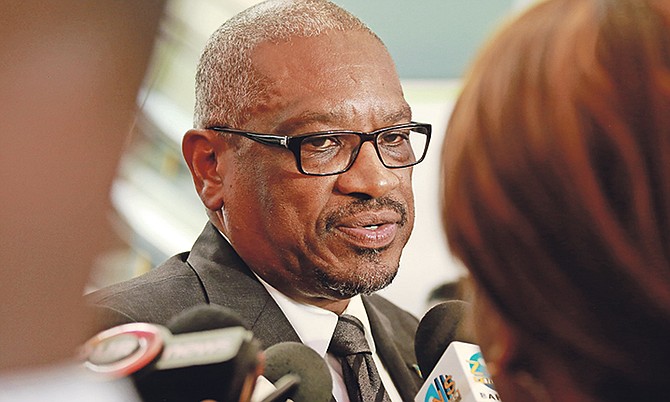 By KHRISNA RUSSELL
Deputy Chief Reporter
krussell@tribunemedia.net
PRIME Minister Dr Hubert Minnis said yesterday that a company was selected to probe the rising cost of electricity, but the details could not be made public because the matter had not yet gone before Cabinet.
His comments came after the government tabled an amendment to the Value Added Tax Act seeking to temporarily increase the VAT-free ceiling on electricity bills to $300.
The amendment will ensure the change does not expire until July 1, 2019.
Increased light bills have been a point of contention for consumers and was part of the reason for a large protest on Bay Street yesterday.
Recognising that many people struggle to financially afford the spike in cost, Prime Minister Dr Hubert Minnis told reporters yesterday the government will do whatever it can to relieve this stress.
"We have committees looking at it," Dr Minnis told reporters outside Parliament yesterday. "We understand that there are some people having challenges with light bills and we are cognizant of that and we will do whatever we can to try and relieve their pain and their stress.
"That's what a good government does."
Asked of the probe, he said: "I can't tell you anything yet that hasn't gone to Cabinet, the company has been recommended and it now must be taken forth to Cabinet."
Earlier this month the prime minister announced the government decided to raise the VAT exemption ceiling. At the time he said changing trends in the cost of the delivery of electricity will inform any decision to extend the increased exemption ceiling into the new fiscal year, beginning July 2019. He attributed the higher costs to fire damaged equipment at Bahamas Power and Light's Clifton Plant causing the provider to rely heavily on its Blue Hills facility, which is more expensive.
The amendment came into force on November 1 and amends the second schedule to the VAT Act by "increasing the qualifying threshold for the value added tax exemption on a supply of electricity service by any utility service provider from $200 or below per billing cycle to $300 or below per billing cycle."
Consumers are expected to see the change in their January billing cycles.