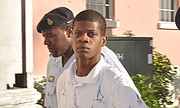 By DENISE MAYCOCK
Tribune Freeport Reporter
dmaycock@tribunemedia.net
A POLICE officer testified on Wednesday in the Supreme Court that murder accused Renaldo Hudson confessed to shooting three people during a robbery gone bad in which two persons were killed in March 2016.
According to Detective Constable 3508 Patrick Rolle, he was present during a record of interview that was conducted with the accused on April 8, 2016, sometime after 11pm at the Central Detective Unit.
Constable Rolle said Det Sgt 772 Johnson conducted the interview. After Hudson was cautioned, the accused was told he was suspected of the murders of Noel Hamilton and Jacklyn Armbrister, and the attempted murder of Agatha Gaitor.
Hudson, 20, who is on trial, is charged with two counts of murder, one count of attempted murder, and one count of armed robbery. It is alleged that on March 21, 2016, sometime around 11am the accused armed with the firearm went to a wooden shack off Hearn Lane and Bruce Avenue where he robbed Armbrister, before shooting the three victims.
Mario Gray is representing the accused.
Constable Rolle said that he and Sgt Johnson both signed the record of interview, but Hudson refused to sign it, indicating that he could not read well.
Recording
A video and audio recording of the record of interview with Hudson's confession was also made on April 8, 2016, at CDU, he said.
Prosecutor Erica Kemp asked officer Rolle how the accused appeared during that time and if he had made any complaints to him.

Hudson, he said, was calm and had made no complaints to him while in police custody at CDU.
"Did you observe him sweating, shortness of breath, any discomfort?" asked Mrs Kemp. "No, ma'am," replied Rolle.
Prosecutor Kemp asked officer Rolle whether he had observed Sgt Johnson making facial expressions at the accused, but Rolle said he did not.
After the record of interview, Hudson was taken back to the Lucaya Police Station. He said Sergeant Williams was driving the police vehicle and he sat in the back with the suspect, who never made any complaints to him.
When they arrived at the police station in Lucaya, Constable Rolle said he took the accused inside, and he turned him over to officers at the station who placed him in a cell for safekeeping.
On the morning of April 9, Officer Rolle and Corporal McPhee, returned to the station around 8am to collect the accused who was taken back to CDU for more interviews.
Rolle said Hudson appeared to be good and he made no complaints to him. The prosecutor asked whether he or Sergeant Johnson had coached the accused while he was in custody at CDU. "No, ma'am," Rolle replied.
During cross-examination, Mr Gray asked the witness at what time the record of interview was conducted. Det Rolle said the interview took place at 11.45pm.

"Were you on shift?" asked the defence attorney. Rolle replied that he worked the nine to five shift. "And the interview was conducted at 11.45pm?" asked Gray.
The attorney put it to Det Rolle that Sgt Johnson was making faces at the accused in the interview room, but he denied the suggestion.
"When you were asked if the defendant was in any discomfort you said no, did you observe the defendant put his head on the desk?" asked Mr Gray. "Yes," replied Rolle.
"He put his head down a few times," Gray said. "During the interview was he sitting in one place?" the attorney asked. Rolle said Hudson made some movements.
"I am going to suggest to you that the defendant's movements were not normal and he was moving a lot because he was uncomfortable," Gray suggested to the witness. Rolle said he did not recall that.
Mr Gray also asserted that his client had complained of tightness in his chest to Detective Rolle when he had taken him back to the Lucaya Police Station, and when he picked him up the next morning, but the officer denied Hudson made any such complaint on those two occasions.
Mr Gray asked officer Rolle at what time he took the accused back to the police station after the record of interview with Sgt Johnson.
The officer said sometime after 12am, but then Gray referred him to the Detention record which showed that he left CDU with the accused around 1.12am on April 9, arriving at the Lucaya Police Station at 1.25am.
Mr Gray claimed that while Hudson was being taken to the station, he complained to Rolle of tightening in his chest, and again later that morning when he picked him up at 8am.
"I suggest to you that while you were taking him to CDU, he said, 'I need a doctor my chest feels tight.'"

"No, sir," replied Rolle. "The complaint was made to you, and you did not see fit to take note of it or enter it on the detention record," Mr Gray claimed.
Rolle maintained that he did not make any entry because Hudson had made no such complaints to him.
Justice Estelle Gray Evans is presiding over the case.
The trial resumes on Monday.