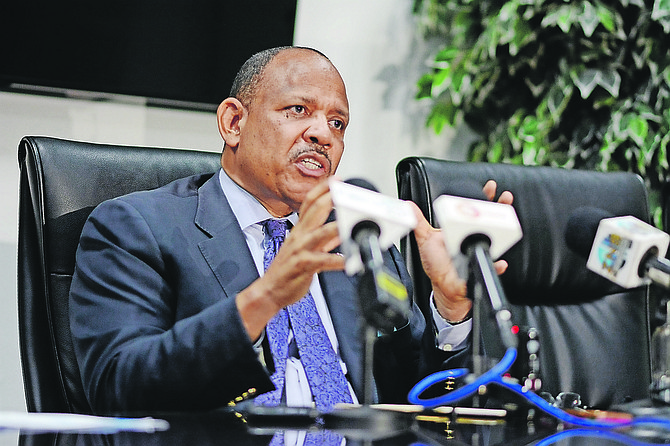 By MORGAN ADDERLEY
Tribune Staff Reporter
madderley@tribunemedia.net
HEALTH Minister Duane Sands yesterday warned that consumers who continue to eat romaine lettuce and turkey products in spite of officials' recent caution against these food items are taking a "gamble" and making an "ill-informed" decision.

He added although there have been no local cases of illnesses associated with the E coli and salmonella outbreaks reported in the United States and Canada, Bahamian authorities felt a responsibility to warn the public.

"We are following up on…advisories from the (Federal Drug Administration) FDA, the US Department of Agriculture (USDA), (Centre for Disease Control) CDC, and the World Health Organisation," Dr Sands told The Tribune yesterday.

"So they have notified all countries of this challenge of E coli in romaine lettuce in the United States and salmonella in raw turkey and turkey products."

"Now, we have not seen any cases locally," Dr Sands continued. "However, we believe that it's responsible for us to notify Bahamians because we get romaine lettuce and raw turkey and turkey products in the Bahamas from the United States.
"Individuals would then decide how they're going to deal with the information. Some people will say 'man, I done spend my money, I'm going to eat the lettuce, I'm going to eat the turkey.'

"However, it's all well and good if things go well. If it doesn't go so well, then that's a gamble that you would have taken. But, given the fact that we have been warned by all of the American agencies, we felt it appropriate to pass the information on to the Bahamian public and the Bahamian consumers, so that they can make an informed decision."
In an interview with The Tribune on Wednesday, Super Value President Rupert Roberts said the grocery store chain will likely not pull any lettuce or turkey products from its shelves.

Mr Roberts said instead the company will apply warnings to the products and allow shoppers to choose whether or not they wish to buy or consume.
When asked if he would encourage restaurants, food stores, and wholesalers not to sell romaine lettuce, Dr Sands' referenced Mr Roberts' comments.

"I've seen Super Value's position," the health minister said.
"And so, I'm not going to get into a tit for tat on this matter.
"At the end of the day we have made recommendations to the Bahamian public. Those recommendations are very specific, that if you have not grown or seen the romaine lettuce being grown, don't eat it.

"That would automatically suggest that if you're purchasing it in a store, and we're recommending that you throw it out, that you've made an ill-informed decision."
Dr Sands added he has stopped eating these products.
On Wednesday, the Bahamas Agricultural Health and Food Safety Authority (BAHFSA) released a statement advising local consumers, retailers, and wholesalers to "voluntarily throw out" any lettuce purchased from stores selling US derived lettuce products following the recent E coli outbreak and warning of Romaine lettuce in the United States, which has caused over 30 illnesses in the US.

The BAHFSA also cautioned consumers about the "ongoing outbreak" in raw turkey products associated with an antibiotic-resistant strain of salmonella. It noted the United States Department of Agriculture (USDA) has recalled all raw ground turkey due to this outbreak, which has been linked to over 160 illnesses and one death in the US.