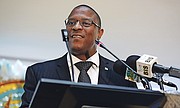 By DENISE MAYCOCK
Tribune Freeport Reporter
dmaycock@tribunemedia.net
MINISTER of Agriculture and Marine Resources Michael Pintard hosted senior citizens in his constituency to a Thanksgiving Luncheon at the Castaways Resort on Thursday for a third consecutive year on Grand Bahama.
Mr Pintard greeted seniors and thanked them for their contributions to society and the country. He said that the aged continue to play an essential role in society as a "repository of historical knowledge" and from which young people can learn a lot.
"This is the third year we have been holding our Thanksgiving Luncheon because we have always held the view that it is important to say thank you to our senior citizens," he said.
"They are the foundation of this community, and they have played a pivotal role in the development of Grand Bahama, and Freeport, in particular."
The Marco City MP said that seniors have made sacrifices and have given their service whether in the formal workforce or as homemakers who have groomed the next generation of leaders in the country.

"We want them to know we appreciate the sacrifices they have made," the MP said.
Additionally, Mr Pintard said the event provides senior citizens the opportunity of fellowship and catching up with old friends they had not seen in the last two years.
"Functions like this help to reunite them, and we thought this opportunity would be good, and it gives me as the MP the opportunity to become acquainted with them in an informal setting," he added.
The MP stated that he plans to hold some intergenerational functions throughout next year to encourage fellowship between young people and senior citizens.
Mr Pintard said that there should be an appreciation among young people for seniors.
He noted that "notwithstanding that society has changed and that young people are now emerging to lead things, there is still value in persons who are senior citizens… as they are the repository of historical knowledge and they can glean from their wisdom."
Mr Pintard noted that the Marco City Constituency team will continue to try assist those seniors who are still having challenges regarding hurricane repairs.

"Some of the challenges throughout islands like GB that have been hit by hurricanes, notwithstanding the $3.5 million distributed for hurricane relief and the Marco City hurricane relief programme – which is quite possibly the largest relief programme of any constituency in the country – and the small home repairs initiated over the last several weeks to catch a number of homes that were missed, some persons are still faced with leaking roofs. We still have some work to do," he added.
Mr Pintard said: "I (intend) to find out what concerns residents have, and what we could do to be helpful with what is singularly the most significant issue."
"People still need assistance with the repair of their roofs, and I hope that some contractors would assist some of the residents as a number of us would assist in providing building supplies. And so as early as tomorrow I will be meeting with some of them to mobilise some assistance for them, but that is a major concern."
Another issue that seniors are concerned about is their children and grandchildren who have returned from school abroad, but have not been able to find employment.
"They are saying to me, 'my granddaughter just graduated from high school can you assist with getting a job?', 'my son has just come home with multiple degrees and is having challenges finding opportunities, what are you able to do?'
"So they have serious concerns about job opportunities for their families, and that why this administration expanding this economy is crucial. If we do not grow this economy by three percent, it is going to be difficult even to absorb those coming out of school. And we have an even greater challenge trying to attract the best and brightest to come back home," he explained.

MP Pintard said that an initiative he and his team had launched prior to the election of a programme concerning the implementation of city water in the Fiddler's Green area would continue.
He noted that some unforeseen problem that developed, but they looking to resolve the issue and continue the city water programme in those areas that have wells but do not have access to city water.