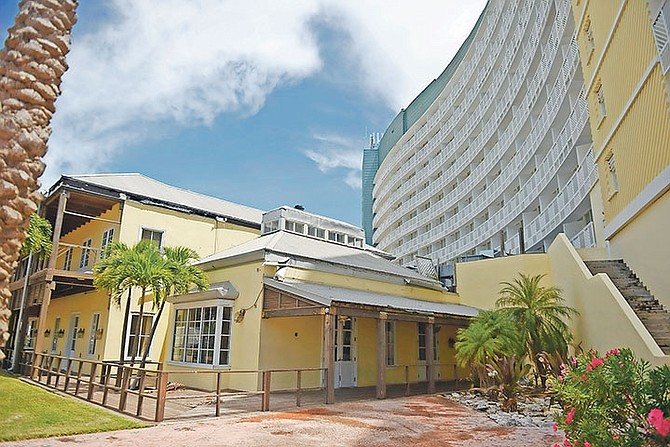 By MORGAN ADDERLEY
Tribune Staff Reporter
madderley@tribunemedia.net
TOURISM and Aviation Minister Dionisio D'Aguilar has said the "most critical thing" his ministry has been given to do is increase the "staggeringly low" number of hotel rooms on Grand Bahama.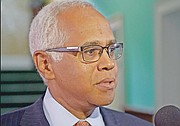 Only 775 hotel rooms are currently available on the island. Mr D'Aguilar noted that airline carriers, such as Sunwing, were "limited" by the number of passengers they could bring in due to the lack of rooms. In October, Sunwing announced its plans to scrap its summer airlift to Grand Bahama.
Mr D'Aguilar also said the government's acquisition of the island's Grand Lucayan hotel is part of this initiative, adding the hotel's sale should be completed by the second quarter of 2019 "by the very latest".
He also provided updates into the Bahamas' negotiations for charging international airlines fees for using the country's airspace, saying a request for proposals (RFP) for a company that will assist the country in monetising its airspace should be dropping "within the next week or so".

When asked how the ministry will improve airlift to Grand Bahama in the wake of both Sunwing and Sky Bahamas suspending flights to the island, Mr D'Aguilar said on Friday the issue is "scale".

"The first thing that we did was, I charged the Ministry of Tourism to discover exactly how many hotel rooms we're attempting to sell," Mr D'Aguilar said. "And when the number came back it was staggeringly low - there's 775 hotel rooms in Grand Bahama that we're trying to push.

"So, as we determine: 'Okay, what are we (going to) do moving forward?' The most critical thing, this is what the government has charged us to do, is we've got to grow the number of rooms because we don't have sufficient scale right now. I mean, it's half the size of the Hyatt (at Baha Mar), for the whole of Freeport.

"We've got to grow the number of hotel rooms and this is what we're attempting to do with the Grand Lucayan project. And then when you have scale, it's easier to generate lift.
"But in the meantime, as Bahamasair falls under my portfolio, the Ministry of Tourism, my deputy director of tourism has been charged with growing, using Bahamasair as a substitute for Sunwing to identify key markets in the United States to see where we want to put in charter service to bring people into Grand Bahama."
Mr D'Aguilar said that plan is currently "under construction," while reiterating "the issue in Grand Bahama is really scale."
"We need additional hotel rooms. We need to increase that in order to make that happen. When you look at the Sunwing numbers, they brought like 6,436 persons into Grand Bahama and I think they were limited by the amount they could bring in because there's just no more rooms. So that is what the government is attempting to do through its Grand Lucayan project."
When asked about updates on the sale of the resort, Mr D'Aguilar said "an excess of over 20 people" have expressed an interest.

"I think just north of 11 or 12 have signed the non-disclosure agreements to get the information, they're accessing the data rooms, it's a very open and transparent process.

"We've hired a company called Colliers to manage the process for us, to go out to market it, to get the proposals in, to sift through them and to make a recommendation to the government on which one we should accept. So it's very much a process that's underway and hopefully by the very latest the second quarter of next year we should have it sorted."
The tourism and aviation minister was also asked to provide updates into negotiations for charging international airlines fees for using the Bahamas' airspace.

Mr D'Aguilar said these negotiations are going "extremely well" and described the Americans, who currently manage the country's airspace, as being "very embracing, very encouraging."

Mr D'Aguilar added a decision has to be made on how the country will monetise its airspace. "So, if we're going to think of it as 'the Americans are going to manage it on our behalf but we're going to have the right to charge'…the question is what to charge, how to charge, how much to charge. How does that process work?

"We're in the process of developing an RFP to put that out into the private sector for a company to come forward and provide us with that service, because obviously we have no experience in that. And so we're seeking that expertise…and an RFP should be dropping very shortly, within the next week or so.

"Where we put that out into the public domain and allow companies to come forward and tell us what is the best and most efficient and most lucrative way to monetise our airspace."