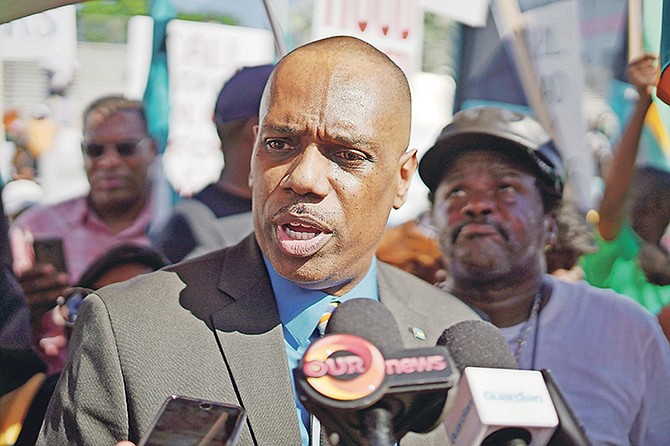 By KHRISNA RUSSELL
Deputy Chief Reporter
krussell@tribunemedia.net
AS he slammed Free National Movement Chairman Carl Culmer for calling him a hypocrite, Pineridge MP Frederick McAlpine yesterday suggested the FNM chair was not a real leader.
Mr Culmer made the remark about the FNM backbencher last week as he deemed Wednesday's march outside Parliament a failure organised by the Progressive Liberal Party.
Despite siding with those protesters who demonstrated against the Minnis administration, Mr McAlpine further insisted he was not a hypocrite or anti-FNM but said the party does need a "come to Jesus moment" having faced two protests in less than six months.
In an interview with The Tribune yesterday, the MP, who is often heavily critical of the FNM, said it was only right that he stood with those who marched on Wednesday as both he and they held the same views.
He said if the party could not understand this, then it was hypocritical for refusing to see why many Bahamians are angry having voted for a government that has now gone contrary to what it promised.
And he's sure that's he isn't the only FNM member who feels the same. However he said he has not been afraid to speak publicly for voters because he doesn't have to "sing for his supper" as others do.
Asked if Mr Culmer's rebuke was a testament of his standing in the party, Mr McAlpine said he remains a member of the party, but admitted there are many in leadership and others in Parliament who have shunned him for his opposing views.
"Everything rises and falls on leadership," Mr McAlpine said.
"I'm not a hypocrite. People see the government as hypocritical but I'm not a hypocrite.
"I think it would have been unfair for me who has been espousing the views in Parliament of the very same concerns that the people who were marching marched about. And I took the opportunity to march with them because of the views that they were espousing. How could I be talking about BPL and talking about high taxation, talking about conflicts of interest and these people were marching about all of that and I'm sitting down watching all of that and not participating?
"I did it to let them know that I support their views and the views that they espouse many people in the Bahamas also support. I don't see how that makes me hypocritical."
He continued: "Matter of fact people will say that we are hypocritical because we at one time promised that we would repeal VAT but instead we increased it by 60 percent. We talked about conflicts of interest, but yet we turn around and put a post office in the building of a sitting Cabinet minister. Those things are what people will look at and view as hypocritical."
Responding directly to the FNM chairman, Mr McAlpine said were Mr Culmer a real leader he would have summoned him to his office to speak privately about his grievances with the party and government.
"I hear this talk about the chairman saying 'I have an open door policy that McAlpine can come and see me.' Man, that's not what leaders do. If you have a problem with me as a member of your party, if you wish to see me you'd summon me. You don't tell me when you passing through town come and see me. That's not what leaders do. If you wish to see me as a member of Parliament, as the chairman of the party if you send for me I will come. Don't tell me when you come to town just come in and see me if I have a problem.
"I don't have a problem with the party. Notice I don't speak to personalities. You know I speak to governance and policy that's what I speak to. I'm not getting personal with anybody.
"And let me make this clear. I'm not anti-Minnis or anti the government. I'm just pro-Bahamian and pro-people and if I have to choose between the party and the country I will choose the country or the people of the country for every time," he told The Tribune yesterday.
"When I say a come to Jesus moment I mean a come to Jesus moment where we communicate.
"What you need to be asking me is if anyone is talking to me. Why does the chairman have to talk to me in the press? Now the question might also be why are you talking to them in the press? Well if you could talk to me in private I won't have to talk to you in public.
"I ain't talking about calling me in private in a caucus where you telling us what it is and not asking us our opinion. If you speak to me in private I won't have to speak to you in public.
"From the chairman of the party go down or from whoever we need to change our communicative skills with the people of the Bahamas and the people we work with," he said.