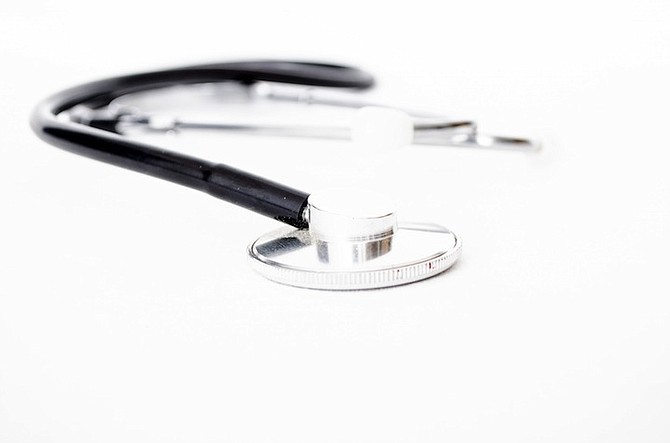 By NEIL HARTNELL
Tribune Business Editor
nhartnell@tribunemedia.net
The Government has been urged to "scale down" National Health Insurance's (NHI) basic benefits by up to 50 percent amid fears businesses will become a "financial lifeguard" for the scheme.
The Bahamas Chamber of Commerce and Employers Confederation (BCCEC), in its NHI position paper, argued that reducing the Standard Health Benefit (SHB) package's proposed $1,000 annual premium to around $500 "would be more reasonable" for companies and the wider economy to absorb following July's 60 percent VAT rate hike.
The group, which represents the widest cross-section of businesses in the Bahamian economy, warned that NHI's payroll tax financing mechanism would increase labour costs by up to seven percent - a level that companies with "thin profit margins" may find impossible to absorb.
Besides providing a disincentive for companies to hire new employees, and possibly encouraging some to lay-off staff, the Chamber added that this mechanism will also impact economic growth through reduced worker disposable income and business having less money to invest.
Michael Maura, the Chamber's chairman, yesterday told Tribune Business that the private sector's concerns were focused on "the pathway" for achieving Universal Health Coverage (UHC) rather than any opposition to the concept.
NHI is the Government's chosen financing mechanism for achieving UHC, but Mr Maura said the private sector had yet to see any analysis justifying the SHB's $1,000 price tag or the impact the scheme will have on businesses and the wider economy.
The Chamber's position paper warned that the $1,000 annual premium may be "too low" for the level of healthcare services it proposes to finance, and warned that "undesirable consequences" would flow from this - including the Government demanding ever-increasing sums from the private sector to make up the funding shortfall.
"Because we are not clear in terms of the specifics of how this programme will work successfully, we remain very concerned that the potential errors in the plan will then fall on the backs of businesses to fix," Mr Maura said, "and by fix I mean the cost mistakes.
"Because there may be inconsistencies in the logic, gaps in the plan in terms of how it is successfully implemented and funded, once we get past the point of no return where the Government finds itself in a position where they will have to maintain the plan and move ahead they will look exclusively - as they tend to do - at business.
"Businesses will be the lifeguard from the standpoint of funding. Cost is a big part of it. This is not the private sector pushing back and questioning whether we should have NHI. It's about the pathway to get there."
NHI is the Government's chosen vehicle for financing UHC, which is designed to provide all Bahamians and residents with affordable, accessible care when they require it. Mr Maura said the private sector understood the desirability of this "national objective", but felt it was "too much, too soon" given the economy's fragile condition and recent VAT increase.
"We still have many questions around the financial analysis, and other analyses which they have perhaps not shared yet, to help us understand how they expect this plan to do what it's intended to do. How do we fund it?" the Chamber chairman added.
"We have major concerns with the taxes we have seen in our economy over the last three years. We are extremely concerned that while this initiative comes from a very good place, we worry that - at the end of the day - business once again has to underwrite this plan."
The Government is this fiscal year projecting a 55.7 percent VAT revenue increase alone from the Budget's rate hike, which will raise its take from $680.6m to $1.06bn - a jump of $380m. As a result, Mr Maura warned that further burdening businesses and workers with the NHI scheme's payroll tax will further raise the already-high cost of doing business and undermine any growth momentum the economy may be gaining.
"We think it's a lot too soon to impose that," he added. "We don't want to put too much on business too soon. Let's work on economic growth and, once the economy is growing, phase it in."
"It is the BCCEC's recommendation that the Government and the NHIA (NHI Authority) scale down the benefits covered by the SHB so as to reduce the required premium for the plan and consequently decrease the cost borne by businesses to purchase the plan for their staff," the Chamber paper urged.
"Specifically, designing a schedule of benefits that would cost about half that of the current plan, $500 per annum rather than $1000 per annum, would be more reasonable for businesses and the economy to absorb. This suggestion should be considered and implemented within a broader context of a growing economy."
The NHI Authority, which will administer the scheme on the Government's behalf, was careful to avoid the word "tax" in outlining the proposed financing mechanism in its consultation paper. It is effectively suggesting a payroll tax whose structure replicates the National Insurance Board (NIB) scheme - with contributions split between employer and employee.
Ending the notion that "healthcare is free", the NHI consultation paper calls for all working Bahamians to contribute two percent of their salary or 50 percent of the premium - whichever is lower - to purchase the scheme's Standard Health Benefit (SHB) or minimum level of coverage.
Unveiling a similar funding mechanism to NIB contributions, the paper says the balance of SHB costs will be met by the employer, meaning the latter "will be responsible for at least 50 percent of the premium cost".
The SHB package's initial "regulated premium cost" is expected to be $1,000 per year, or $83 per month, meaning that employee contributions will be effectively "capped" at $500 per year ($42 per month).
The tax structure is progressive in the sense that workers with lower incomes contribute less to their premium than those with higher salaries, but this results in their employer having to pay more. For example, Bahamians earning $25,000 per annum or more will split contributions 50/50 with their employer, each paying $42 per month.
However, while workers earning $10,000 and $15,000 will have to pay $17 and $25 per month, respectively, their employers must pay the $67 and $58 balances, respectively. As a result, the increased labour costs may result in some companies electing to shed their most vulnerable employees - those on the lowest incomes - and disincentivise them from new hires.
"While much focus has been placed on the proposed employee contribution of a '2 percent NHI tax', there has been little to no recognition of the fact that the balance of the premium is to be paid by the employer," the Chamber position paper said.
"Businesses understand that this mandate is not a tax in the literal sense since it does not raise revenues for the Government. We submit, however, that it is an increase in labour costs which in turn increases expenses."
The Chamber added: "Hence, there is no doubt that it has the same effect on a business's bottom line. Based on the [consultation] paper, non-exempt employers or businesses could pay between $500 and $780 per employee.
"This could constitute an increase of up to 7 percent in labour costs assuming a minimum wage of $10,920, where employee contribution will be 2 percent, i.e. $218.40. The employer pays the balance of $781.60, which equates to 782/10920 = 7.16 percent.
"Based on the referenced example, these increased labour costs could be significant particularly for businesses that operate on thin profit margins and may therefore be unable to withstand this level of increase."
Tribune Business's own calculations suggested that the proposed NHI payroll tax could increase labour costs by up to 16 percent for workers earning just $5,000 per annum, such as part-time staff, while expenses associated with those making $10,000 per year would rise by just over 8 percent.
"This will influence businesses to reevaluate their use of part-time labour," Mr Maura told Tribune Business. "It's going to impact how a business is going to manage its labour, and will impact employees and their disposable income as well. The employees will find themselves having to pay for this as well."
The Chamber's policy paper added: "Employees having reduced disposable income, and businesses having less capital available for reinvestment to provide for future growth, could both have an adverse impact on the economy.
"In this regard, the BCCEC wishes to caution the NHI Authority against excessive optimism that this initiative will bring about economic expansion. The employer mandate is projected to result in businesses spending more on insurance and healthcare with an unintended potential reduction in reinvestment in their own businesses and dampened future salary increases for their staff.
"While the NHI Authority foreshadows that the insurance and healthcare sectors may grow from these inflows into their industries, there may be contraction in other industries. Thus it is difficult to accept the argument that there would be a direct positive economic effect in the absence of an economic impact analysis that supports such a notion."