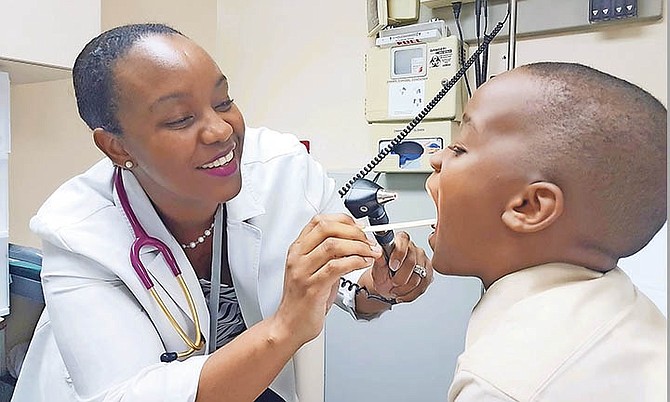 Doctors Hospital and PEM Bahamas have teamed up to enhance the emergency care offered by the country's only acute care private hospital by adding dedicated paediatric emergency service.
"Although we have always treated children of all ages when they presented at our emergency room, we recognised an opportunity to strengthen the service we provide by bringing onboard a paediatric emergency specialists team and identifying a separate space conducive to treating patients aged 0-18 years," explained Doctors Hospital President Dr Charles Diggiss.
For Dr Jerome Lightbourne, paediatrician, paediatric cardiologist and president and managing director of PEM Bahamas, the partnership is the realisation of a long-held vision which benefits both patients and local paediatricians.
"Through this partnership, parents can rest assured knowing that when their child gets sick or hurt outside of regular office hours, or their condition is such that more emergency care is required, they have access to the best emergency care for their children right here at home," he explained, adding "paediatricians are also assured that we will be working with them to provide a continuum of care before, during and after treating their patients for any after-hours medical emergency or providing care that exceeds what they are able to provide in a primary care office. Now, there's little need to incur the additional costs associated with travelling abroad to receive emergency care."
The Doctors Hospital paediatric emergency team is led by Dr Delon Brennen. The other paediatricians on the team include Dr Teykia Deveaux and Dr Ianthe Cartwright. Additional qualified paediatric specialists will be added to the team as the service expands, but patients currently have immediate access to the full complement of Doctors Hospital specialists whenever necessary including cardiology, neurology and critical care.
Dr Brennen, who is board certified in paediatric emergency medicine by the American Board of Paediatrics is well known for his work in paediatric emergency medicine in the public sector and is excited to bring this dedicated care for young patients to a private hospital setting.
"It's something that people here have wanted for a long time," he said, "now, when their primary physician's office is closed, they can immediately access specialist care for their children when they're most vulnerable and it's most needed."
"Knowing that there is a place and space that you can trust to be able to receive that level of care is key for anyone in those circumstances and being able to provide this service is a welcome opportunity for me."
He said having a dedicated paediatric emergency service is ideal.
"When it comes to emergency situations, parents want healthcare providers who are comfortable with treating kids. As a paediatric emergency physician, I get an adrenaline rush when I see sick children. I am energised by the fact that I can bring a sense of relief to patients and parents that they might not be able to get elsewhere. This is what I'm trained to do."
Children in need of emergency care, whether arriving by ambulance or private vehicle, will be thoroughly assessed and treated, and the Doctors Hospital emergency paediatric team will also determine whether they need to be seen by additional specialists, admitted for surgery or require further treatment.
Parents are encouraged to bring their children to the Doctors Hospital emergency room whenever they feel their child needs emergency care. In case of emergency, parents are advised to call 302-4747 for a Doctors Hospital ambulance or bring the child directly to the Doctors Hospital paediatric emergency room. To learn more about the paediatric emergency room, visit www.DoctorsHosp.com/KidsER.