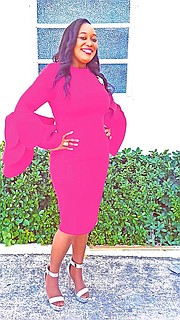 By CARA HUNT
cbrennen@tribunemedia.net
Two days before she was leaving Freeport to travel to Nassau to record her new song, gospel artist Vanessa Clarke slipped and fell.
Even as she was falling, she screamed "No, No, No!" The only thing on her mind was being able to get on that plane to Nassau to record this song. She could not let an injured leg stop her.
So she got a knee brace for her leg instead of going to the hospital, and when she got to the airport she asked for wheelchair service. When she arrived at the studio she asked for a chair to sit in while she sang. The only problem was, the notes would not come out.

Vanessa was near tears as she thought about not being able to complete this work that she knew she had been called to do. She had already dedicated the entire week to completing this project in Nassau. She thought about having to go back to Freeport without getting anything done, and just when she was getting depressed, her trademark resilience kicked in.
"I will just have stand up and bear the pain," she said. "I am not going home until this is done."
So on the first day, Vanessa stood up for hours, bearing the pain in her legs to belt out what will be her new single: "Plead My Cause (Psalm 35)". Coincidentally, it's a prayer song that invokes the presence of God, the healing of God and an open invitation to experience the power of God.
"It's a simple song but yet so powerful," said Vanessa, aka Divine Lady, who is the host of the Morning Glory Show on the Light 810AM at ZNS' Northern Service in Grand Bahama.
"There are times when things get so rough that you don't know the words to say when you pray… But you can just say simply, Lord, plead my cause."
The song was inspired by Psalm 35, which describes God as the avenger of His people. The track also features one of the Bahamas' most famous gospel groups – Shaback.
Explaining the meaning of the song, Vanessa said: "The premise here is that as a child of God you are already in a war. However, you have the authority to fight back by inviting God into the ring. It's a tag team through prayer, fasting and faith.
"I know that there are many Christians out there who are going through a Daniel experience. Out of all the good that you're doing, people look at your good and try to find something that will destroy you, your reputation and your favour," she said.
"We have modern-day Daniels living among us today. There are just some folks who are out there just to get you because you're you and because of your anointing...They can't stand the light! I always say, if my light is too bright, then put on some shades."
Vanessa said the message of her song is clear: prayer still changes things, prayer is still a lifeline, and prayer still works.
"Plead My Cause" can be found on major digital sites like iTunes, CDbaby, Tidal and Spotify.