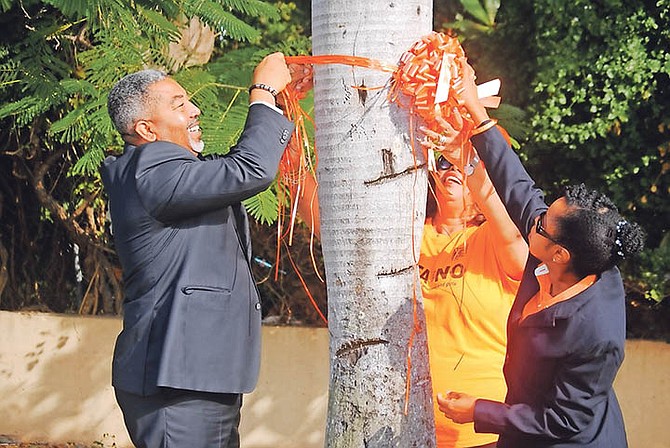 By FELICITY DARVILLE
Orange has become synonymous with advocating for the empowerment of women and girls, thanks to Zonta International, which consists of 29,000 members in 63 countries.
Since Zonta International was founded in 1919, Zontians have been passionate about empowering women in developing countries through international service. They have raised more than $93 million for efforts to end violence against women and girls.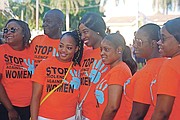 Zonta Bahamas has been in existence since 1982, and today consists of a group of dedicated professional women representing a wide range of fields of work who are passionate about stopping violence in the Bahamas.
Members of Zonta Bahamas recently teamed up with University of the Bahamas nursing students and officers of the Royal Bahamas Police Force to "paint the town orange" as a part of the "Say No To Violence Against Women and Girls" campaign.
Minister of Social Services Frankie Campbell tied the first orange bow on Christie Park. Scores of Zontians and students of the University of the Bahamas nursing programme took to Nassau Street, from Meeting Street to UB, tying bows on trees and lamp posts, erecting signs, and handing out flyers to motorists. They also took time to residents about the importance of stopping violence against women and men, boys and girls.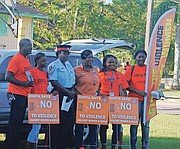 Minister Campbell noted that as a father of three girls this cause is dear to his heart and one that should be supported, as no woman deserves to become the victim of abuse, because "their hands literally nurture the nation."
After spending hours on the streets, Zonta Bahamas held a town meeting at the UB School of Nursing, Grosvenor Close. The event, hosted by Natural Empress and Jay of Hot 91.7, was structured as a live radio show that allowed listeners to call in, the audience to have their say, and panellists to make presentations on domestic violence.
Among the panellists were Dr Esther De Gourville, a Pan American Health Organisation representative. She said PAHO is working hard to reverse statistics that show that one in three girls will face some sort of abuse – emotional, mental or physical – in their lifetime. She called on the emerging health workers, the students about to graduate and become the next corps of nurses in the Bahamas, to be aware of the signs of abuse in their patients. Prevention is also key in changing the statistics, which is why educational and advocacy campaigns like Zonta's are vital, she said.
Marisa Mason-Smith, national chair for advocacy for Zonta Bahamas and head of the "Say No To Violence Against Women and Girls" campaign, said Zonta has been making inroads in increasing awareness in the community and the consistency with which saying no to violence is discussed among Bahamians.
She said she saw great support from the Boyd Road community during the "paint the town orange" event earlier in the day. She also encouraged the public to take a stand for someone facing abuse and be bold enough to speak out so that others know that it's not OK and that there will be widespread support for the cause.
Members of the public shared their views, and in some cases, their testimonies of domestic violence. Tinagay Foster, for example, gave her personal testimony of leaving an abusive relationship, going back to school and finally fulfilling her dream of becoming a registered nurse.
Sunday marked the International Day to End Violence Against Women. December 10 will be recognised as United Nations Human Rights Day. During the next 16 days, expect to hear Zonta Bahamas on radio shows and see Zontians on television shows as they continue their advocacy.
Yesterday morning, Zontians paid a courtesy call on Governor General Dame Marguerite Pindling, who supported their cause. Several events will be held during the 16 days of activism, including "Walk in My Shoes" on Christie Park. On December 8, Zontians are asking the public to bring new or gently used shoes to represent victims of violence. There will be a live remote, food and drinks, and presentations as Zontians continue their 'Say No' campaign. The shoes will be donated to different charitable causes.