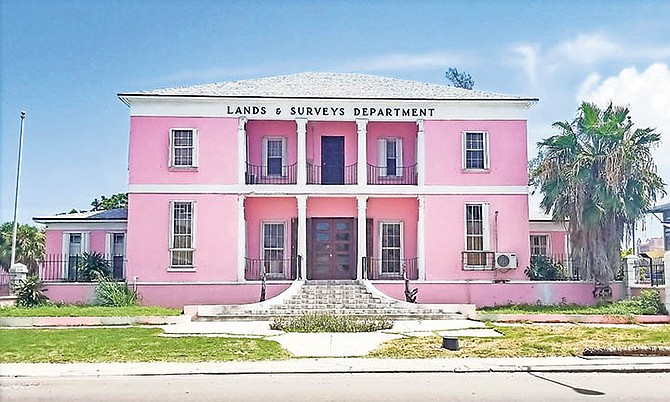 By RASHAD ROLLE
Tribune Staff Reporter
rrolle@tribunemedia.net
AN American woman seeking to build a winter home in Eleuthera has been waiting 11 months for the surveyor general to certify and record her survey plan, a delay even people in the Department of Lands and Surveys privately say is outrageous.
Wisconsin resident Vaughn Rogers said it has been frustrating "to see that this is how The Bahamas system runs", noting she has hired a lawyer to address her problem and has sent letters to the Office of the Prime Minister and even the US Embassy in Nassau, all to no avail.
According to the Bahamas Association of Lands and Surveys (BALS), her experience has become a feature of the system, not a bug. The association blames acting Surveyor General Thomas Ferguson for the problems.
In the past three years, the body, which has a statutory responsibility to oversee the surveying profession in The Bahamas, quietly sent letters and emails to former Prime Minister Perry Christie and his successor, Dr Hubert Minnis, asking them to remove Mr Ferguson from his post and advertise the position so it can be substantively filled by a qualified surveyor.
Critics are now speaking out, saying inertia at the office is harming business and the economy.
Land surveying, the process by which land boundaries are determined and demarcated, is essential for establishing title in The Bahamas, among other uses. When a surveyor submits a survey to the Department of Lands and Surveys, it is the responsibility of the surveyor general to determine that the survey has met necessary technical specifications and to authenticate, identify, deposit and record the plan so property can be registered.
Ms Rogers said she first bought her property 18 years ago. Unresolved issues have led her to the Supreme Court where a recorded survey is necessary for her case to proceed.
"We just need his approval of the plan so we could move forward with the property to go to court to finalise our property title," she said. "A month would be appropriate but this is delaying things way too long and there has been no explanation given for the delay."
Some staff of the Department of Lands and Surveys, speaking to The Tribune anonymously because they were not authorised to speak to the press, said it should not take longer than two months to have a survey recorded. Remarkably, they echoed the BALS's view that Mr Ferguson should be removed from his post, citing low staff morale because of the office's poor functioning.
Yesterday, Mr Ferguson's secretary told The Tribune he won't discuss the matter without approval from the permanent secretary at the Office of the Prime Minister.
BALS' first request for Mr Ferguson's removal was made to Mr Christie on June 13, 2016, a year after the association complained in an initial letter to the former PLP leader that Mr Ferguson was refusing "to sign for the recording of survey plans."
"The acting surveyor general's refusal to record survey plans in a timely fashion has continued to be a grave problem for many of our practising professionals and clientele," wrote association president Emile Ledee.
"Six months to a year to receive a recorded survey plan is simply unacceptable, especially when the process is known to take one month's time.
"One cannot explain Mr Ferguson's lack of professionalism towards a well-established and reputed institution. What can be said is that the acting surveyor general's lethargic approach to protocol is consistent as the last land surveyor's board meeting was held on March 25, 2013.
"As was stated in my last letter to you, the Bahamas Association of Land Surveyors is well aware that there is a vacancy for the post of a qualified and engaging surveyor general. More importantly, this association has numerous members capable of filling this position."
On Monday, Mr Ledee told The Tribune the decision to call for Mr Ferguson's removal was unanimously made by attending BALS members during a 2015 meeting.
He sent a letter reiterating this desire to Prime Minister Dr Minnis on February 11 of this year and has raised the concerns with Parliamentary Secretary in the Office of the Prime Minister Pakesia Parker-Edgecombe.
With no ministry responsibility like his predecessors and a bold vision for land reform that he announced after coming to office, Dr Minnis, surveyors say, is well-positioned to prioritise and address their concerns, but is yet to do so. The Department of Lands and Surveys falls in his portfolio.
Mr Ledee said: "In 2015, probably in May, we noticed that a number of our practising professionals could not get plans recorded at the Department of Lands and Surveys. They were taking too long to get done. Could you imagine your client needing to get their business done and it's taking half a year?
"What drives most economic recovery in this country is the development of land. I don't know how you cannot pay attention to what is going on here, what is being said and what is being communicated to you."
The Bahamas has long had a shortage of public service surveyors.
In 2009, during a major speech on the disposition of Crown land and government owned land in the country, former Prime Minister Hubert Ingraham said the government's efforts to engage and retain surveyors in the public service "have been met with mixed results over the years".
He said in 2007 his administration hired "two seasoned retired public officers… to accelerate the completion of surveys". And in an attempt to find the right fix, he said four different people performed as surveyor general during a two-year period.
According to Mr Ledee, however, inadequate staffing does not explain the office's current woes.
"I've known the same gentlemen and ladies who are still there doing the work the surveyor general relies on," he said.
"It's not as if they've been inundated with a lot of work. The economy is only now coming on with some kind of sense. More importantly, we've noticed a clear deterioration in that department's functioning since Mr Ferguson took over (in 2014)."
Another surveyor, Roderick Woods, told The Tribune "there are lots of staff there that are not functional in the way they ought to function, the office needs to improve its performance."
In a letter to Mrs Parker-Edgecombe on October 29, BALS said it is "aware" that its communications to the prime minister about this matter have been "diverted", suggesting people in government with alleged connections to Mr Ferguson have been protecting him.
As for Ms Rogers, the delay has been a headache – an expensive one as she has had to pay legal fees.
"We love being down there," she said. "We love the country, love the people and we're not getting anywhere and it's very frustrating. I'm discouraged, but I will continue forward."