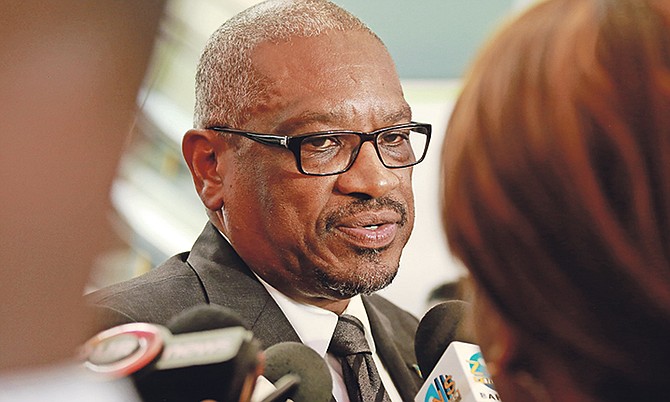 By RASHAD ROLLE
Tribune Staff Reporter
rrolle@tribunemedia.net
PRIME Minister Dr Hubert Minnis is convinced doctors will not jeopardise the healthcare of patients as members of the Consultant Physicians Staff Association head into their third day of industrial action.
Dr Minnis declined to comment substantively on the doctors' concerns when asked yesterday, but said he will reach out to CPSA head Dr Locksley Munroe and try to reach an amicable solution with him, "colleague to colleague".
The Public Hospitals Authority activated its emergency operations centre on Tuesday, declaring that all out-patient specialty clinics and elective surgeries have been cancelled until further notice as 115 senior doctors withdrew their services following failed negotiations with PHA.
Senior doctors are fighting for a base salary increase from $48,000 to $75,000, but PHA reportedly would agree to an increase up to only $60,500.
Meanwhile, the Bahamas Nurses Union is seeking permission to have a strike poll on December 4 while the Bahamas Doctors Union, the representative body for junior doctors in the country, is considering industrial action as well.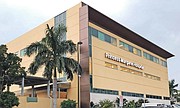 "I am a physician also and therefore I want to hear my colleagues' concerns," Dr Minnis told the press after the House of Assembly broke for luncheon recess. "I will call Munroe and see what the issues are."
Dr Minnis met with the CPSA weeks ago, but did not resolve their issues.
"I'm confident that doctors are very reasonable individuals, they're professionals," he said.
"I'm confident we can come to an amicable solution. The last thing any doctor wants to do is jeopardise patients' care. That is not our training. I'll give an example. There is a particular doctor who, because he feels that patients may possibly be delayed in receiving their healthcare, he has offered services at his private office, but once an individual has a booking for any particular clinic and they cannot be seen, they can come with that appointment plan to a private facility and be seen by him, free of charge. That's how doctors are. We are not driven by money. We are driven by our profession, which is to care for people. The last thing a doctor will do is compromise individual's care."
Dr Minnis was referring to a special free clinic offered this Friday and Saturday by Dr Harold Munnings to accommodate patients affected by the doctors' actions this week. The clinic runs 10am-1pm on Friday and 9.30am-12.30pm on Saturday at Grosvenor Medical Centre. Priority will be given to the elderly and Family Island patients; persons must bring a PMH appointment slip and medication.
Dr Minnis also dismissed Official Opposition Leader Philip "Brave" Davis' criticism of the government's handling of the matter.
"He's the opposition, meaning he opposes," he said. "But he's the leader of the opposition, so he is the leader of the opposing faction, so he'll oppose anything we say. If we say the world is black, he'll say it's blue."
'Don't use public hospitals to treat private patients'
STRIKING doctors have been warned they must not use public hospital facilities to treat private patients during their current action against the Public Hospitals Authority.
The warning will hit the consultants hard in the pocket as without the operating rooms and other facilities of the Princess Margaret Hospital and other centres, their earnings will be drastically reduced so long as their action continues.
PHA Managing Director Catherine Weech told The Tribune last night: "We made it very clear to them that if they would not provide to the public in our hospitals then they couldn't provide to private patients either.
"We are trying to manage that but accept we need to be real about it. (Minister of Health Dr Duane) Sands made it clear that our facilities must not be used."
Ms Weech said the PHA accepted that consultants may attend surgeries with what they could inform the authority was an emergency situation.
"But I am cognizant of the fact that we have no way of knowing for certain that when an emergency pops up that it is in fact an emergency," she said.
Over the coming days, she said, the PHA would be monitoring the numbers of patients passing through theatres to see if it is consistent with what the authority would expect from its "no private" instructions.