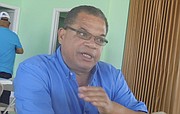 By NATARIO McKENZIE
Tribune Business Reporter
nmckenzie@tribunemedia.net
A Cabinet Minister yesterday said the Government is concerned that "most" high-paying financial services jobs are held by non-Bahamians due to labour shortages locally.
Dion Foulkes, minister of labour, bemoaned The Bahamas' failure to develop more wealth managers and specialised personnel during his Senate address. "From a labour point of view and all indications we have received, both at a ministry level and a department level, we are satisfied that the banking industry and the financial services industry in The Bahamas is stable, strong and growing," he said.
"Some of the best wages, some of the best salaries in our country, are earned by Bahamians in the financial services industry; probably the highest if you were to do an average. From a labour point of view we have ongoing meetings, discussions and dialogue with the Association of International Banks & Trust Companies (AIBT) and the Bahamas Financial Services Board, (BFSB) and the Clearing Banks Association (CBA).
"We meet with them on a regular basis and have discussions with them on a weekly basis. We are also in constant contact with the union of central bankers that represents the workers at Central Bank, and also with the Bahamas Financial Services Union (BFSU) that represents some of the workers in some of our commercial banks in the country."
Despite this progress, Mr Foulkes said the Government is concerned about the lack of trained Bahamians in many sectors of this nation's economy, with financial services being no exception.
"We have a shortage, for example, of accountants," he added. "We have a shortage of wealth managers and specialised personnel in the private banking industry. There are far too many applications for labour certificates, especially from private banking, in specialised areas that come before the Labour Department.
"I have had many discussions with the three organisations mentioned to find out exactly what the issues are and, in a lot of cases, they are legacy issues. One of the main concerns we have in the Ministry of Labour is that most of the highest-paying jobs in the private banking sector, not all, are given to non-Bahamians.
"At the clerical, human resource and the administration support level, it's practically 100 per cent Bahamianised in terms of employees. When you go up to $150,000-$200,000 in annual salary, when you deal with specifically wealth managers, you would find that that area is predominantly, not exclusively, occupied by non-Bahamians."
Mr Foulkes said the Government must decide how it will approach the issue. "It could be something where, in the primary, secondary and tertiary institutions, there is something we are not doing right," he added.
"We are very pleased that the Prime Minister and the Cabinet of the Bahamas has appointed a skills training committee to look into problems like this so we can seriously advise methods to address this problem."