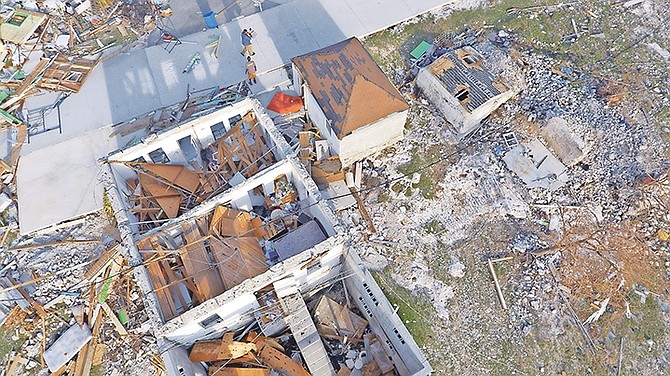 By RASHAD ROLLE
Tribune Staff Reporter
rrolle@tribunemedia.net
PRIME Minister Dr Hubert Minnis said he urged stakeholders of developed countries during meetings in New York last week to establish a fund to aid developing countries who suffer climate change-related natural disasters.
Speaking during a press conference he held on Saturday upon his return home, Dr Minnis recounted telling leaders this country faces threats from "three hurricanes": literal storms, ever-changing demands from bodies like the Organisation of Economic Cooperation and Development and illegal immigration.
"We must deal with all three hurricanes or The Bahamas we see today will be completely different tomorrow," he said.
"We will deal with the migratory hurricane very aggressively; however we will respect the humanitarian rules of the international sector. We pointed out that The Bahamas and other Third World countries are being treated unfairly. They look at our GDP per capita and therefore we do not qualify for any grants for assistance. We are a poor nation. We are not a rich, wealthy nation. Yes we have wealthy people, but we have a high incidence of poverty, 12 percent within our country which is very high.
"Because of our financial outlook, we don't qualify and therefore when we borrow money that affects our debt-to-GDP and therefore the UN must look at it more differently in that the war that we're fighting in terms of hurricanes, is not our war, it's a war caused by climate change as a result of first world nations. We make very little contribution to the climate change as we see it but we're the ones who feel all the effects. We're the ones that is attacked by a war that was not created by us and therefore it was pointed out to them that because it was their war that's attacking us then the time has come that they should provide an independent funding that would deal with our infrastructure that is damaged by the hurricanes so it would have no impact on the debt-to-GDP ratio and our borrowing. That loan grant, borrowing would be treated completely differently from our debt-to-GDP ratio so that is not affected and that is something we're going to look at."
Recounting details of a meeting he had in New York, Dr Minnis said: "I would've discussed the problems that we face. Climate change is a big problem that all small island states face, Caribbean inclusive. We were concerned with the strength of the hurricanes today as opposed to yesterday and the damages they inflict on Caribbean nations. Most importantly what was discussed both at the UN level and at the Bloomberg forum where many banking representatives were in agreement with me and in agreement with the representative of the CARICOM is we both spoke with the same voices, at least we have the same views moving forward and that is, The Bahamas, I explained to them that in The Bahamas we face three hurricanes.
"The world is familiar with Hurricane Irma, Hurricane Andrew etc, that's hurricane we can see, you can make preparation for, that's the hurricanes which cause overt and extensive damage to your infrastructure resulting in monies being moved from your consolidated fund to repair your infrastructure, resulting in less monies to repair your educational system, your national security, your health system, etc and obviously a deterioration in the quality of like. That's one of the hurricane we see.
"The other hurricane we face is the OECD and the blacklisting and the goalpost being changed repeatedly so we were in overt discussions with seeing how we can deal with that. But the third hurricane no one thinks about is the hurricane of migration, all the illegals that we face and they are causing repeated, increased cost to our healthcare system that we cannot keep up with, increased cost to our educational system, increased cost to our social system, increased cost to our security system and increased cost to our country at large so when you combine those three hurricanes The Bahamas is under great assault and we pointed those out and we seek some assistance moving forward. It was pointed out to them that under no circumstance would we relent on our immigration policy. That hurricane we can deal with and we will aggressively pursue. With the first two we get hit every six months, but with migration it's a year-round threat and will devastate us."
Dr Minnis also said he met the CEO of Airbnb, an online accommodation booking service, last week as well and two discussed a business opportunity related to the hospitality service.
"We face challenges," he said, "especially in the Family Islands with second home residences renting their facilities and the tourist product is changing. As opposed to hotel rooms you have bed and breakfast and rental facilities. Unless we take charge of that arena now we will lose the Family Islands. Therefore I had a very interesting and productive discussion with the CEO of Airbnb and discussed the challenges that we face and he offered that what they would do for us is they would keep a register of all rental facilities within The Bahamas and if at any point we introduce any taxation so that we could have some type of funds generated from these rental facilities, then they would do the collection for us, after which they would repatriate the necessary funds to The Bahamas and the minister for Grand Bahama was also in attendance in that meeting and he would follow that through."
Nonetheless, the government has already been engaged with Airbnb to accomplish what Dr Minnis discussed with that company's CEO.
Last year, the Ministry of Tourism and Airbnb signed a memorandum of understanding to regularise vacation home rentals.
Areas the two sides hope to cooperate on include "sharing of aggregate Airbnb Bahamas data, provision of information to Airbnb on Bahamas industry-related laws and exploration of Airbnb's collection and remittance of any applicable taxes," according to a press release last year from Bahamas Information Services.
Last week, Dr Minnis and a delegation attended the 2018 Bloomberg Global Business Forum hosted by Michael Bloomberg in New York. Dr Minnis also gave an address to the United Nations General Assembly while in New York.