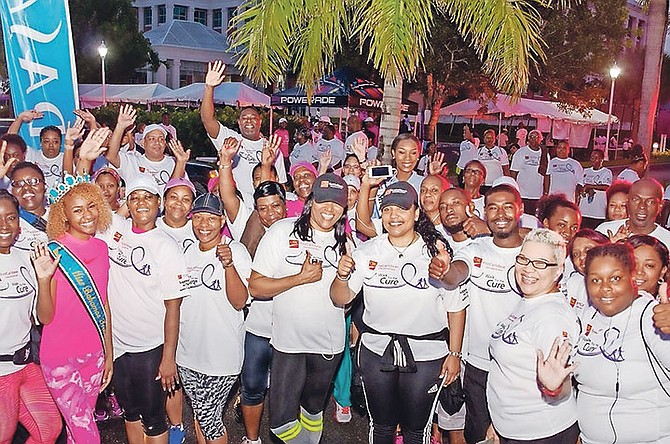 By ALESHA CADET
Tribune Features Reporter
acadet@tribunemedia.net
For the seventh consecutive year, all runners, walkers and health enthusiasts are being invited to participate in the "Walk For the Cure".
Hosted by CIBC FirstCaribbean, the event takes place this Saturday, not only in New Providence, but also in Grand Bahama, Abaco and Eleuthera.
Over the years, "Walk for the Cure" has become CIBC FirstCaribbean's signature event, and one of the region's largest cancer fundraising and educational initiatives.
The annual event is held in each of the Caribbean countries in which the bank operates, with the aim of making a difference in the lives of those affected by cancer.

" 'Walk for the Cure' is a family-friendly health and fitness event for a great cause. The funds are used to provide assistance, care and counselling to cancer patients and their families as well as to raise awareness, and stress the importance of early detection through education campaigns," said Nikia Christie, CIBC FirstCaribbean marketing manager.
"The event continues to grow each year, which means our contribution to the fight against cancer increases each year."
She said the first walk, held in 2012 as part of the bank's 10th anniversary celebrations, saw a couple hundred participants, while this year the team is looking forward to hosting nearly 1,000 participants in Nassau, Freeport, Abaco and Eleuthera. With all islands hosting the walk on Saturday, it makes this year even more special to CIBC FirstCaribbean.
The event has steadily grown of the past seven years, raising over $30,000 in 2012, $100,000 in 2013, and $200,000 in 2014. Ms Christie told Tribune Health 'Walk for the Cure' was modelled after CIBC Canadian Breast Cancer Foundation's Run for the Cure, which has been held across Canada annually for the past 25 years. The bank saw the success of the event and thought a similar fundraising initiative would be beneficial in the Caribbean.
"The proliferation of cancer in this country is alarming, and this disease touches the lives of so many of us. We know that education and early detection helps with increasing survival rates and this event gives a significant boost to those efforts and to the cancer support groups that are dedicated to the fight against cancer. We also know that every little bit counts, and CIBC FirstCaribbean is pleased to make significant contributions to these organisations every year with the help of our sponsors and participants," said Ms Christie.
Participants, she said, will be walking and running for those who have survived, those who are still fighting, and those who may encounter the disease later in life. She said it feels good to come together as a community to support each other and to prevent as many people as possible from getting cancer through awareness and prevention.
The long route this year is from the Goodman's Bay Corporate Centre to Sandals Royal Bahamian and back. The short route is from the Goodman's Bay Corporate Centre to the Meliá Nassau Beach Resort and back.
Participants will be entertained by Bahamian music and there will be prizes for the "best dressed". Organisers encourage participants to be as fun and creative as possible with their outfits. There will also be prizes for the organisation with most participants, and top walkers and runners in each category.
Dekel Nesbit, better known as 'Bowflex Barbie' and a Club One representative, will be leading both the warm-up and cool-down sessions. There will also be a kiddie corner with a bouncing castle and face painting, a mini health and wellness fair, and a raffle, along with other activities. Bahamian or Nuttin radio will be providing authentic Bahamian music all morning, and POW will be on-site selling breakfast.
"Every year we look forward to seeing all of the cancer survivors and fighters who come out to walk with us. The highlight of the morning will be the brief ceremony where they are recognised and presented with a special token from CIBC FirstCaribbean," said Ms Christie.
Those interested in participating in the walk can visit their nearest CIBC FirstCaribbean branch, or contact walk manager Nikia Christie at Nikia.Christie@cibcfcib.com or call 302-6063. Registration is $20 for adults and $12 for children under 15, and includes a 'Walk for the Cure' T-shirt.