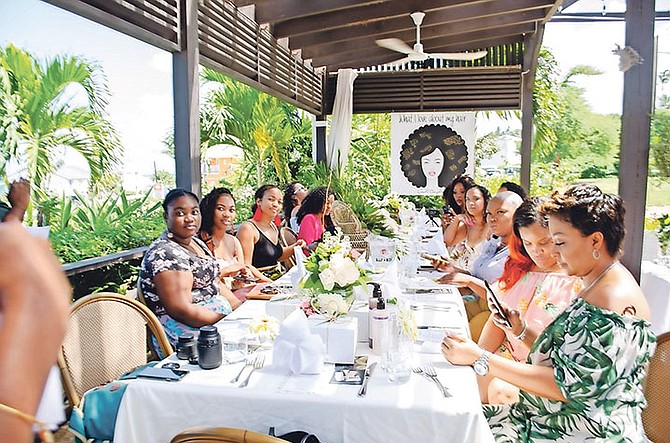 By ALESHA CADET
Tribune Features Reporter
acadet@tribunemedia.net
Carol's Daughter, one of the first beauty brands to focus on natural hair products, has two reasons to celebrate this year: the company turns 25 and it's just had its official launch here in the Bahamas.
The brand was founded by Lisa Price in 1993, who named it after her mother, Carol. The main goal at its inception was to sell products with natural ingredients like shea butter, coconut oil, almond oil, sea salt and marine algae. The target market was primarily black women, who up until that point had been neglected by many big beauty brands.
Last Sunday, Lowe's Wholesale gave Bahamians a chance to experience some of the newest Carol's Daughter products during a launch event at the Aquafire Bar & Grill.
Guests learned about how Ms Price was encouraged by her mother to start her product line in her kitchen in Brooklyn, New York.
In 1999, she opened her first boutique, was featured on the Oprah Winfrey show in 2002, and from there the brand took off. In 2005, Will Smith, Jada Pinkett Smith and Jay-Z were among a group of movie and music stars who invested $10 million into the brand to help expand its nationwide reach.
Ms Price's story is frequently cited as an example of the entrepreneurial success story of a "minority-owned business that caters primarily to women of colour".
In 2014, Carol's Daughter joined the L'Oréal family. As the official distributor for L'Oréal in the Bahamas, Lowe's Wholesale decided to host a launch event to officially introduce Carol's Daughter to "natural consumers".
"We define 'natural consumers' as those seeking products for their natural hair and those seeking products with natural ingredients, both of which can be satisfied with our Carol's Daughter products. They do not contain harmful ingredients commonly found in many hair care products, like sulfates, parabens, petroleum, mineral oil, artificial colours and silicones. Carol's Daughter products are not made with any animal by-products and are not tested on animals," said Leann Albury, consumer brands manager at Lowe's Wholesale.
Invited to the launch were bloggers, influencers and experts. With launching of a new brand, Ms Albury said it is important to ensure the core values and brand standards are correctly communicated, and the best way to do that is through direct dialogue and product interaction.
As the brand manager herself, she had the opportunity to try the Carol's Daughter products and wanted more naturalistas like herself to experience them.
Highlights of the launch event included presentations, the handing out of samples, as well as a full-sized complete Carol's Daughter hair care kit.
"For a lot of our attendees, this was the first time they got to know and interact with the brand. As the event organiser, I looked forward to being a part of that experience with them. Being the mega wholesaler we are, the Bahamas can expect more brand launches, new product extensions, beauty events and unique experiences that only Lowe's can deliver," said Ms Albury.