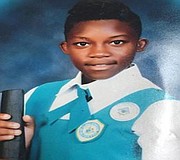 POLICE are seeking the public's help in locating a teenager who has been reported missing by family members.
Anyone with information on the whereabouts of Philippa Kelly, 14, of Mark Avenue, Pinewood Gardens is asked to contact police at 502-9991 or the Crime Stoppers hotline at 328-TIPS.
Police are also hunting for two suspects who stole a woman's car on Tuesday night.
The incident happened shortly after 10pm. A woman was standing outside her 2008 purple Nissan Note, licence AQ2627, on Victor Street in Twynam Heights when she was approached by two men armed with firearms. They robbed her of her purse before getting into her vehicle and speeding away.