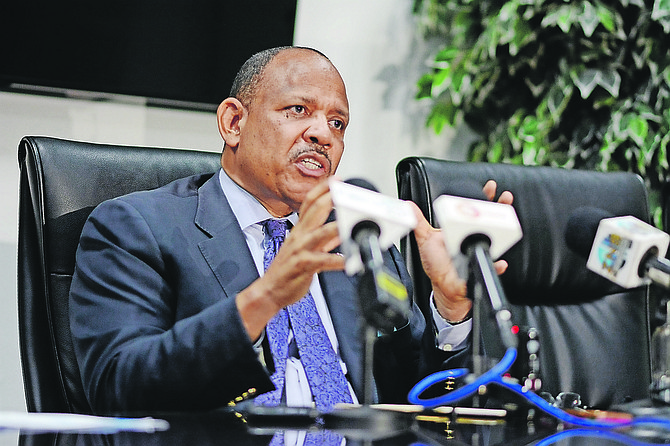 By KHRISNA RUSSELL
Deputy Chief Reporter 
krussell@tribunemedia.net
THE lack of available funding at the Princess Margaret Hospital has sparked an ongoing crisis in its Dialysis Unit and officials think the solution to satisfying the deficit is in creating a business centre that centralises payments and fees, according to Health Minister Dr Duane Sands.
It is hoped the centre would be up and running within the first quarter of 2019.
The Tribune first reported last month a revelation from the health minister that officials were grappling with a crisis at the Dialysis Unit while Hospital Administrator Mary Lightbourne-Walker had been placed on administrative leave.
At the time, he said there were about 600 patients needing renal management therapy but PMH could only satisfy the needs of 200.
The others are tended to by the private sector.
Yesterday, he repeated the situation had remained the same in response to a rehash of the issue in The Nassau Guardian which was published yesterday.
Dr Sands told reporters: "I have said it here to you before that the public dialysis system is set up to deal with about 200 patients and we currently have 600 patients on dialysis paid for publicly. That costs the Bahamian people between $50,000 and $80,000 per patient per year.
"As a result, most of the patients have to be outsourced to the private sector and even those that are managed at the Princess Margaret Hospital we don't have enough nurses, the machines have not been maintained and so on and so forth. Solving these problems requires a tremendous infusion of money that we are trying to identify and I wish that I could wave a magic wand and it's there."
He continued: "Part of this relates to the fact that we spend an inordinate amount on health and our revenue base is very, very low. As I have said to you many, many times we have to increase the revenue base if we are going to deal with these very vexing problems of crime, non-communicable diseases, heart disease, kidney failure, diabetes and stroke  then we have to have the revenue base.
"Now what does that mean? It means that the Public Hospitals Authority has now to go after revenue that it has not historically gotten that means insurance revenue, National Insurance (Board) revenue, road act revenue and the co-pay's that are gazetted by law that people have not historically been willing or able to pay.
"I've said it to you before, 87 percent of people that come to the Public Hospitals Authority pay nothing."
When it comes to implementing a new fee schedule, Dr Sands said officials were still mulling over what should be changed.
"We are going line by line with each of the fees to determine whether it is in conflict with any existing policy or law and so we fully intend to modify the fee schedule at Princess Margaret Hospital, the Rand Memorial Hospital, Sandilands Rehabilitation Centre and Emergency Medical Services. The problem is we recognise that we don't have the capacity to bill and to collect and so we are putting that in place now.
"So we have designed a new business centre at Princess Margaret Hospital, hiring staff in order to bill and what we anticipate is that we are going to eliminate some of the cash collection sites throughout the hospital and centralise it.
"If you centralise it you have to ensure that you don't just create a log jam with people standing in line for hours. So it is trying to make this a 21 century facility that manages the problems that we are mandated to deal with."
In April, Dr Sands said the schedule which was made up of 500 fees was to be implemented on July 1, the start of government's new fiscal year.
However, this was never implemented, as there was a need to conduct additional consultation on the proposed increases.