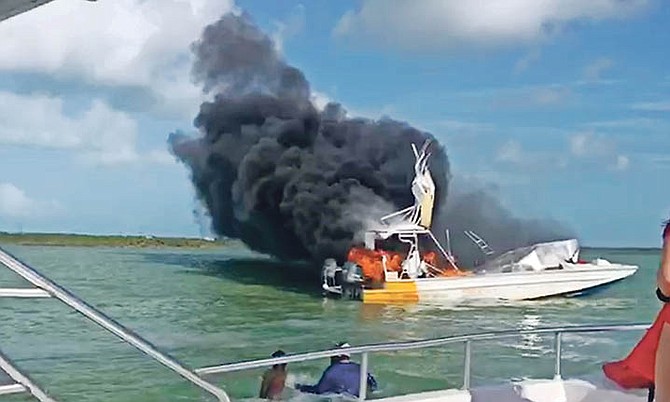 By NATARIO McKENZIE
Tribune Business Reporter
nmckenzie@tribunemedia.net
AN Exuma water sports operator yesterday revealed it had suffered a "double blow" from the 4C's boating tragedy as it backed tougher enforcement to combat "rogue" operators.
Rebecca Lightbourne, of Exuma Watersports, owned and operated by her family since 1935, told Tribune Business: "We would certainly welcome stricter regulations because rogue operators have definitely impacted us negatively in terms of people being able to undercut our pricing and basically poaching from us.
"We know that we follow the rules, have all of our paperwork, licence as well as insurance, and we absolutely have no problems with it. I think that if you look at the number of VAT registrants versus tour companies in Exuma, it shows the amount of people doing things properly as opposed to under the table."
She spoke out following pledges by Renward Wells, minister of transport and local government, to crackdown on the lack of regulation and enforcement surrounding the boating and water excursions sector following the onboard explosion and fire on the Four C's vessel that resulted in the death of an American tourist and injured 10 other people.
Ms Lightbourne told Tribune Business that the incident has "definitely" had a negative impact on her company's operations. "We definitely have had numerous cancellations," she added.
"I couldn't even put an actual numeric value on the amount of business we lost, both in terms of people who had booked and cancelled, and then people who got too scared and no longer wanted to do excursions. Most definitely this has financially impacted us."
She added that this loss has been further exacerbated by the fact that her family's company, Exuma Watersports, is being confused with Exuma Water Tours, which is the trade name Four C's operates under. "We have actually been doubly impacted by this because people get our companies mixed up," she said.
Dionisio D'Aguilar, minister of tourism and aviation, told Tribune Business that The Bahamas must learn from such tragedies and ensure "they never happen again".
While guarded with his remarks, he said yesterday: "It's unfortunate. Any event like that worries us in tourism. These things happen. We have to learn from them and ensure that they never happen again. Just think about the duck boat tragedy in the US.
"I think the most important think is to mitigate against these things happening again. We will learn a lot from this and move toward preventing incidents like this from happening again."
A damning report by the Bahamas Maritime Authority (BMA) into the Four C's Adventure boat onboard explosion and fire found that the company broke the law by operating a boat that was neither registered nor ever inspected by the Port Authority.
"Under no circumstances" should 4C's have operated the "craft on a commercial basis", investigators wrote in their report.
Among the findings were that the home-built boat's "fuel-fill and vent hose did not appear to meet the required specification for its intended purpose; the craft had not been constructed to a recognised standard, or to naval architectural or technical drawings; and the craft's construction and equipment materials were not verified for suitability of use".
Investigators also concluded that the Port Department of Exuma has not been "adequately resourced to control and regulate commercial water crafts operating on the island", noting that a "significant number of commercial crafts operating within the waters of Exuma are not registered with the Port Department despite having submitted valid applications. The mechanical, structural, and safety standards required to be met cannot be verified".
Renward Wells, the minister of transport and local government, in the wake of the report's publication pledged that the Government will "tighten up where it is slack".
He added that he has already taken steps to clamp down on the sector with instructions to the Port Department to have every ship and boat owner come in for inspection.
"It is quite alarming as to the lack of manpower that we have in Exuma," Mr Wells said. "It is alarming as to how this situation developed, and yesterday (Monday) I moved to issue certain instructions to the Port Department to have every ship, every boat owner in Exuma to come in and for us to inspect their vessels so that we're able to bring the requisite regulations to this industry, and not just in Exuma - throughout the country - because we understand that this is not just a situation that's just in Exuma."