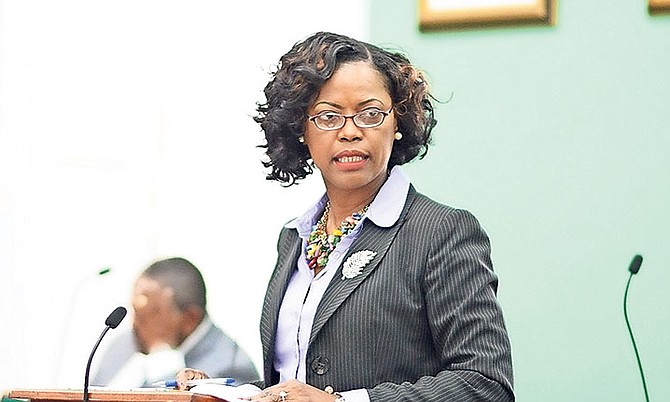 By NICO SCAVELLA
Tribune Staff Reporter
nscavella@tribunemedia.net
FOX Hill MP Shonel Ferguson's investment company owes over $70,000 in real property taxes, having never paid them since it assumed responsibility for the maintenance and operation of a building in Centreville some 13 years ago, court documents allege.
Court documents seen by The Tribune claim Ms Ferguson's company, Turtle Creek Investments Limited (TCI), owed $74,069.22 in real property taxes as of December 6, 2017, in alleged contravention of a hire purchase agreement it entered into for the building in December 31, 2005.
Additionally, TCI allegedly owes the Water and Sewerage Corporation $22,173.15 as of July this year when it was disconnected, having not paid "any utilities and insurance" on the building, which houses the Crab House and Seafood Emporium, for at least two years. The last time TCI paid its water bill was in July of 2014, it is alleged. 
Concerning the building's insurance, TCI has allegedly not paid any insurance premiums for the past three to four years, something that caused the building's owner to recently pay $15,963.75 to J S Johnson Insurance Agents & Brokers in a bid to bring the insurance policy current.
Also, it is alleged that TCI has not paid its light bill for "some time now," and as it stands, is currently utilising a generator for electricity.
Additionally, TCI has allegedly not paid any of the $10,833 monthly payments it agreed to pay for the building in question since September of 2016, resulting in the owner receiving no revenue from the agreement, despite the company currently subleasing a portion of the building for $12,000 per month.
Daybreak Holdings, the plaintiff, further alleges that notwithstanding the various breaches, TCI has "failed and/or refused" to bring the hire purchase agreement current or to vacate the building.
Thus, Daybreak Holdings, through its attorney Christina Galanos, is suing TCI for $249,159, which it claims represents the 23 months when TCI didn't pay any of the monthly instalments pursuant to the hire purchase agreement.
Daybreak Holdings is also seeking an order for TCI to pay it $74,069.22 in outstanding real property taxes, as well as thousands of dollars in outstanding water bills. Daybreak is also seeking an order for TCI to pay $15,963.75 in outstanding insurance premiums.
Daybreak is also seeking an order for TCI, its agents, servants and subtenants to vacate the building within 30 days of that order, and an injunction for TCI to cease and desist from conducting any business on Daybreak Holding's behalf.
According to a sworn affidavit by Donna Davis, president of Daybreak Holdings, TCI Ltd entered into the hire purchase agreement with the company on December 31, 2005 for the building situated on the corner of Collins Avenue and 6th Terrace.
At the time of the agreement, TCI was already renting a portion of the building.
It was agreed that TCI would pay Daybreak a $150,000 deposit and thereafter the sum of $1,350,000 in monthly instalments of $10,833 per month over a period of 264 months.
In exchange, Ms Ferguson's company was permitted to assume responsibility and operation of the building in question. TCI was also responsible for all maintenance, taxes, fees, and insurance over the building.
TCI was also given the option to purchase the building for an amount to be agreed. And in the event that happened, TCI would receive full credit for the $150,000.
According to the documents, TCI paid the $10,333 monthly sum for the most part until around December 2009, at which time there were some missed payments. TCI allegedly started making "reduced payments" in 2015, and by the end of September 2016, made no payments whatsoever.
Daybreak Holdings claims in the meantime, it served "many letters" on TCI, all of which contained "numerous requests and demands" for all outstanding sums pursuant to the hire purchase agreement, but to no avail.
Defence
In a sworn affidavit, however, Ms Ferguson claimed that Daybreak Holdings approached her and her company about the building on or about August 2005, with a view to selling it because it was in a "financial bind" and found it difficult to collect rent from its tenants.
Ms Ferguson claimed that as of August 17 of this year, her company has paid Daybreak Holdings $1,548,609, in addition to investing over $700,000 in renovations for what she claimed was initially a building in a "dilapidated state".
Ms Ferguson claims that as the $1.5m TCI paid to Daybreak Holdings exceeds the sum owing on the hire purchase agreement, and that as both parties concluded that the principal amount under the agreement was settled, the only outstanding issue was the amount of the outstanding interest.
Ms Ferguson claims that subsequent to entering into the hire purchase agreement, TCI opened several businesses in the building and made "timely" monthly payments. However, she said as the economy declined and crime escalated in the area, both parties agreed to reduce the monthly payment to $5,000 until the $1.35m was liquidated.
When the economy didn't improve, she said both parties agreed to put the building up for sale and distribute the proceeds between them. In particular, Ms Ferguson claimed both parties agreed that upon the building's sale, TCI would be reimbursed for the equity it put into the building.
Concerning the outstanding taxes, Ms Ferguson claims both parties agreed that all outstanding real property taxes would be settled at the sale of the building. And concerning the WSC bill, she claims Daybreak Holding's previous tenant, Papa Johns, left the bill and that Daybreak Holdings is "fully aware" of that fact.
However, Daybreak Holdings refuted that last claim as "simply not true", charging that TCI's last payment to WSC was made in July 2014, according to the July 2018 bill. Furthermore, Daybreak Holdings said a copy of the WSC bill for the period October 2015 to July 2018 shows how the bill went from $8,040.13 to $22,173.15.
And concerning TCI's claims that it had paid the principal under the agreement, thus leaving only the interest to be resolved, Daybreak stressed that the balance of the agreed sum was to be paid over 264 months at an interest rate of eight per cent per month, and that as with "virtually all agreements of this nature, each payment would be part principal and part interest."
The matter continues before Justice Ian Winder next week.