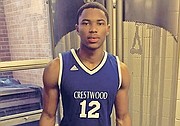 By RENALDO DORSETT
Tribune Sports Reporter
rdorsett@tribunemedia.net
INJURY concerns could delay Franco Miller's debut with the Ole Miss Rebels in his freshman season of NCAA basketball following his recent knee surgery.
The Rebels hosted Media Day this week, and men's basketball head coach Kermit Davis noted Miller's knee problems have been one of the disheartening storylines during early practices.
"We're real beat up right now," Davis said. "It hasn't been a good week for our freshman class. Franco Miller had surgery Saturday.
"He hasn't been healthy since he's been here. He came in with existing knee pain. It's kind of been a fracture of a knee cap and he had surgery. It'll be anywhere from 3-5 weeks."
Miller was one of two freshmen to undergo knee surgery this week.
"Luis Rodriguez, who we really counted on a bunch and is maybe our best defender, bumped knees with Bruce (Stevens) on Wednesday. We thought it was a contusion. It's a meniscus, so he's got to have surgery in the morning. He'll probably be 3-5 weeks," Davis said.
"Those two guys kind of hurt our depth. Obviously it's a part of it. As you go through practice, the biggest thing, obviously, is making progress and staying healthy. Hope that'll be it for us and both of those guys will make great recoveries."
Davis said the injuries would hurt the team's depth in the backcourt, but was more concerned about the development of his freshman players.
"It's hard for those freshmen. You have guys who have been for a couple years, been in the system, but these guys are missing so many mental reps where they may be physically okay, but it's going to be a process every single day, watching tape and all the other things," Davis said. "It'll put them back realistically to maybe the first of December where they can really be effective in live college games."
Miller had his first opportunity to suit up as an official member of Ole Miss Rebels Basketball when the team went on its preseason foreign tour through Canada this summer. His busy recruitment process came to an end in May when he committed to the Rebels.
Miller signed his national letter of intent to join the programme's incoming 2018 class during a special ceremony hosted on the campus of his alma mater - Tabernacle Baptist Christian Academy.
The 6'3" point guard chose Ole Miss over his final list of schools - Oklahoma, Minnesota, Oregon, and Towson.
"As a freshman coming in you want to go somewhere that you can make an impact. Ole Miss, they're in one of the toughest conferences in college basketball, the SEC, and I have a chance to come in as a freshman to start and have the ball in my hand so it impacted my decision," he said.
"I fit in well with the style of play coach Davis runs, when I was there on my visit he showed me a lot of things that I would run and it definitely fits my play style so it all factored into my decision-making."
The Rebels finished 12-20 last season and 5-13 in the SEC in the last year of former coach Andy Kennedy. Davis was introduced as the Rebels new head coach in March and quickly recruited a top 50 class for 2018 including KJ Buffen and Blake Hinson.
He became the second Grand Bahama native in as many months to become a member of Rebels basketball after Yolett McPhee-McCuin was introduced as the head coach of the Ole Miss women's basketball programme in April.
Last season, Miller travelled north to play at Crestwood Preparatory College in Toronto. While there, he averaged 25.8 points, six rebounds, 5.2 assists and 3.3 steals per game. He broke the 40-point threshold twice throughout the year, tallying a game-high 42 points versus Thetford Academy and scoring 40 points against the Toronto Basketball Club.
While north of the border, Miller earned first-team All-Canada NPA honours, first team All-CISAA accolades and Universal Hoops First Team All-Canada recognition. His play also earned him a spot in the prestigious Allen Iverson Roundball Classic as well as the Signature All-Canadian Showcase.