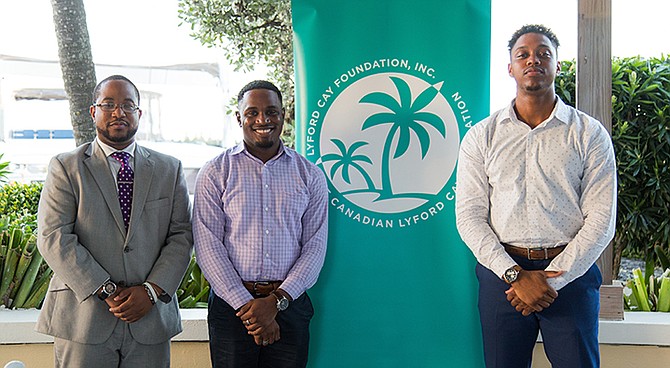 By RIEL MAJOR
THIS year the Lyford Cay Foundation granted 28 scholarships, valued at about $829,500, to Bahamian students seeking higher education abroad.
More than 500 Bahamians completed the application this year. Applicants are evaluated based on their financial status, academic merit, institution reputation, availability of the field in The Bahamas, career goals, and qualifications.
The newly awarded scholars will be studying a variety of majors from health and environmental sciences to engineering technology to information sciences.

Technical scholars will be pursing majors in radiography, cardiovascular technology and plant science and agricultural technology.
Scholarships are only awarded to students studying abroad in the United States, Canada, or the United Kingdom.
The mission of the foundation is to give to the less fortunate. Candidates are most likely to be selected if the applicant is the first person in their family making an effort to attend college.
The Lyford Cay Foundation's scholarships awards, valued up to $15,000 each year, can be renewed each year if the minimum grade point average has been maintained by the student.
The Rogers Family Scholarship, valued at about $25,000, is also open to first generation students willing to attend a Canadian institution.
Applicants are selected by an independent screening committee that makes the final recommendations about who should be awarded.
Dr. Giavana Jones, Director of Programmes, said: "Our applicant pool continues to be impressive and highly competitive in undergraduate, graduate and technical categories."
"The Foundations are pleased to be able to make a difference where it is needed most. This year, 89% of recipients are first generation college students. Additionally, 36% of our new Scholars graduated from public secondary schools. One of our key messages is that college is for everyone. Because of the generosity of our donors, many determined Bahamians have an opportunity to dream of a bright future, plan for college and succeed by returning home with the knowledge they've gained to advance our country."
The recipients of the new scholarships join 57 students currently on Foundation scholarships pursuing post-secondary studies abroad.

Overall, the Foundations have invested $1.05 million dollars in scholarship awards this year.
Scholarship applications are accepted online once a year and interested persons can start their application process in February.
The opening and closing dates will be announced in the newspapers, on the foundation's website, www.lyfordcayfoundation.org,and on its Facebook page, The Lyford Cary Foundations.