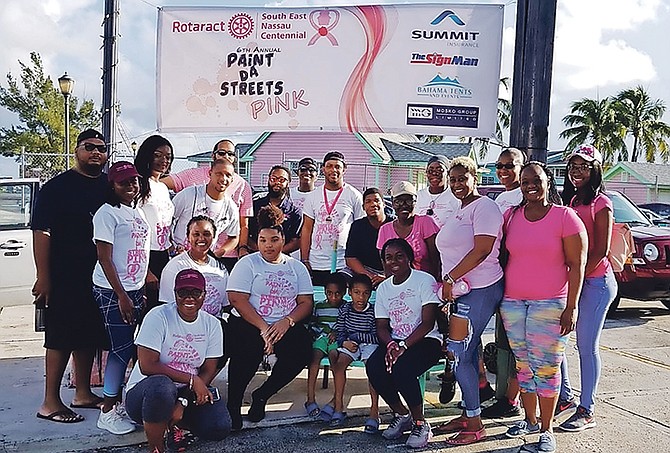 By ALESHA CADET
Tribune Features Reporter
acadet@tribunemedia.net
Despite a minor delay due to inclement weather, this year's "Paint Da Streets Pink" was an overwhelming success.
The event's organisers, members of the Rotaract Club of South East Nassau Centennial, said they are immensely grateful for the support they received for last weekend's fundraiser and breast cancer awareness event.
The fun run/walk saw not only those who pre-registered for the event turn up on race morning, but also numerous people who showed up and registered on the spot.
"Remarkably, the rain and thunderstorms went away in just enough time to start and complete the fun run/walk," said Kristel Moss, fundraising and international service director at RSENC.
The event serves as a major fundraising and community service initiative for the RSENC, whose goal it is to raise awareness of breast cancer in the Bahamas and beyond. The goal is to also do this in a way that is fun and encourages physical fitness, all the while raising money for local breast cancer organisations.
For RSENC members, the most memorable moments of this year's race was presenting the Sister Sister Breast Cancer Support Group with four mammogram certificates donated by Fourth Terrace Diagnostic Centre, as well as presenting team trophies to the first, second and third place teams: Suntee, Bank of the Bahamas'''''''' and Island Site Development (ISD) respectively.
"We are excited to partner with the Sister Sister Breast Cancer Support Group once again, as we love their passion for life. Breast cancer is extremely prevalent in the Bahamas and therefore organisations like the Sister Sister Support Group that support its awareness, diagnosis and treatment are equally important and are always in need of our support," said Ms Moss.
The fact that this walkathon is being held for a sixth year in a row, she said, shows it has made an impact on the community. For Ms Moss, it has been heart-warming to see that the event grow bigger and better each year due to the support of sponsors, partners and participants. She said this year there were even some young children out there wearing their pink gear and supporting the cause.
"Participants really enjoyed themselves and said that RSENC did a really great job hosting and advertising the event. One participant said that he participated last year and that he was happy the event occurred this year as well. He enjoys the event every time," she said.
"The event exceeded our expectations, we were still receiving corporate and personal sponsors/donations up to the day of the event. Paint Da Streets Pink keeps growing bigger and better as the number of participants continue to grow each year. This year the runners that came out gave an exciting race with competitiveness."
For the remainder of National Breast Cancer Awareness Month, the RSENC will be presenting a cheque to its beneficiary, the Sister Sister Breast Cancer Support Group. The team will be selling breast cancer ribbons and Paint Da Streets Pink wristbands at $3 each.