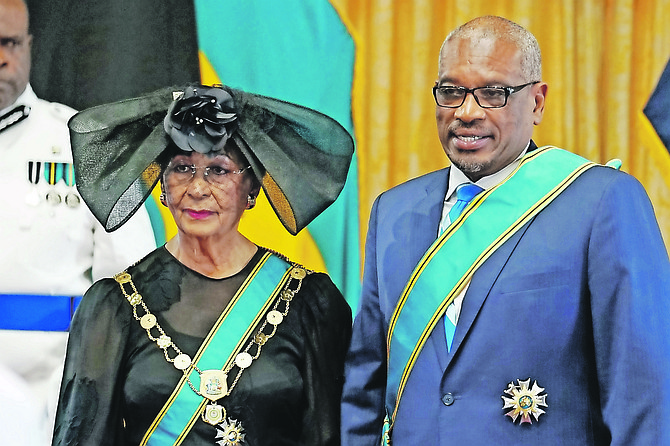 By KHRISNA RUSSELL
Deputy Chief Reporter
krussell@tribunemedia.net
THE recipients of this year's National Honours all have one thing in common, they put self aside for the sake of country, Prime Minister Dr Hubert Minnis said yesterday.
The prime minister was among those receiving awards at the first official National Honours investiture.
Dr Minnis said although he was honoured to have been conferred the Order of the Nation, he was happier the country recognised the contributions of others.
"It feels great, I think the message that is emanating here today is that one must not think of themselves but think of the nation. Think of others. You're working not just for yourselves but you're working to help others, to move the nation forward to move people forward," Dr Minnis said yesterday following the ceremony at Mount Fitzwilliam, Government House.
"So, I'm honoured, but I'm especially more happy and pleased for the other honourees because as you listen you see and recognise the contribution that they've made to society. They obviously were not thinking of themselves. They were thinking about the Bahamas at large, moving the Bahamas forward, moving the citizens, improving quality of life for its citizens and that's the message that must go out to everybody.
"We concentrate on global issues, national issues, Bahamians at large as opposed to ourselves as an isolated entity then we find that not only would you do better but the Bahamas, your country would do better."
Sir Lynden Pindling, Sir Roland Symonette, Sir Milo Butler and Sir Cecil Wallace-Whitfield were posthumously awarded the Order of National Hero and will be called Right Excellent.
Former Governors General Dame Ivy Dumont, Sir Arthur Foulkes, Sir Milo, Sir Gerald Cash, Sir Henry Milton Taylor, Sir Clifford Darling as well as Sir Lynden, received Order of the Nation with the title Most Honourable.
Those receiving the Order of the Bahamas, companion, included former Cabinet minister Janet Bostwick and Free National Movement founding father Maurice Moore.
Dame Doris Johnson posthumously received Officer of the Order of the Bahamas and Dr Myles Munroe received Member of the Order of the Bahamas posthumously.
Tribune Publisher Eileen Carron was among those receiving Companions of the Order of Distinction. In this category was also Cynthia "Mother" Pratt and Anita Bernard.
It was previously reported that former Prime Ministers Hubert Ingraham and Perry Christie deferred acceptance of the country's national honours for separate reasons, with the latter saying his decision was a considered response to the criminal charges brought against several members of his former Cabinet.
The men were to receive the Order of the Nation award which is bestowed upon all people who have served as governor general or prime minister. Their refusal was considered an embarrassment for the Minnis administration after it was reported by The Tribune in August.