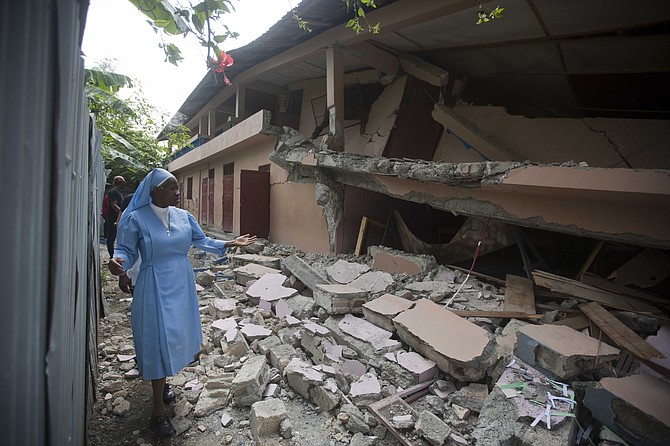 By KHRISNA RUSSELL
Deputy Chief Reporter
krussell@tribunemedia.net
PRIME Minister Dr Hubert Minnis said yesterday he is greatly "concerned" Saturday's earthquake in Haiti could trigger an influx of undocumented migrants, including dangerous criminals who may wreak "havoc" in the country.
As he warned authorities will not tolerate harbouring such immigrants in any form and foreshadowed a doubling down of border patrols, the prime minister called on Bahamians to be vigilant in the coming days.
In view of the situation, which has the potential to stress already "strained" healthcare and other social systems, he said officials are aggressively implementing a new drone system to monitor borders where there may be a shortage of Royal Bahamas Defence Force patrols.
According to Dr Minnis, the situation is even more worrisome because the government was informed prisoners are on the loose after a jailhouse in Haiti allegedly sustained serious damage allowing offenders to flee.
He said it should be assumed these people committed heinous crimes and viewed as such by local authorities.
However, he did not respond directly to a question from this newspaper as to whether the government would offer reprieve to those in Haiti affected by the quake, similar to what was done for citizens of Dominica following Hurricanes Irma and Maria last year.
Regarding this, he said: "At this point in time I am looking at moving the Bahamas forward, Bahamas first."
A 5.9 magnitude earthquake struck the northern region of Haiti extending to the eastern coast of Cuba on Saturday. The Department of Meteorology issued an earthquake warning for the southeast Bahamas on Saturday night after the Haiti incident. It was reported that Bahamians in Inagua felt tremors as a result. One Inagua resident claimed on Facebook that she felt her house shake for about two minutes.
International reports say the death toll in Haiti now stands at 15.
The Ministry of Foreign Affairs said embassies indicated Bahamians residing in both Haiti and Cuba are safe.
"Yes. I'm very concerned. We are very concerned especially knowing that we've been informed that a jailhouse was damaged and prisoners were loose and causing havoc," Dr Minnis said yesterday in response to a question from The Tribune on the sidelines of the 2018 National Honours ceremony at Government House.
"That is of great concern to us and the message must be loud and clear to the Bahamian community that we must all be vigilant even those on the seas, the fisherman, boats, etcetera, the Family Islands. We must all be vigilant because we are at a point where we are decreasing crime and now there is a possibility that these prisoners that have been released as a result of the earthquake could be floating towards our shores and that is of great concern to us.
"I have already spoken to the commissioner of police. The commodore of the defence force, immigration officials, that they must increase their vigilance and increase their patrols within the Bahamas and look out for these issues and these problems.
"I have also had discussions with the director (of immigration) and I would follow up with the minister."
The government also plans to employ more immigration officers in the coming weeks.
"We must prepare for succession planning. Officers are getting up in age and they are planning to retire so we must now recruit quite a number of young people with the necessary qualifications and skills who want to train within and work within that department, but we would have to train them and inform them that they too must be very vigilant in terms of illegals.
"I am prepared to move even further and I know people might not necessarily want to hear this, but the facts are the facts and we are plagued with illegal immigrants and it's essential that we increase the number of immigration officers on our force.
"We must establish a force that would deal specifically with illegals, that would be a group that will be trained. They will be a part of the immigration team and they must move throughout the islands – New Providence (and) other Family Islands. Move about the job places, the gated communities, etcetera and where there are illegals we will find them and bring them to justice and where there are Bahamians who are hiring them, we will bring them to justice because what they are doing they are encouraging illegals to come here because there are opportunities for them.
"That's a very, very serious matter especially with what just occurred in Haiti," Dr Minnis also said.