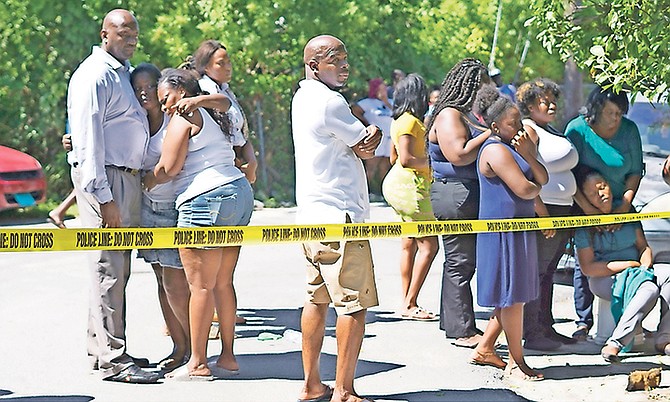 By MORGAN ADDERLEY
Tribune Staff Reporter
madderley@tribunemedia.net
A YOUNG child was one of five people injured in a shooting incident in Montel Heights on Saturday.
This incident was one of multiple shootings that occurred over the weekend, including the death of a young man on Friday in Nassau Village.
According to police, shortly after 9pm on Saturday, a group of people were at a social gathering in Montel Heights when two men, one armed with a shotgun, the other a handgun approached and "fired several shots into the crowd before fleeing on foot".
The child, whose age was not released, and four other victims were taken to hospital. Police said their injuries were listed as non-life threatening.
A second shooting incident occurred approximately two hours later.
Police said shortly after 11.30pm, a man was standing in the area of Market Street and Palm Tree Avenue, "when the occupants of a silver Honda Fit vehicle pulled up and shot him before speeding off".
The victim was taken to hospital where he is listed in serious condition.
The investigations into both these incidents are ongoing.
On Friday, one man was killed and a woman injured following a double shooting off Taylor Street, Nassau Village.
According to police, the incident took place shortly after noon. The victims were part of a group engaged in a social gathering on a porch when three men emerged from the lot next door and opened fire, shooting two people.
The woman was rushed to hospital in a private vehicle, where she is listed in stable condition. The man was pronounced dead at the scene.
It was an emotional scene outside the Nassau Village home on Friday as the community gathered to mourn the loss of the man. The Tribune understands he was Karo Bullard, 24, and was shot on his grandmother's porch, where he also lived.
"Shortly after 12 noon Friday, police received a call of a gunshot report at this location," Chief Superintendent Solomon Cash said at the scene. "The officers, once they arrived on the scene, they met one male victim who was unresponsive.
"Police, after confirming other information from persons in the area, received information that a second victim was also shot who was transported to the hospital via private vehicle. EMS was called to the scene, who pronounced the individual deceased," he said.
"The only information the police are working with at this time is that shortly after midday Friday, three persons emerged from just to the rear of where I'm at, on to a porch where several persons were engaging in a social conversation. They opened fire on these individuals, which resulted in two persons being shot."
CSP Cash said the last update was that the woman was listed in stable condition at the Princess Margaret Hospital. Her relationship to the male victim is unknown at this time. Both victims are estimated to be between early to mid-20s.
CSP Cash also said it was too early in the investigation to determine whether any victims were known to police.
"We have a team of investigators moving through the area now, trying to establish exactly what happened here and the motive behind this latest homicide," he said.
He described the area as a "hot spot" that is being "heavily monitored" by operational units.
A team of Royal Bahamas Defence Force officers were also at the scene along with police.
When asked about their presence, CSP Cash told reporters: "This is a part of a joint operation between the police and defence force, it's an ongoing operation that has started several months back. And they are a part of what we do when it comes to policing our streets.
"They are a part of our strategic and operational team which is the Anti-Gang and Firearms Unit and our Flying Squad Unit. They form a part of those units to assist in combating prolific offenders on the street, looking at all the hot spots on the streets."
CSP Cash said the officers would remain in the area to "bring some calm" to residents.
Bullard's grandmother briefly spoke to reporters at the scene. "Yeah, this my house, he live with me," she said.
When asked what happened earlier that day, she said she left her grandson sitting on the porch.
One neighbour described Bullard as a friendly person who loved laughter. "He was a nice guy, very friendly, loved to laugh," she said. "You ask him to go anywhere for you, he'll go, no hesitation. Like to clown round, always clowning. What happened was completely a shock."
Police are asking anyone with any information to please contact 911, 919, or the Central Detective Unit at 502-9991.