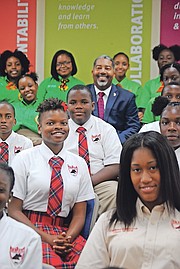 By FELICITY DARVILLE
When Minister of Social Services and Community Development Frankie Campbell heads to Geneva, Switzerland, this month with a delegation, he will be addressing a special UN Committee designed to ensure that countries are up to standard with their treatment and protection of women.
CEDAW (Convention on the Elimination of All Forms of Discrimination Against Women) requires member states to implement policies and laws to end discrimination against women and to promote equality between the sexes. CEDAW addresses the civil, political, economic, social and cultural rights of women.
For the first time in its history, a Bahamian sits on this special committee and will hear presentations from her fellow citizens. Marion Bethel-Sears was appointed to the CEDAW Committee, which convenes every four years. She has been in Geneva over a month working with the 22 other appointed members from around the world.
The Bahamas government signed an agreement to the convention in 1993. But it was not until July 20, 2012 at the 52nd CEDAW session that the Bahamas presented and therefore submitted its first through fifth reports at that time. The Committee, in its concluding observations, recommended that the Bahamas take action to end harmful practices and gender stereotypes, violence against women, increase participation of women in political life, take steps to resolve nationality, education, health, family and marital issues.
As he prepares to leave on October 21 for his official address to the UN body, Minister Campbell held a mock CEDAW session at the University of the Bahamas last week, inviting high schoolers and college students to attend and be updated on the Bahamas' progress.
After giving his address, Minister Campbell fielded three questions each from UB students Tayte Adderley (Media and Journalism), Tinarge Moxey (Law and Criminal Justice) and Shaquille Hanna (LLB Bachelors of Law).
He then addressed questions from students who attended from schools like Government High, C V Bethel, R M Bailey, Anatol Rogers and the Akhepran International Academy. The students' questions and comments touched on topics such as the issue of nationality and the failed referendums; the treatment of the women who ran for the office of leaders of political parties and the inequality in the treatment of women in politics; the LGBTQI community, including gender roles and identity; how men will be affected and included; marital rape; sex workers and trafficking; inequality in the workplace and pay scales, and the education system.
Minister Campbell pointed out that he is very well aware of the nationality issue, as he is the product of a Haitian mother and a Bahamian father who hails from Cat Island.
A former RM Bailey Pacer, Minister Campbell shared a story of when he only had one pair of white pants for school for a couple semesters. He shared how he would dash home every evening to scrub those pants and press them with the iron on the hot fire, just to go to school crisp and fresh every morning. When he told the students that he did this for the girls, they burst into laughter. But he said he shared this story to show girls just how powerful they are in influencing the young men of the Bahamas. He encouraged girls to keep their standards high and encourage boys to get an education if they want to be taken seriously.
Members of the CEDAW national committee were on hand to assist with responding to some of the questions and comments, as the team has been working on preparing the CEDAW report for the nation for many months. Committee members present included Senior Nursing Officer Sherry Armbrister, Kayla Smith of the Attorney General's Office representing for committee member Jewel Major, senior officer of the Royal Bahamas Police Force Gabriella Pratt, Janet McKenzie, and Director of Gender and Family Affairs Dr. Jacinta Higgs.