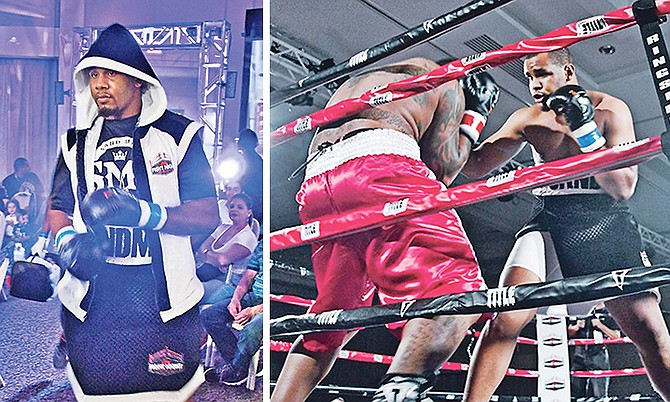 By RENALDO DORSETT
Tribune Sports Reporter
rdorsett@tribunemedia.net
Bahamian heavyweight boxer Amron 'Sandman' Sands continued his undefeated streak and improved to 7-0 on his professional career.
Sands defeated American journeyman Francois Russell via second round TKO on the undercard of Friday Night Brawl, hosted at the Bryan Glazer Family JCC Auditorium in Tampa, Florida.
"The fight was interesting. I had a better record, even though he was more experienced, so I was very confident headed into the fight," Sands said. "We just stuck to the game plan, the game plan was to cut off the ring because we know he's a mover and eventually I stopped him with a left body shot."
Sands is now in preparation for another fight on October 30 against Larry Knight in St Petersburg, Florida.
"With a back-to-back, because my body is still in fight mode I just learn the other fighter, his strengths and weaknesses and it takes me about two weeks to learn," he said.
"Preparing for him won't be a hard task because my game is already sharp, I just have to study him and that's work in the film room and the gym."
Based in Orlando, Florida, at Orlando Boxing Academy, Sands continues to build his record in preparation for expansion.
"Right now they're building my record. Once I get to 10-0 you'll see me branching out and fighting in other states and really expanding," he said. "It's a process, getting promoters used to the 'Sandman' and where I'm from. All of that is a part of the game - getting me used to different styles, different promoters, different crowds – it's all a learning experience."
The 24-year-old made his heavyweight debut with a TKO win over Julio Mendoza at the Lakeland Events Center in Lakeland, Florida, on August 5.
He followed with consecutive knockout wins over Eric Evans (November 18 at the Crossroads Arena in Corinth) and Kendrick Houston (February 17 at the Orlando Live Event Center). He spoiled the debut for Darrell Parker with a TKO at the Florida State Fairgrounds Hall in Tampa on May 18.
Sands made his pro debut at home on the undercard of "The Backyard Rumble" with a unanimous decision over Jerry Butler on May 26. He returned to the US and scored a knockout win over Cade Rodriguez on July 21.
A former basketball player, Sands used boxing to help his recovery process following an injury, but eventually fell in love with the sport.
He made the full transition and spent three years in the amateur ranks.
"I hope to bring back the glory of the Ali era to the heavyweight division and to be the first Bahamian heavyweight champion. I would like to give the youth another option besides track and basketball as a sport. Baseball is making a comeback as well. Boxing is an individual sport where you determine how far you go with the right people around you and financial backing of course."