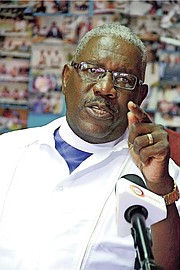 By NEIL HARTNELL
Tribune Business Editor
nhartnell@tribunemedia.net
The Government is working on a fourth CLICO (Bahamas) payout to come as early as next month, with a well-known pastor yesterday urging the insolvent insurer's clients: "Keep the faith."
Bishop Simeon Hall, himself a former CLICO (Bahamas) annuity holder, told Tribune Business he had been informed that there was "reason to be hopeful" as the 10th anniversary of the insurer's February 2019 collapse nears.
Tribune Business sources, speaking on condition of anonymity, confirmed to this newspaper that the Government was working with CLICO (Bahamas) liquidator, Craig A 'Tony' Gomez, the Baker Tilly Gomez accountant and principal, to determine the mechanism and timing for such a payout.
They added that November was the intended timeline to pay further compensation to the insurer's former annuity holders and pension beneficiaries, with the Government having allocated $12.403m in the 2018-2019 budget to fulfill what are termed "CLICO obligations".
It is unclear whether all, or part, of this sum will be paid out next month, but the Government has allocated the same $12.403m amount for CLICO in the next two Budgets covering the 2019-2020 and 2020-2021 fiscal years.
This indicates an intent to compensate CLICO (Bahamas) clients for their loss as fiscal circumstances and cash flow allow, with Bishop Hall suggesting that "regulatory negligence" by The Bahamas' financial services supervisory body has contributed to the insolvency and thus compelled the Government to step in.
"They're simply saying we have reason to be hopeful," Bishop Hall told Tribune Business of the message received from his contacts. "By the end of the year, we're hoping it will be finalised.
"I wish to encourage those policyholders negatively impacted by the CLICO debacle....... to "keep the faith. I have been led to believe that consideration is being given to bringing this unfortunate economic event to a favourable conclusion before the year's end.
"The previous administration was moved enough to begin its attempts to redress those affected by the CLICO fiasco, and the current administration has been magnanimous to continue the efforts to bring closure to this nightmare that has left thousands of unsuspecting Bahamians disadvantaged."
Bishop Hall expressed hope that the November payout would also include CLICO (Bahamas) former 700 medical insurance policyholders, whose coverage was cancelled by the liquidator due to the financial drain imposed on the company's remaining assets, and others who had let their coverage lapse. Tribune Business understands, though, that they will not be included.
Suggesting that the Government had "a moral imperative" to act, Bishop Hall said: "The Government was kind to look at it because it was a private commercial interest, but the Government gave them their licence.
"To the degree there was negligence in regulating this thing is the degree to which the Government should help. There's a degree of culpability that the Government bears when something like this goes awry."
Bishop Hall said he had recovered "just over half" his annuity investment through previous payouts, but recalled the history of major financial institution failures in The Bahamas, including Gulf Union Bank.
"These things ought not to happen in a progressive society," he told Tribune Business. "If the Bahamian community continues to be so passive these things could happen. Passivity is not always a virtue.
"We have to more aggressively demand that those we elect protect us. It [CLICO] ought not to have happened, it ought not to have happened."
Pointing out that many CLICO (Bahamas) clients had been left in financial distress, Bishop Hall continued: "To be honest with you, some form of formal investigation ought to have taken place into this debacle.
"Some heads should have rolled. The hatchet should have applied. We do it for other things. It should never have happened. Only a Government, by enacting enabling legislation and policies, can assure that it will not occur again."